2012: In Pictures
30 April 2012: Invitation
An invitation to Claire and David's wedding reception.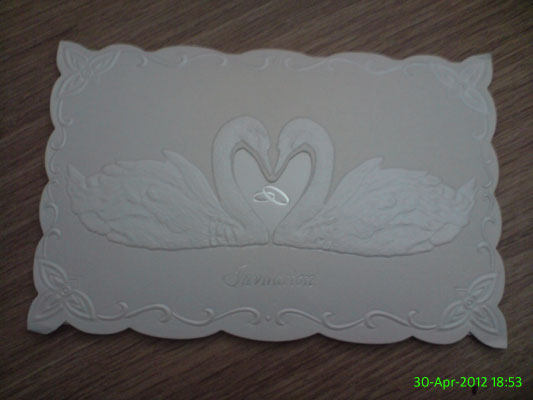 ---
29 April 2012: One Eyed Jill
I fell over on the way home last night and scraped my face. I also broke my glasses so although it's not obvious, there isn't a lens over my right eye.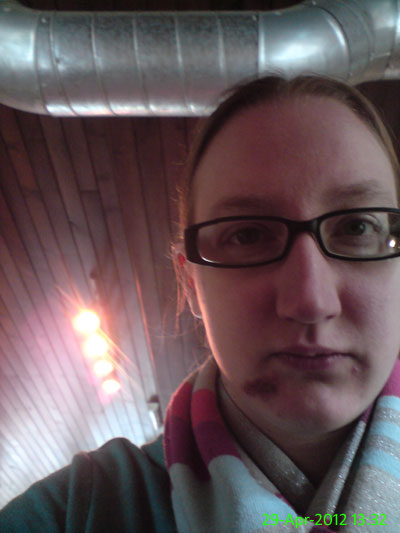 ---
28 April 2012: The Plough
Ali, Carolyn, Michael and me at The Plough.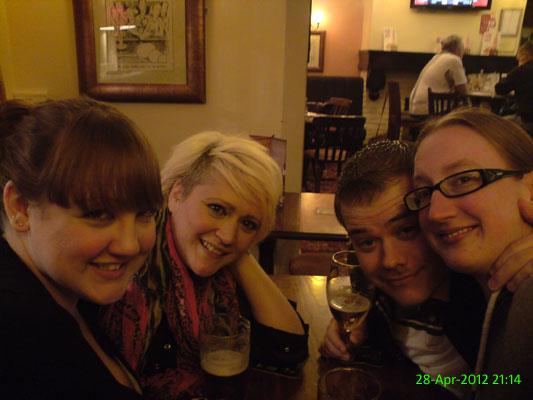 ---
27 April 2012: Garden
Our new garden, which needs a bit of work. Thankfully it gets lots of sun.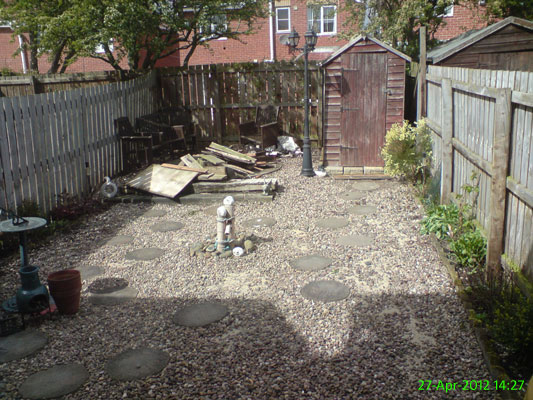 ---
26 April 2012: Ikea
A pretty productive day choosing furniture, but my word that place can be stressful.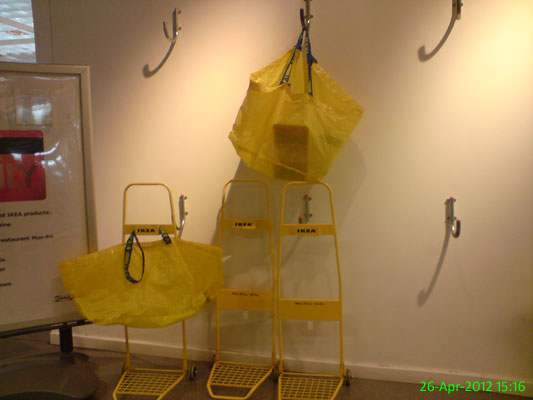 ---
25 April 2012: Commute
My first bus journey to work in over 3 years went fairly smoothly. I got the X63 and didn't encounter anyone smelly, strange or annoying.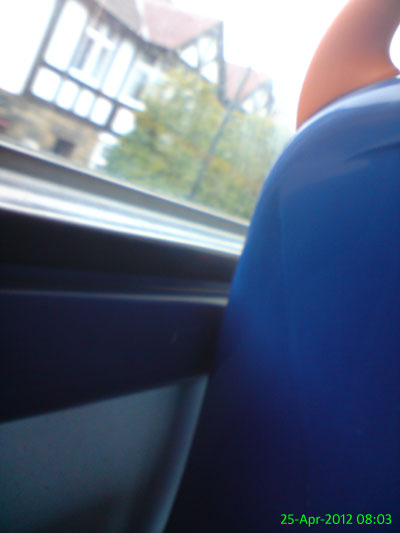 ---
24 April 2012: Housewarming
What better way to relax than with a DVD and a warm fire.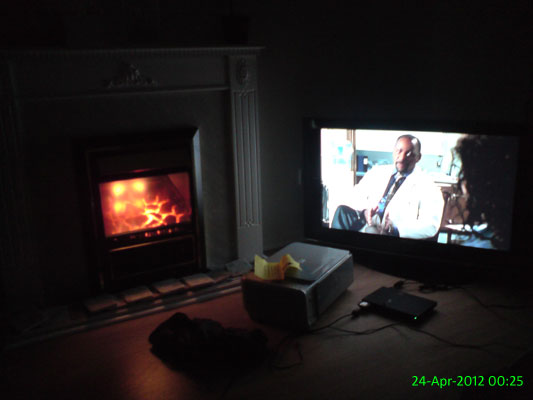 ---
23 April 2012: Keys!
We finally exchange, complete and collect the keys for our new home. Not sure about that keyring though..
---
22 April 2012: Colour Chart
A colour chart from B&Q.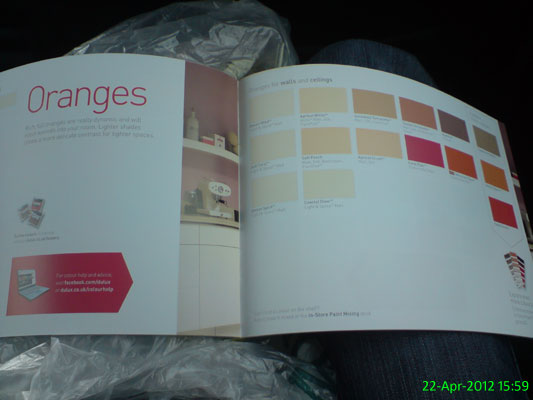 ---
21 April 2012: The Matchday Crew
Others joined us, but everyone else had moved on by this point. Michael, Matty and myself in Rosie's after beating Stoke 3-0.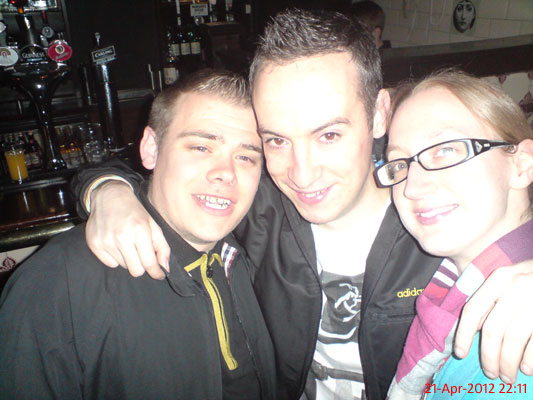 ---
20 April 2012: India
A map of India at Spice Cube in The Gate.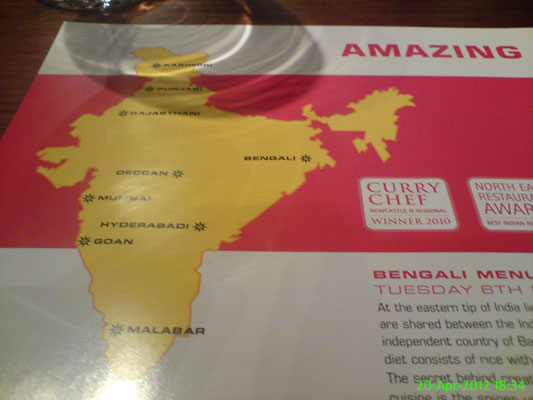 ---
19 April 2012: Boxes
Some boxes for us to pack all of our stuff in ready for the move.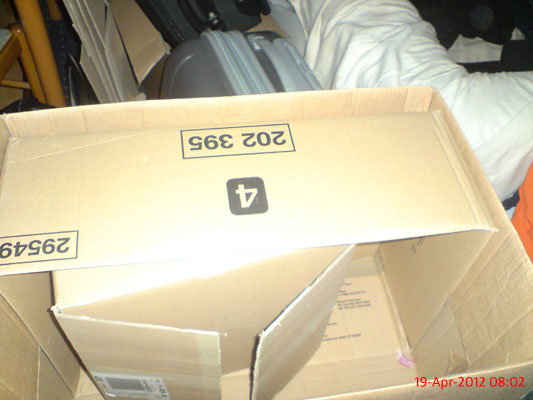 ---
18 April 2012: HSBC
A rare trip to my bank to move some money around.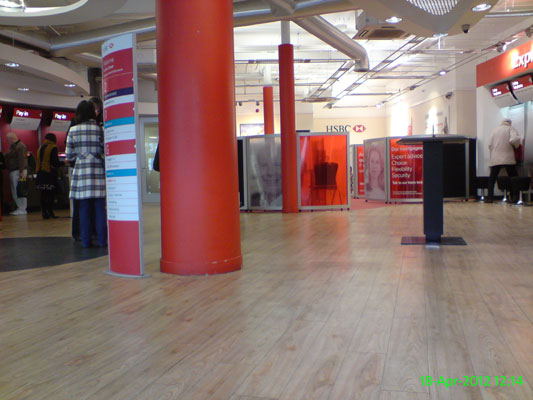 ---
17 April 2012: Signing
Signing lots of paperwork.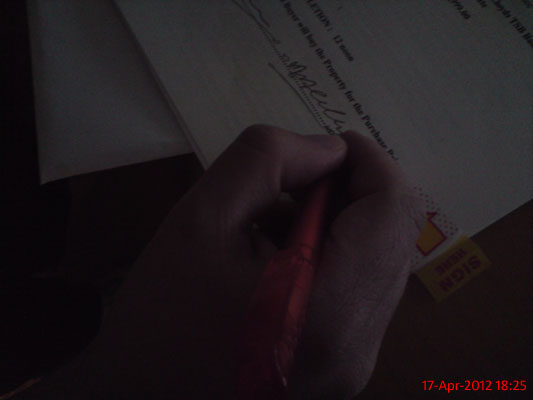 ---
16 April 2012: Contactless
My new Barclays debit card arrives and it has the 'contactless' feature for purchases under £15.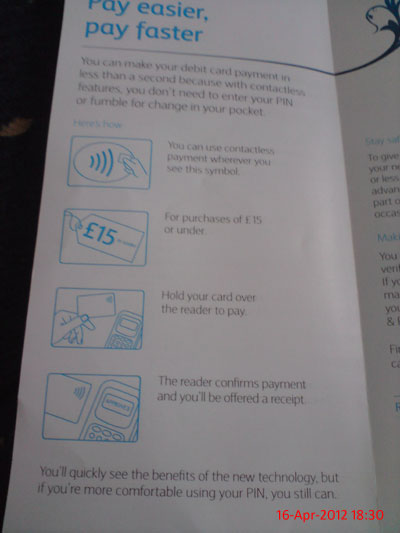 ---
15 April 2012: Tino
With Newcastle having almost qualified for European football next season, it was time for a trip down memory lane with some Youtube clips of Newcastle 3-2 Barcelona.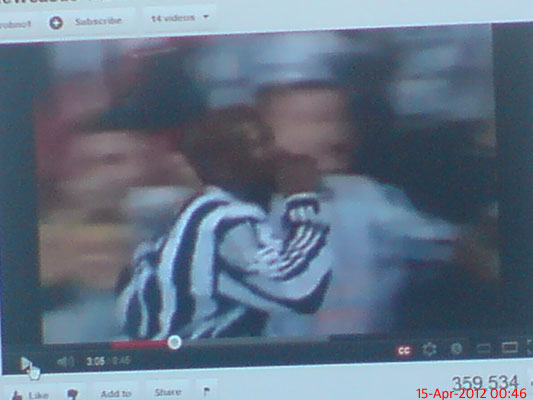 ---
14 April 2012: Debenhams
I haven't levitated, I was on the escalator as I cut through into Eldon Square.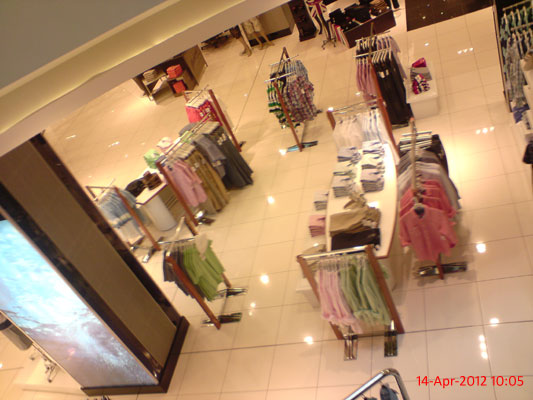 ---
13 April 2012: Bare Foot
Perhaps it's time to invest in new socks.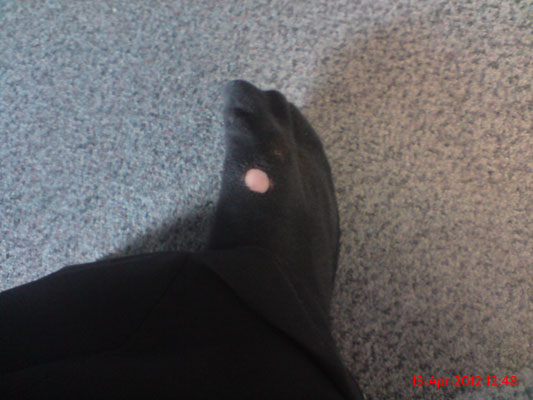 ---
12 April 2012: New Co-op
It's only a few months since the old one closed, but a new (smaller) Co-operative Food has opened in town. I took this while waiting to pay for some magazines - it wasn't deliberately a photo of alcohol. Honest, guv.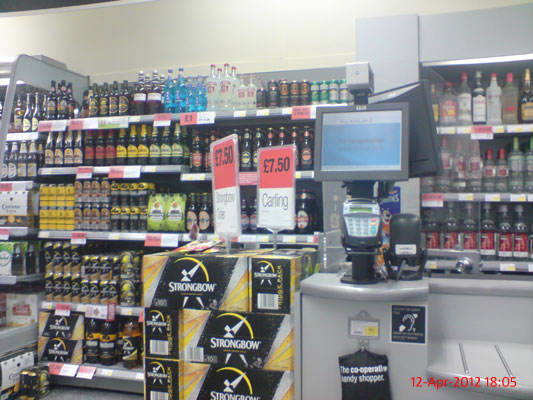 ---
11 April 2012: Mortgage Offer
Finally our mortgage offer is received from The Woolwich.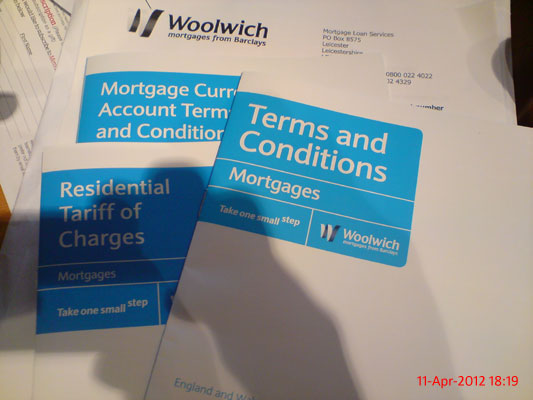 ---
10 April 2012: Sushi
A menu came through the door for a Japanese restaurant nearby. I've never fancied trying sushi but the pictures do look quite cute.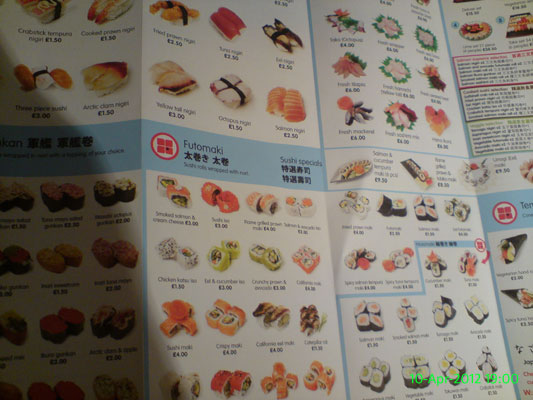 ---
9 April 2012: Out of Order
A very honest sign on the toilet door in Tilleys.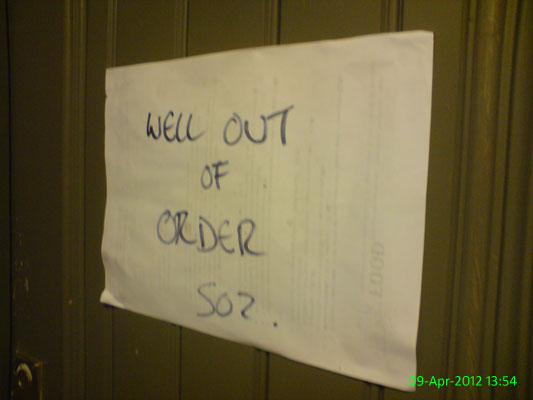 ---
8 April 2012: Easter Sunday
I never buy Sunday papers so only tend to read them when I visit my mam. This time I got a lovely Easter dinner out of it as well!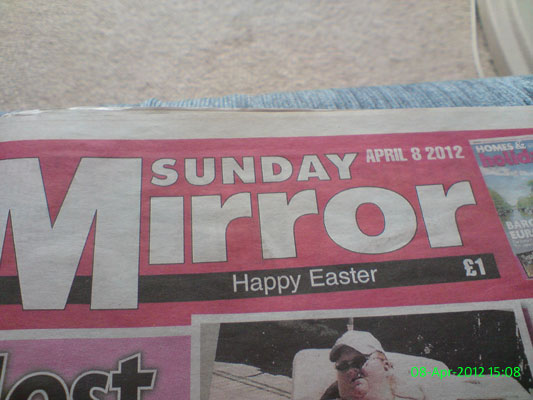 ---
7 April 2012: Singe
In an alarming moment of stupidity I forgot an electric hob would still be hot when it had just been used, and singed my dressing gown sleeve.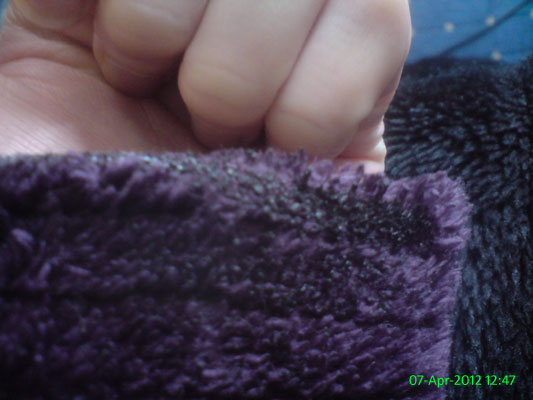 ---
6 April 2012: Good Friday
Carolyn, Claire, Yvette and Ali in the Three Bulls on Good Friday.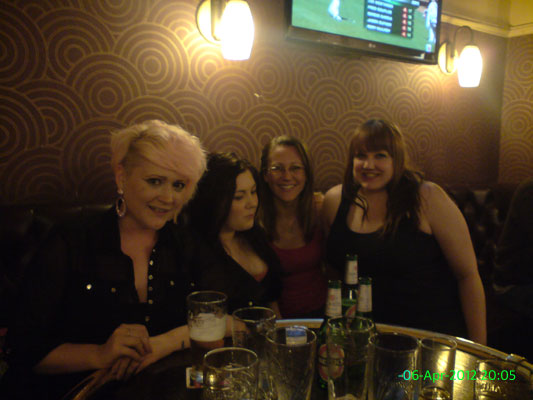 ---
5 April 2012: Scribbles
Some scribbles to remind myself about reports I need to send since this working week is ending on a Thursday and not a Friday, which is when all my reminders pop up.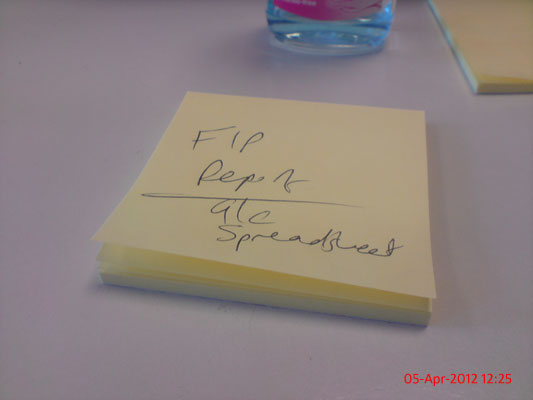 ---
4 April 2012: Oil
A variety of cooking oils available in Tesco.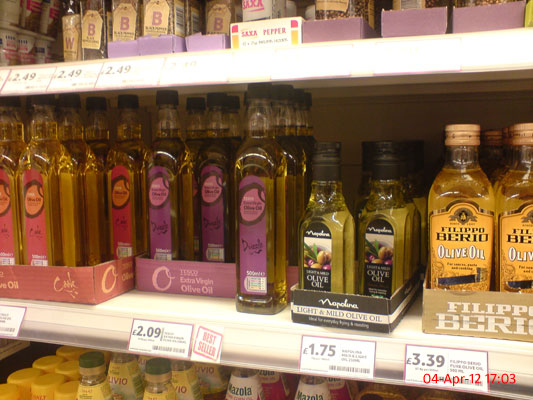 ---
3 April 2012: K800i
My trusty Sony Ericsson K800i has finally given in. I've used it to take every photo since I started this project so you can imagine how sad I am that it's finally on the other side of the shot. Don't worry though, I haven't upgraded - in fact I've borrowed the next phone up from this one, the K850i. Unfortunately it doesn't have a timestamp feature so that will have to be added in manually, but I hope you'll trust me to type in the correct information.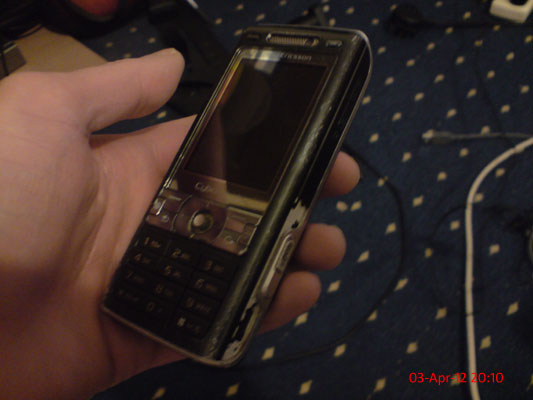 ---
2 April 2012: Curtain
Our snazzy shower curtain.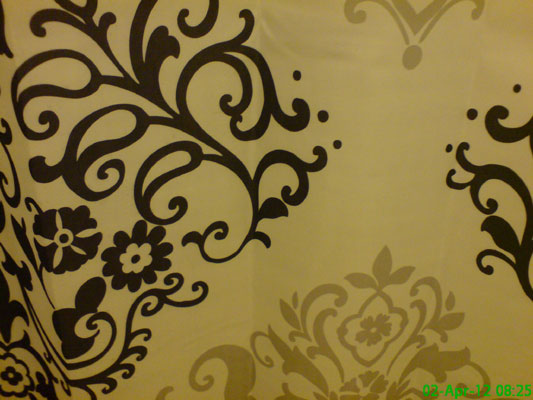 ---


1 April 2012: Newcastle 2-0 Liverpool
Former Newcastle player Jose Enrique ends up in goal after Reina is sent off. On 25 July 2011 he said "This club will never again fight to be among the top 6 again with this policy". League positions after the match? Newcastle - 6th, Liverpool - 8th. Oh dear.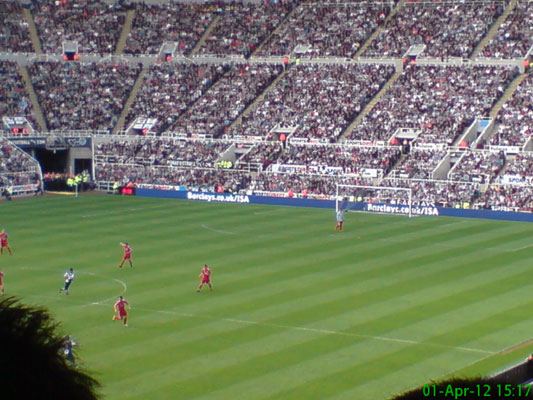 ---