2012: In Pictures
31 December 2012: New Years Eve
Shortly before midnight everyone gathers in Mick's living room to join in with the countdown. In the picture is Nicole, James, Paul, Shaun (rude!) and David. Goodbye, 2012...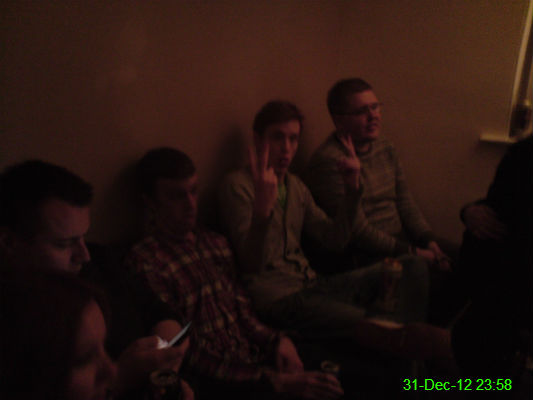 ---
30 December 2012: Fourth Attempt
I have several books of cryptic crosswords and one thing I love doing is revisiting one I've half completed. I'm on my 4th different pen for this one so hopefully this time I'll get it finished!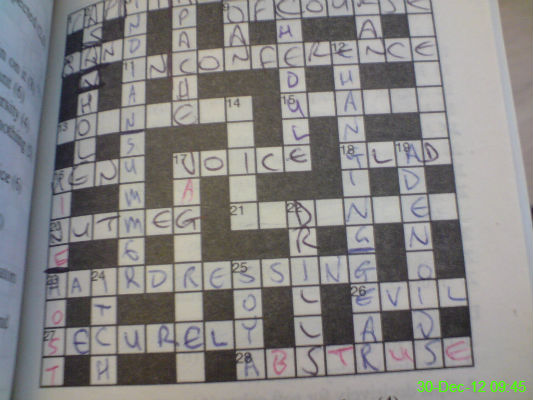 ---
29 December 2012: New Accessories
I ordered a new hat and belt with some of my Christmas money and they arrived today.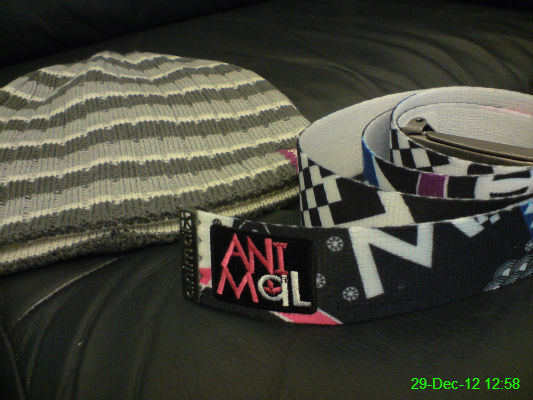 ---
28 December 2012: Longsands
I love the week off work between Christmas and New Year but doing nothing other than eat, drink and watch rubbish TV tends to have me feeling a little stir crazy. I went for a walk along Longsands at Tynemouth to blow away the cobwebs and stare out to sea for a bit. Although you can't tell from the photo, a lot of people must've had the same idea as the beach was pretty packed. I think it did the trick!
---
27 December 2012: Jelly Belly / Ketchup
Some of my Christmas presents: Jelly Belly microwaveable handwarmers from my mam and a tomato ketchup cookbook from Nicola.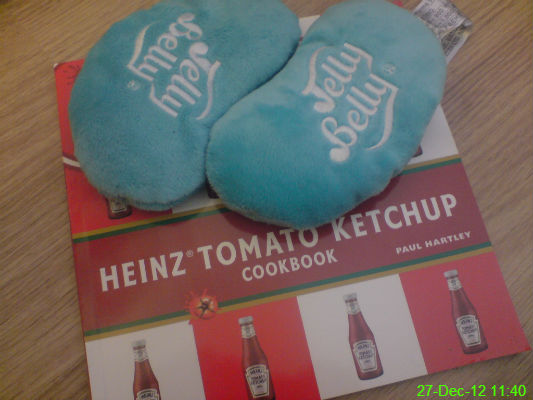 ---
26 December 2012: Boxing Day Blur
After watching Newcastle lose 4-3 to Manchester United in a game that had me hoping none of our fans had a dodgy heart, there was only one thing to do.. keep drinking. This is Jane, James and Michael at the Station.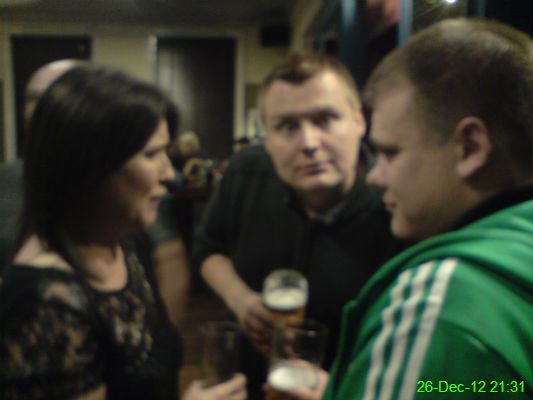 ---
25 December 2012: Cracker Joke
It wouldn't be Christmas Day without a suitably terrible cracker joke.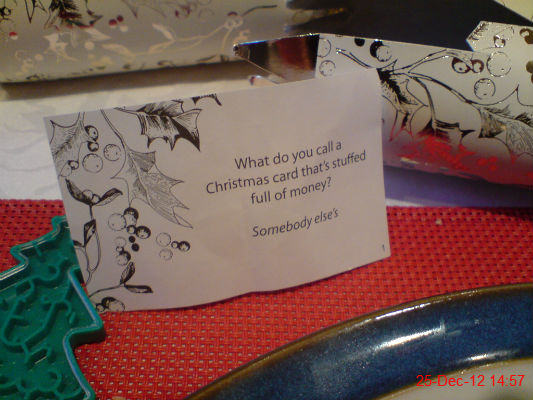 ---
24 December 2012: Christmas Eve
Usually I'd be in the pub on Christmas Eve, but with it raining outside and plenty of nice drinks in the house it seems daft to go out and spend money. Instead I'm admiring my Christmas cards and watching rubbish telly, and I'm quite content!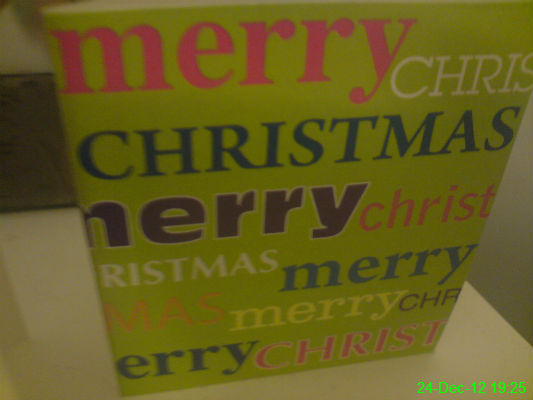 ---
23 December 2012: Roses Wrappers
I don't know what it is about this time of year but I always love chocolate a little bit more than usual.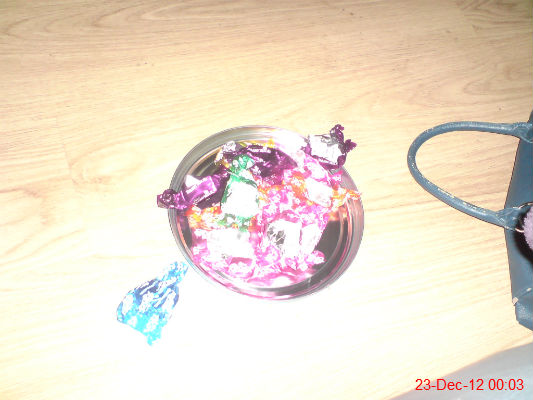 ---
22 December 2012: Snow Joke
It's a good thing I knew the score of Wigan v Arsenal because I couldn't see it, thanks to the stupid "snow" decoration.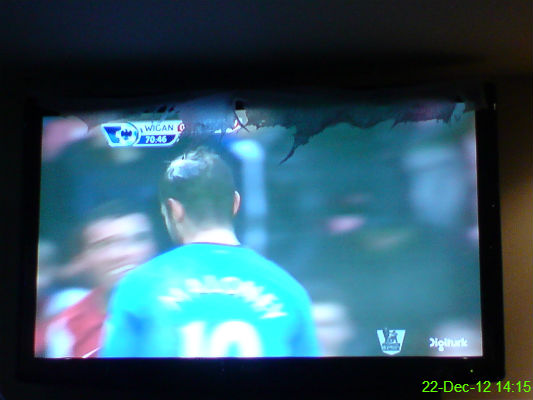 ---
21 December 2012: End of the World
Apparently the Mayans predicted that the world would end today. Well, they didn't really, but combined with Michael's birthday this seemed like an excellent reason to have a party. Amongst those in attendence were Ali, Curtis, Mick, Michael, Chris, Mak, Fear and Matt. The world didn't end, and eventually I might get the smell of Cherry Sourz out of the kitchen.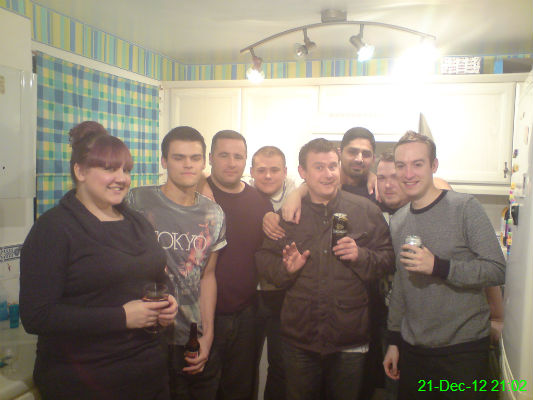 ---
20 December 2012: DPD
I like to moan about delivery companies as much as the next person, but this time I have no complaints. I ordered something yesterday morning, received a text today with the option to arrange redelivery if the specified time wasn't suitable, and the parcel was dropped off with a neighbour at my request. The neighbour even turned out to be trustworthy. I love a happy ending.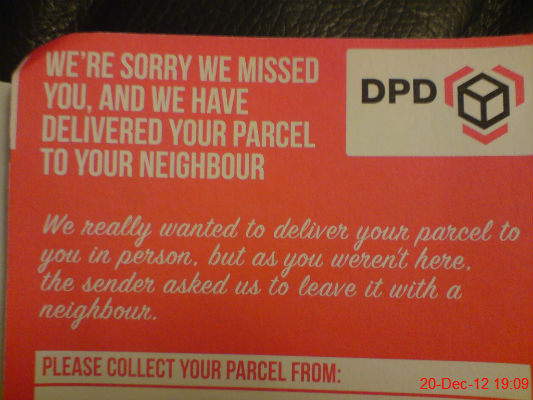 ---
19 December 2012: That's a Wrap
I took a day off work and managed to finish off my Christmas shopping. I also wrapped everything in my typical haphazard fashion. It's what's inside that counts.. right?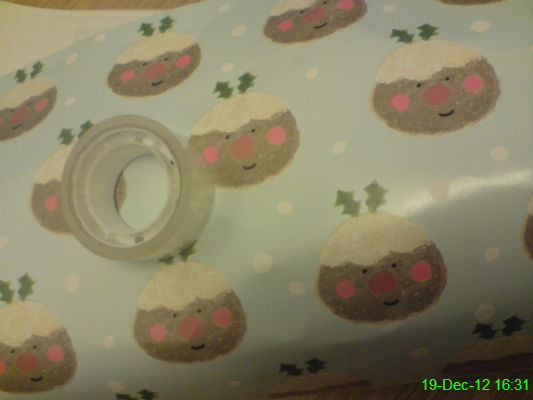 ---
18 December 2012: First Present
My first Christmas present of 2012, from Nicola. I'll wait patiently to find out what it contains.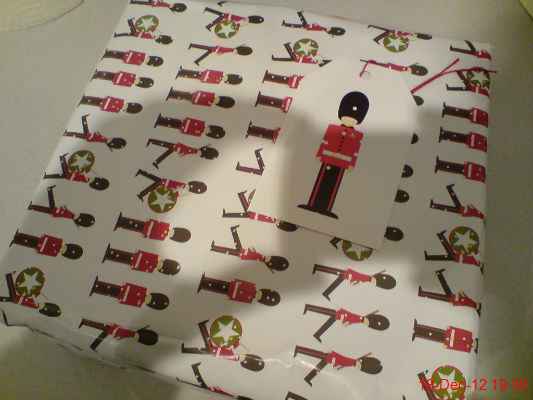 ---
17 December 2012: My Chocolates
Roland's mam strikes again! This time it was some lovely homemade chocolates and when I put them in the fridge to stop melting I took the precaution of labelling them so they didn't get mixed up with anyone else's.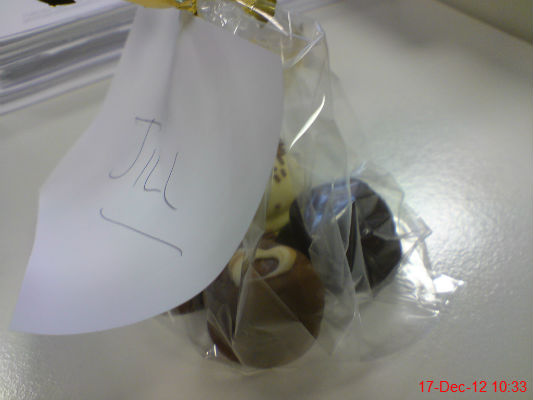 ---
16 December 2012: Lazy Sunday
Other than opening the door to receive a takeaway later, I don't intend to move much today.
---
15 December 2012: Black Garter
In a cost-cutting measure, our Saturday night drinking took place in some delightfully tacky pubs, including the Black Garter. Michael and Alison were probably the classiest people in there.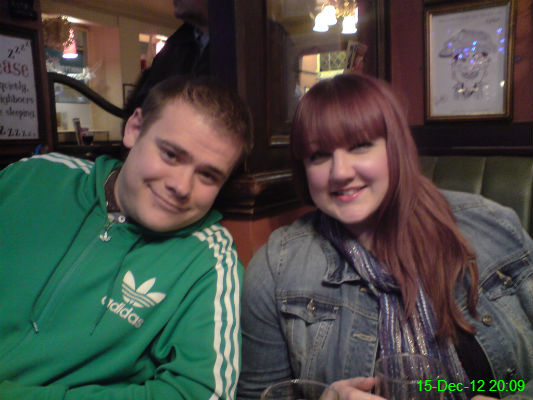 ---
14 December 2012: Gym Machines
All the cool people spend Fridays in the gym.. at least that's what I tell myself.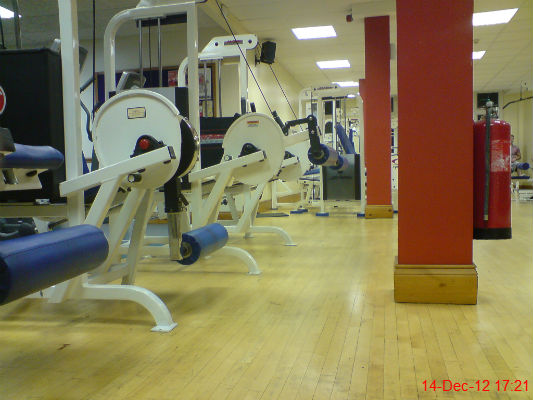 ---
13 December 2012: Numb Fingers
Recently I've been wearing two pairs of gloves so I was very concerned to find my hands were an array of colours when I got home. I also had very little feeling in my fingertips. Maybe it's time for three pairs?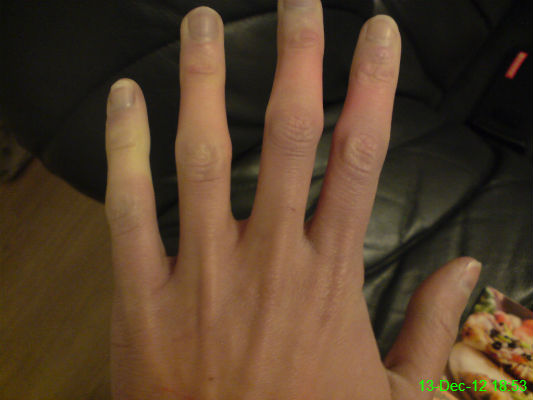 ---
12 December 2012: Squashed Lunch
This morning I slipped on ice and skidded down a slope. I was surprised not to have injured myself, but on arrival at work I realised why. The carrier bag containing my lunch had broken my fall, so it was pretty squashed by the time I got round to eating it. To cheer myself up, I waited until 12.12pm on 12/12/2012 to take the photo, since repetitive dates are pretty rare!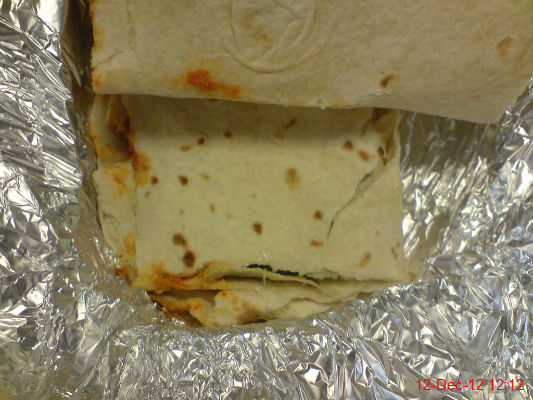 ---
11 December 2012: Two Euro Coin
As you may be able to tell, it was one of those extremely unexciting days.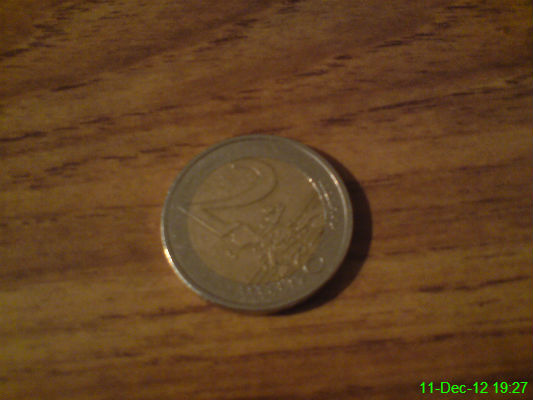 ---
10 December 2012: Monday Night Football
Not my preferred time of the week to be watching football, especially not Newcastle away at Fulham.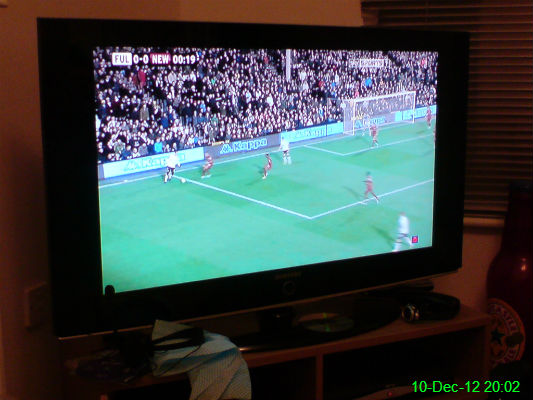 ---
9 December 2012: New Station Menu
The Station has been refurbished and has a new menu. I've not yet tried anything from it, but I'm sure there'll be an opportunity soon.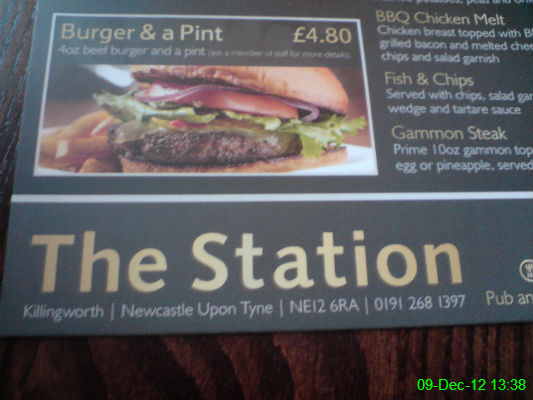 ---
8 December 2012: Souvenir Cup
Michael brought this back from Bordeaux. Along with 24 others. You can see at the bottom of the picture how high they are stacked off the floor. Good thing we're having a party in a few weeks and they'll be put to good use!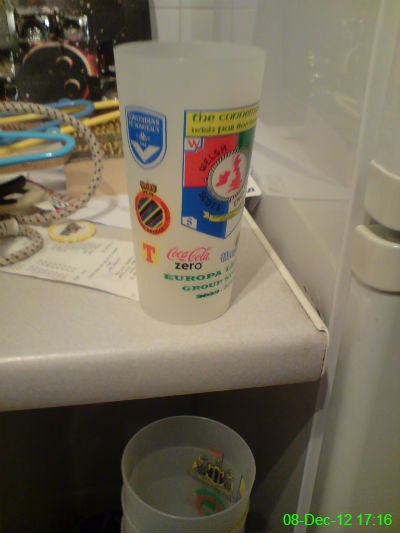 ---
7 December 2012: Angel Debs
This year Debs is our Christmas angel! In accordance with tradition, she's sporting an extremely large hairdo.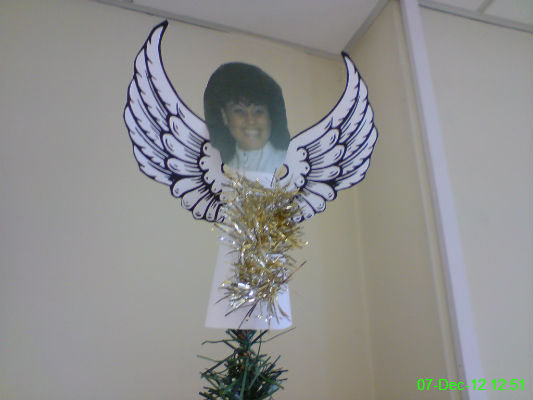 ---
6 December 2012: Cupcake
I don't normally partake in treats at work but the choice between a banana and one of Roland's mam's white chocolate cupcakes was a pretty straightforward decision. It was absolutely gorgeous! Unfortunately, I now have the nasty looking banana for tomorrow.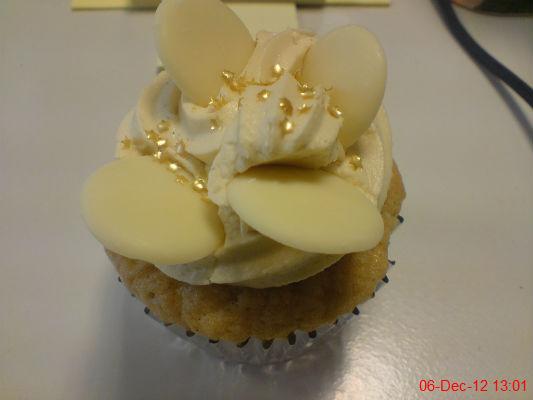 ---
5 December 2012: Blizzard
The view from my office of the snow which has been falling on and off all day.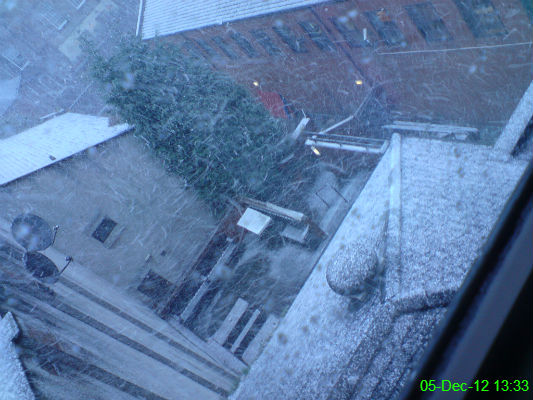 ---
4 December 2012: Glove Within a Glove
A solution to my extremely cold hands.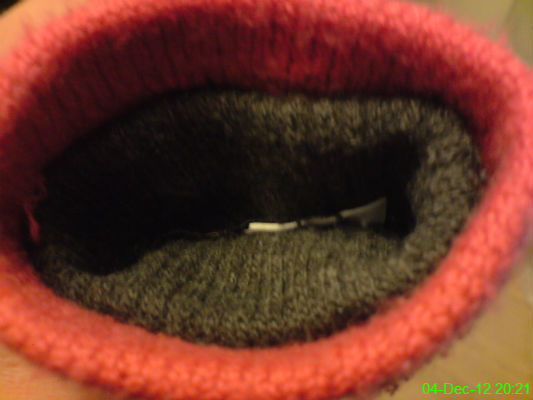 ---
3 December 2012: Persistent Standing
Apparently this is a problem around where we sit in the South East Corner, as these leaflets were on all of the seats prior to kick off against Wigan.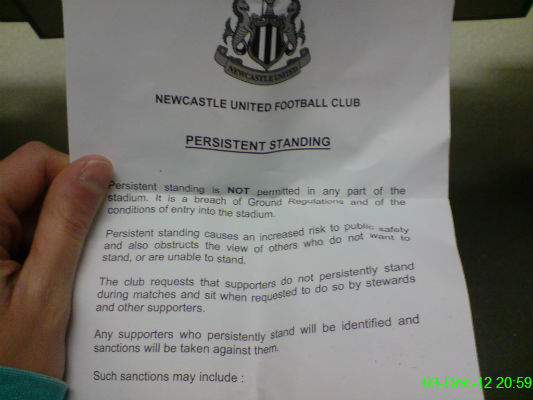 ---
2 December 2012: Seasons Greetings
Our first Christmas card of 2012, from Norma, John & Foss (the dog).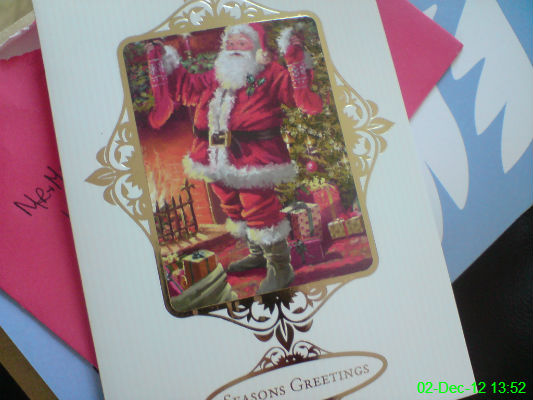 ---
1 December 2012: Door Number One
Behind door number one was a trivia question and a chocolate snowman. The answer was sleigh, in case you're struggling.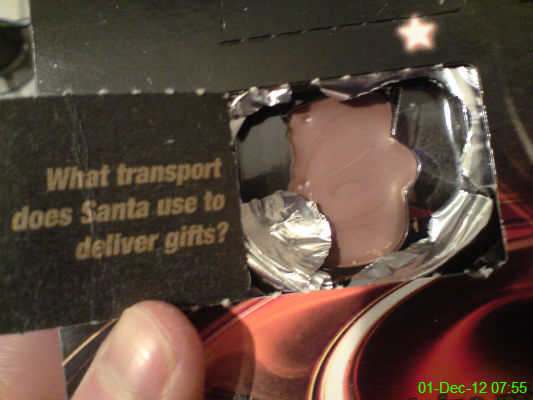 ---