2012: In Pictures
29 February 2012: Cards
It wasn't a particularly interesting leap year day - here's a pack of cards.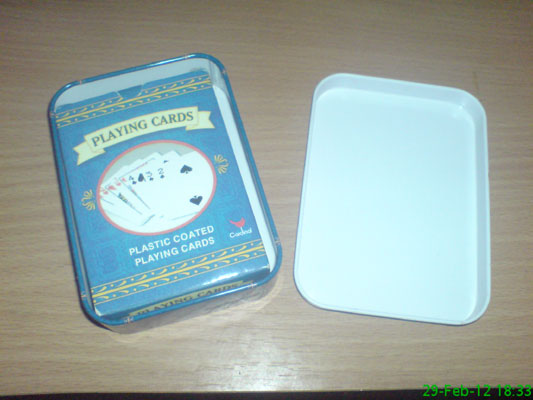 ---
28 February 2012: SSTC
Progress, but the pessimist in me refuses to get excited until we've got the keys.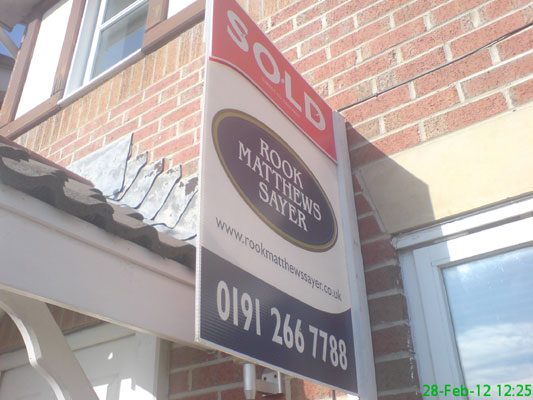 ---
27 February 2012: My Beautiful Neighbourhood
This is possibly my last chance to get in on the Neighbourhood Watch action.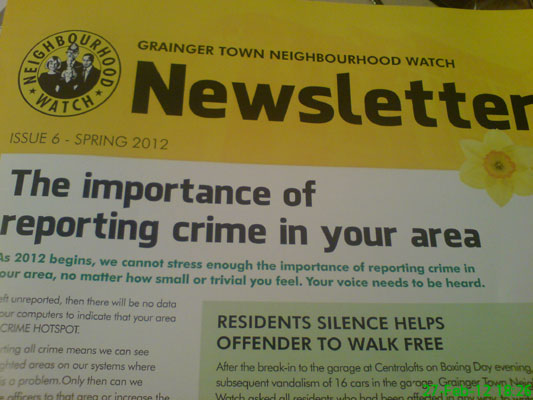 ---
26 February 2012: Paul's 40th
Paul's cake for his 40th birthday celebrations.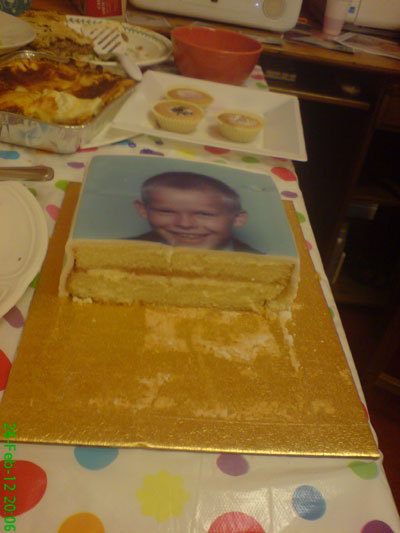 ---
25 February 2012: Gotham
Pints of Skittles in Gotham Town are an excellent idea. Usually.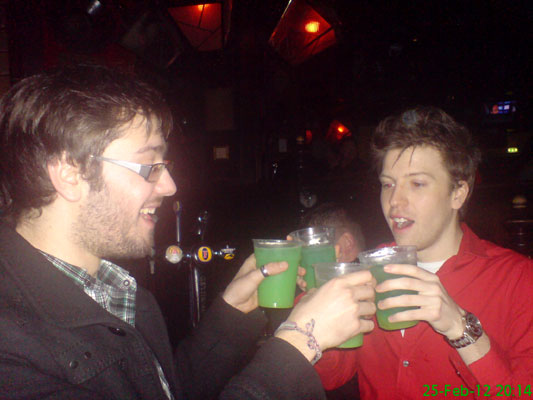 ---
24 February 2012: Shred
Shredding a junk letter from Barclaycard.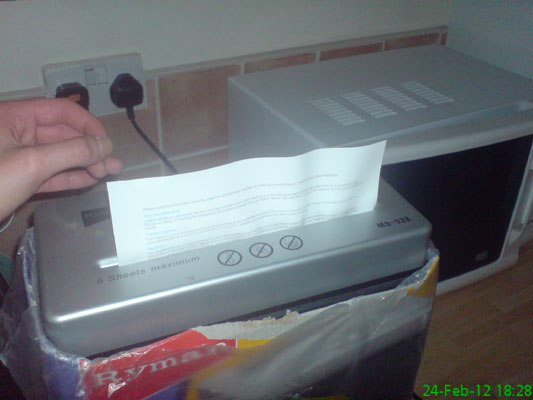 ---
23 February 2012: Asics
I bought some new running shoes from Start Fitness in Newcastle. The colour scheme isn't particularly to my taste but I did get some free socks.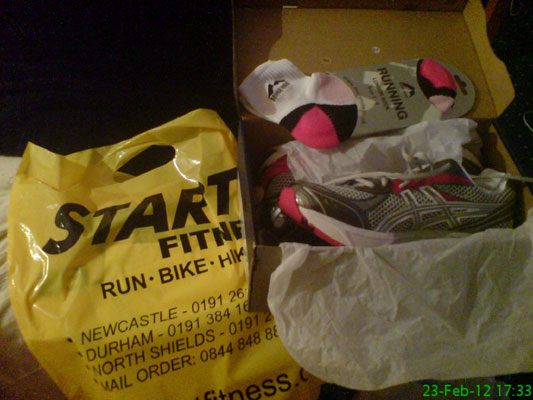 ---
22 February 2012: Cleaning - Again!
I came home from work via the gym and Tesco to find Michael and his mam on a cleaning frenzy in our flat.. oh god.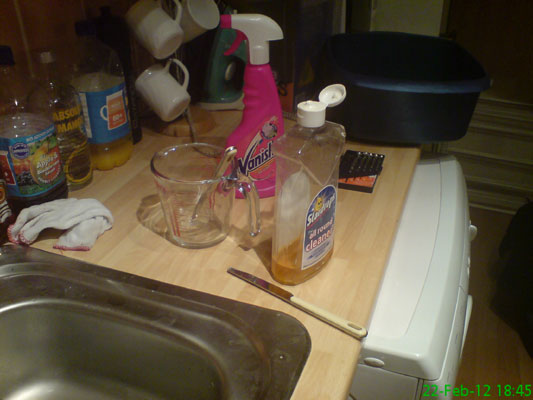 ---
21 February 2012: Chocolate Badger
Michael was in York at the weekend for his brother Paul's 40th birthday and brought me back this chocolate badger from Bettys.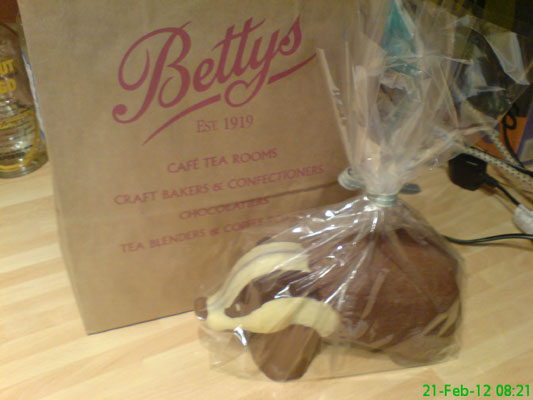 ---
20 February 2012: Productivity
With the internet not working over the weekend I became quite productive and got through several magazines full of competitions. Time to enter!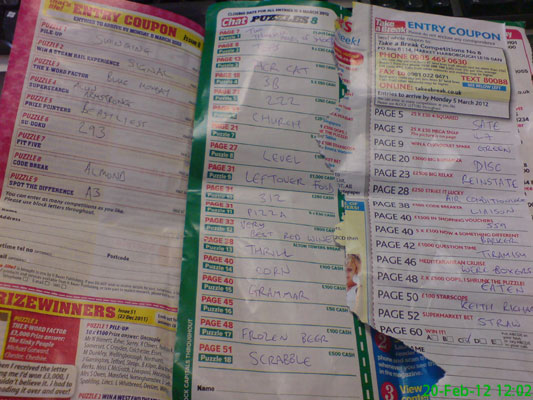 ---
19 February 2012: Care Bear
I stayed over at Ali & Stu's and woke up next to this Care Bear.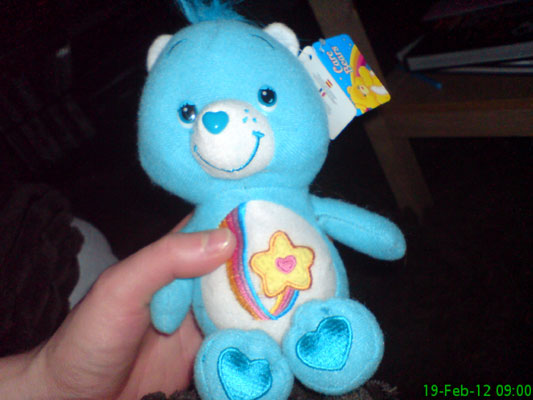 ---
18 February 2012: Gosforth
The Blacksmith's Arms in Gosforth is my sort of pub - the kind where you can sit with your feet up, sip a pint and leaf through a newspaper. I'd make a great old man.
---
17 February 2012: On the Boil
A large pot of boiling pasta is an extremely welcome sight after a hard workout at the gym.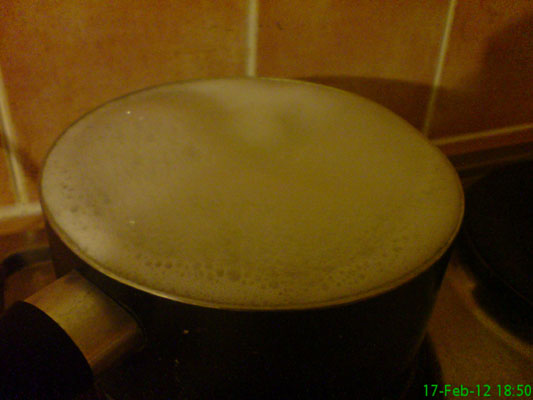 ---
16 February 2012: Birthday Blaze
Celebrations at the Theatre Royal to mark its 175th birthday.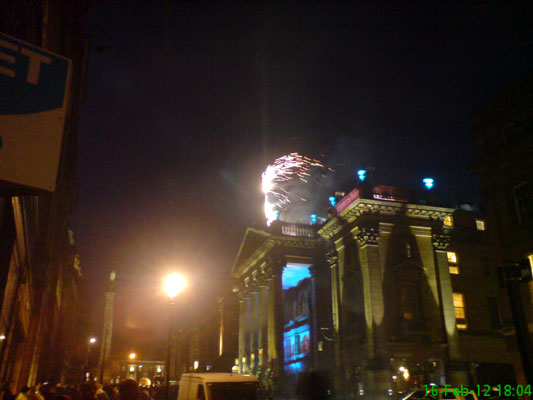 ---
15 February 2012: Dashboard
The dashboard of Ali and Stu's new car. Don't ask me what kind of car - they all look the same to me.
---
14 February 2012: Pickle Tray
I'm not much of a romantic but Valentines Day is an excellent excuse for a curry.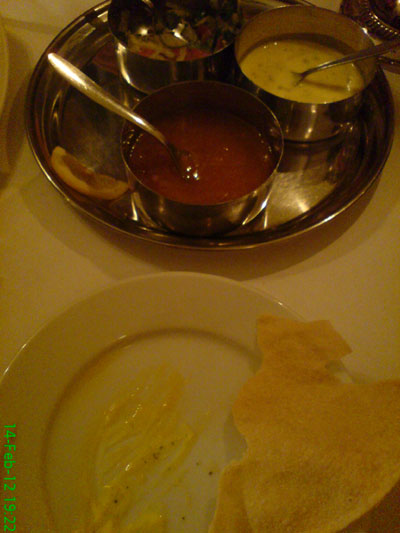 ---
13 February 2012: Mortgages
We had a visit from a mortgage advisor to discuss possible options.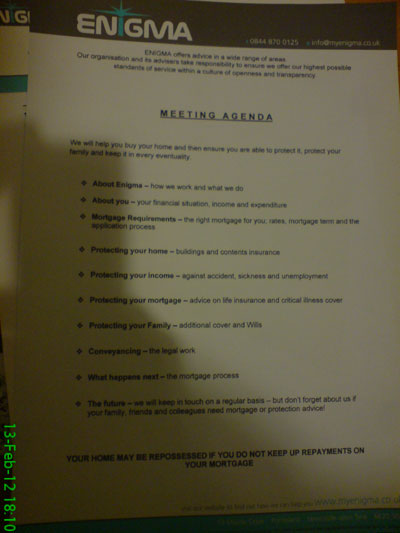 ---
12 February 2012: Knives and Forks
Couldn't be bothered to cook a Sunday dinner so instead we paid a visit to Fluid for one of their Giant Yorkshire Puddings.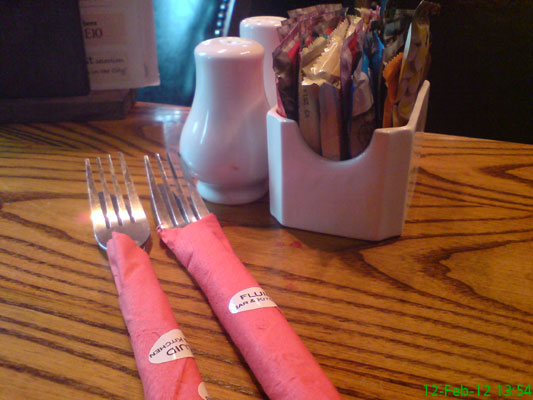 ---
11 February 2012: Field
It was a wasted trip to Palmersville/Forest Hall as the house viewing we had lined up fell through. Instead, we had a walk about this field.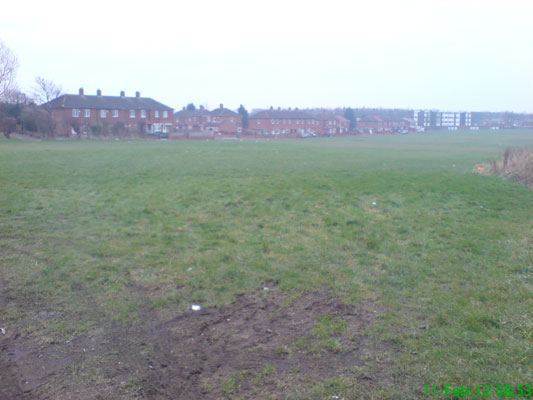 ---
10 February 2012: Ball
We found what appears to be a squash ball while tidying the flat. It suggests that we should probably tidy up more often, because we've lived there 3 years and never played squash.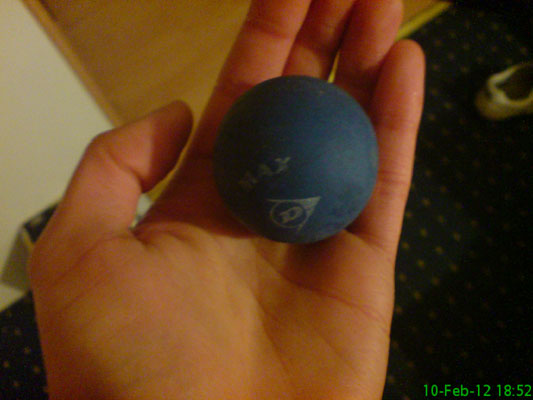 ---
9 February 2012: Cleaning
Not exactly my number one pastime for a Thursday evening.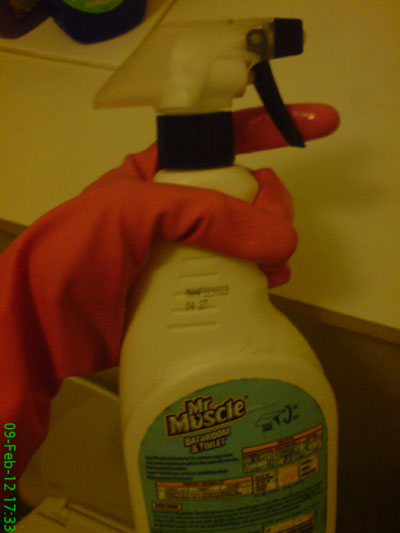 ---
8 February 2012: Why Not Buy?
I'm a bit of a believer in signs and so when I came home to this leaflet in the letterbox after a few days of debating whether or not to continue to rent or buy somewhere.. it was something of a kick up the backside. Not that we'd be considering a 100% mortgage...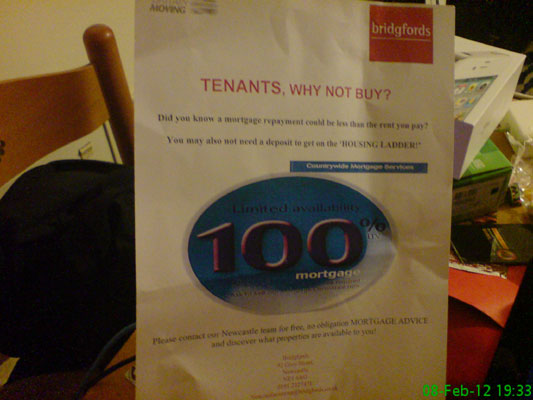 ---
7 February 2012: The Stand
The comedy club which opened a few months ago. I've not been yet, but they've had some pretty decent offers on so far.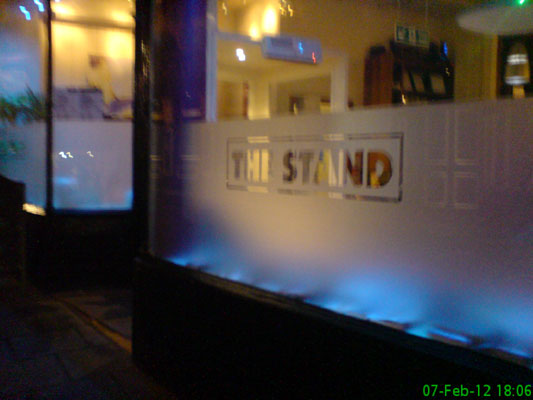 ---
6 February 2012: Self Portrait
My self-portrait, in which I seemed to be adopting a Hulk Hogan style pose.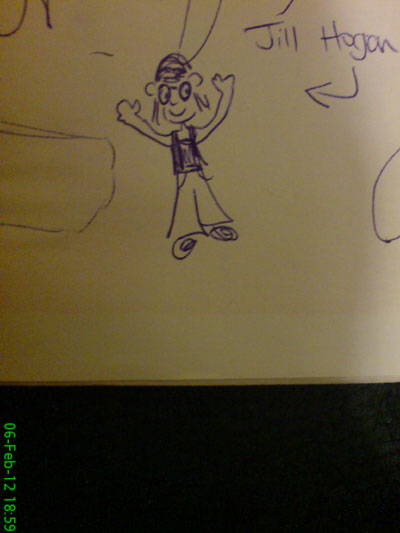 ---
5 February 2012: Toon Scarf
I decided to wear this retro Newcastle scarf for the match today. It ended up being lucky, as we beat Aston Villa 2-1 with goals from Ba and new signing Cisse on their return from international duty.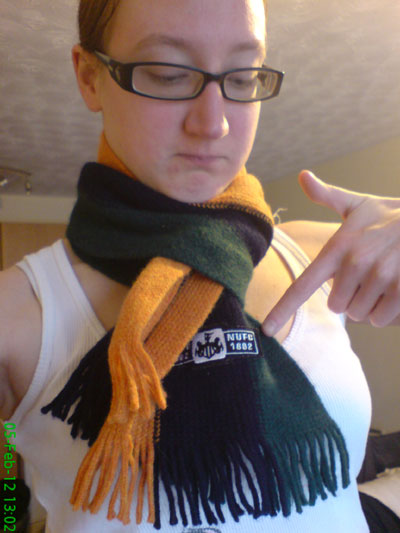 ---
4 February 2012: Cottage Cheese
Since I've been focusing on cardio at the gym during the week, this morning I decided to put more effort into weights. In desperate need of a protein boost afterwards, I turned to cottage cheese. I don't recall ever eating this before (though there's every chance my mam is reading this saying "YES YOU HAVE!") but this low fat version with chive & onion isn't too horrendous.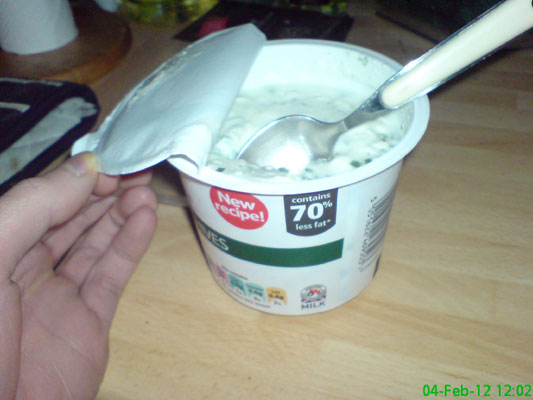 ---
3 February 2012: Sharp
Sharpening my pencil at work. I like writing in pencil, it feels nice.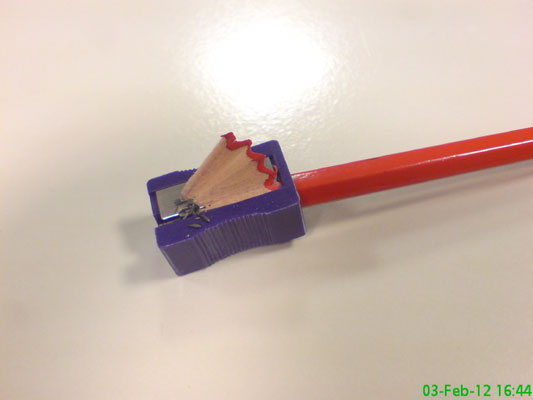 ---
2 February 2012: Crossword Thursday
Not a bad effort so far - hopefully I'll get the rest tomorrow. The bits I've underlined in a few of the clues were where I was trying to explain how they worked to Nicola, to no avail.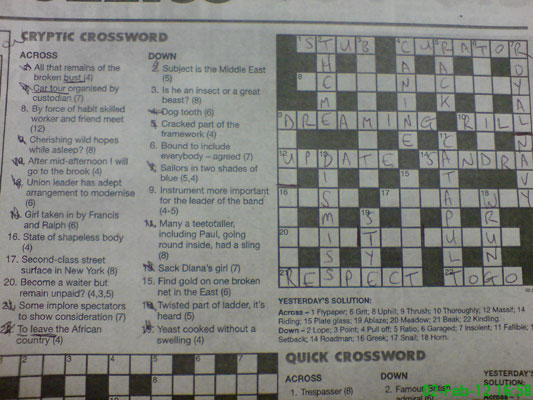 ---
1 February 2012: Mash Up
Tonight's tea was sausage, mash, spinach, carrot & peas. I pretty much inhaled it, I was so hungry. Oh, and the plate is balancing on my laptop for the photo - the table isn't HP branded..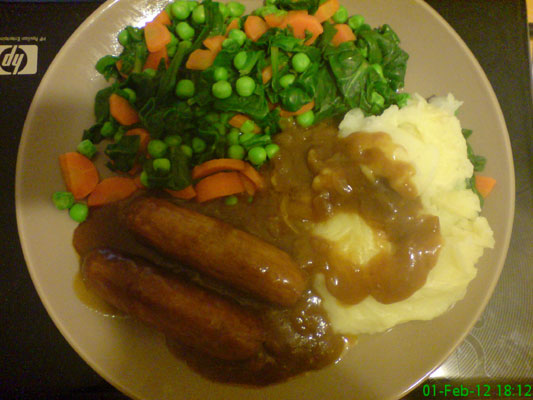 ---