2012: In Pictures
31 January 2012: Timberwolves
I follow the Minnesota Timberwolves who play in the NBA. Due to the time difference, I don't get to see many games live but watching the highlights is something to do on my lunch break. Today I was pleased to see a recap of a 120-108 win over the Houston Rockets.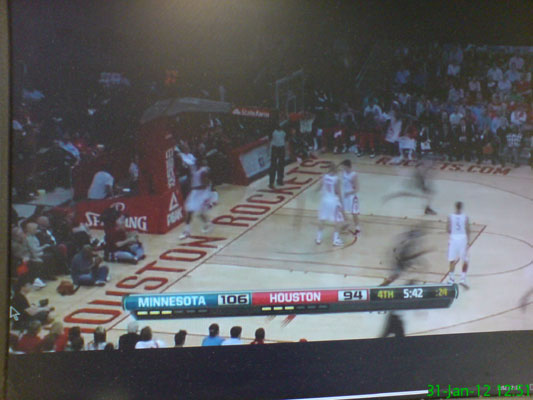 ---
30 January 2012: DC Shoes
Some new trainers, which I couldn't resist because they were half price. I thought a trip to the TNT depot was going to be on the cards but the driver was nice enough to try again later in the day before heading back.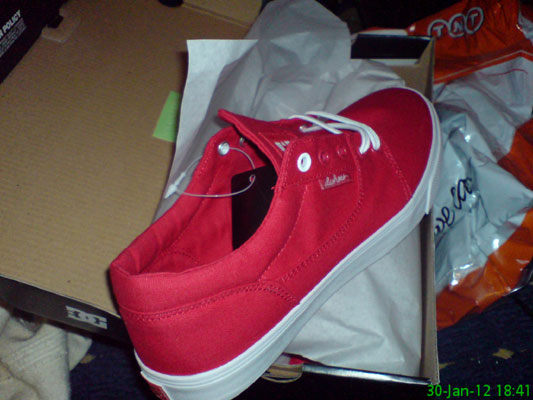 ---
29 January 2012: Chinese New Year Celebrations
As usual, Stowell Street is packed. There were surprisingly few Chinese people though!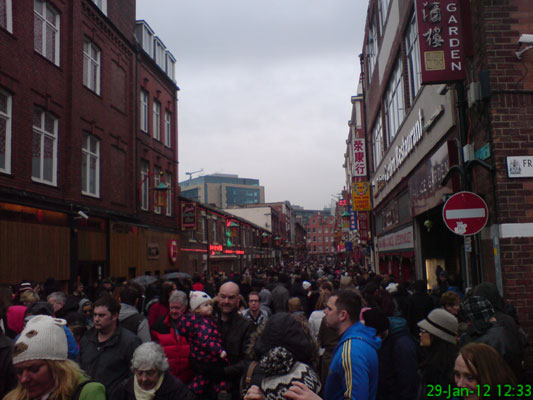 ---
28 January 2012: Three Bulls
I'm not trying to imply that Mak, Michael and Christopher are bulls but we were in fact in The Three Bulls Heads pub.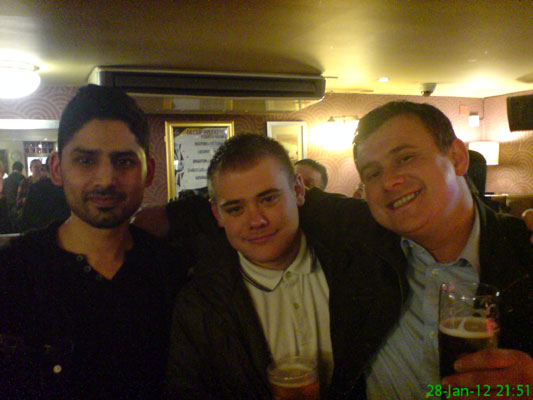 ---
27 January 2012: Thins
Admittedly I've not tried these, but the idea seems a bit.. odd. Call me old fashioned, but normal bread works for me in a sandwich.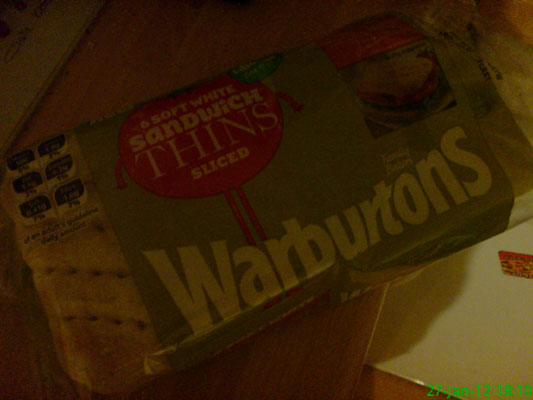 ---
26 January 2012: Hygiene
Various hygiene type items purchased today.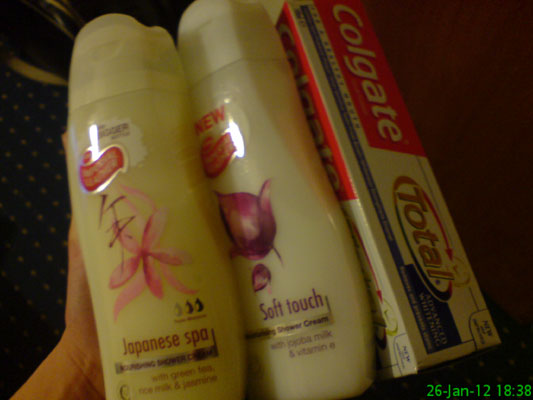 ---
25 January 2012: Pub Words
Something from my wordsearch book, based on one of my favourite hobbies.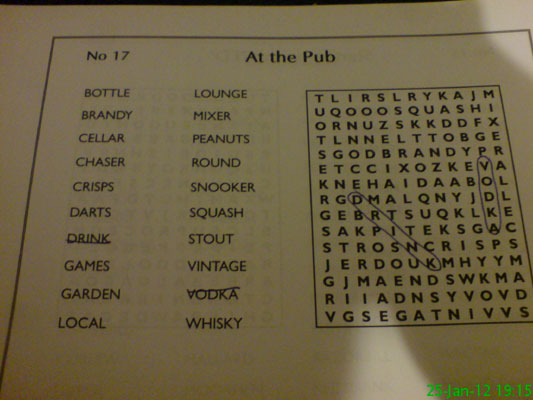 ---
24 January 2012: Supermarket Leaflets
The latest batch of leaflets shoved through my door and it seems to be the battle of the supermarkets. A note to Tesco: I will be more likely to abandon you in favour of one of the others if you continue to gradually stop selling the things I like to eat!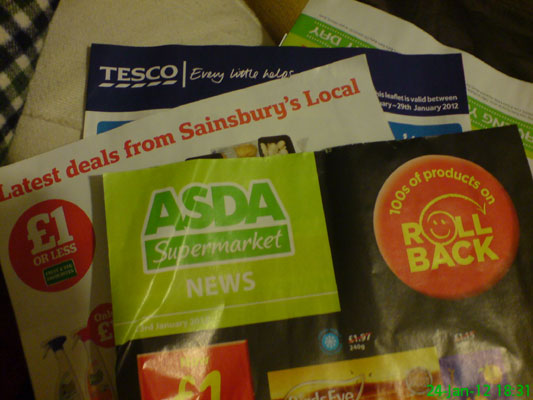 ---
23 January 2012: Chinese New Year
Tesco clearly want everyone to celebrate the year of the dragon.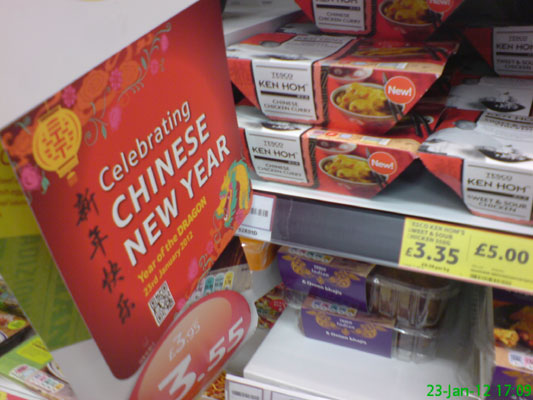 ---
22 January 2012: Sunday Dinner
I never need much persuading to have one of Fluid's Giant Yorkshire Puddings.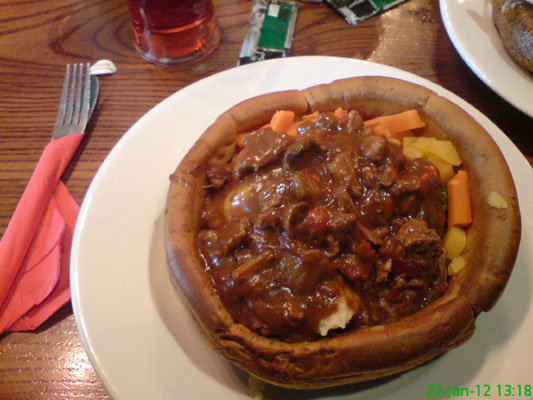 ---
21 January 2012: Dog Track
A very brief (due to the temperature) foray outside at Brough Park with Michael, James and Nicole. And a random blurry man who happened to be walking past. I didn't do too well in terms of betting and only managed a £2.80 win from 12 races.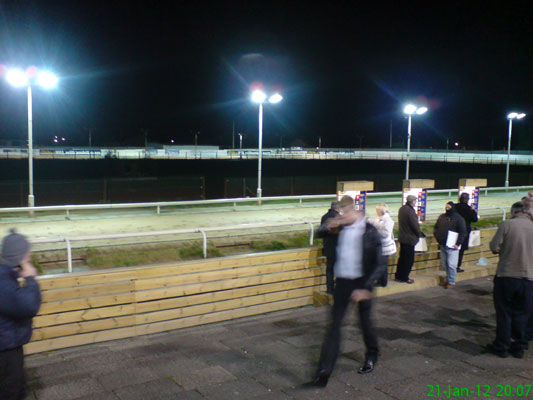 ---
20 January 2012: Lottery Money
It's that time of the month where I have to pay into my work lottery syndicate. We've never had great success, but I don't dare leave as I'm sure that would mean a huge win the following week.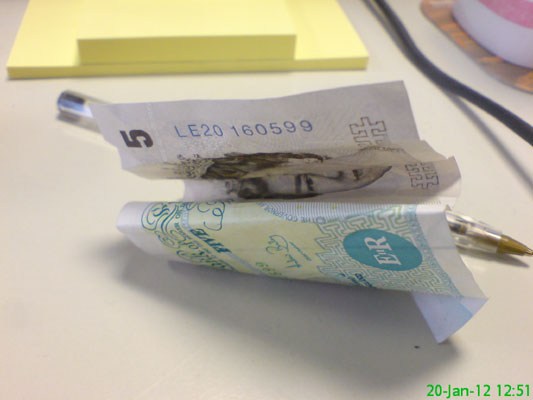 ---
19 January 2012: Juice Cocktail
Juice never seems to mix very well when I put the water in first. The only thing it's good for is pretending I have one of those fancy layered cocktails, when instead I'm just drinking apple and blackcurrant juice.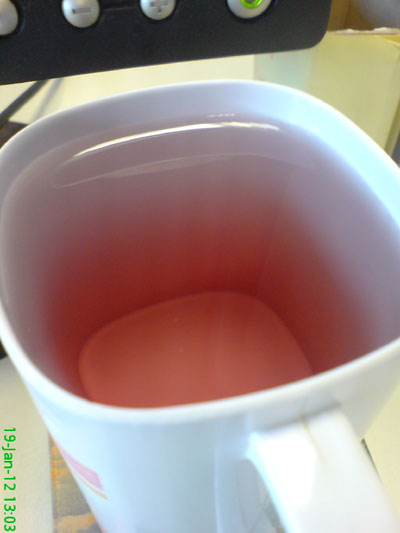 ---
18 January 2012: 1723 Map
From the book I'm reading on the history of Newcastle - a map from 1723 by James Corbridge.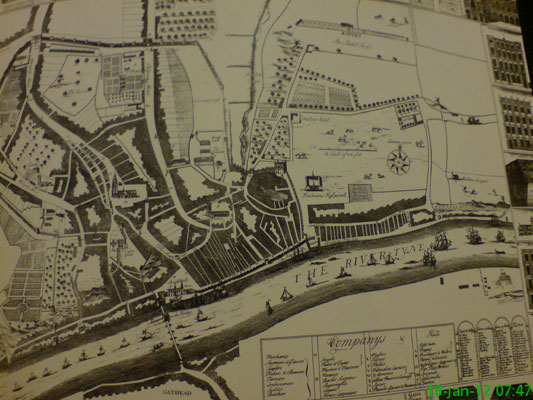 ---
17 January 2012: Cisse
Finally, the moment Newcastle fans have been waiting for all day: the Sky Sports News ticker confirms Papiss Cisse has signed for the club.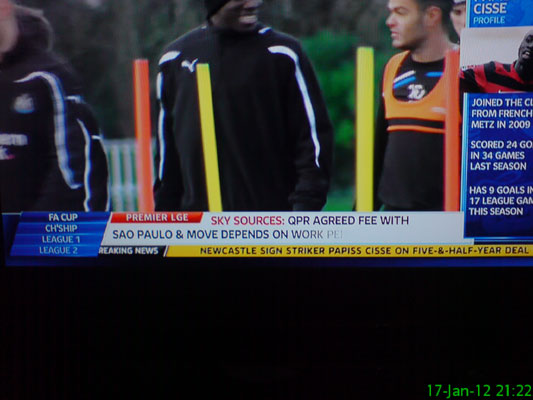 ---
16 January 2012: Bath Time
I usually prefer showers, but sometimes when it's freezing cold and I'm tired after work and the gym it's nice to relax in the bath for a bit.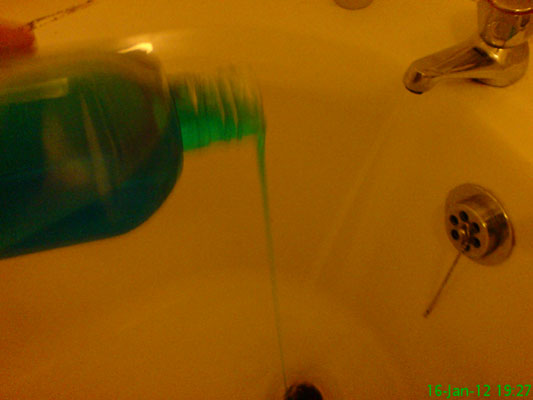 ---
15 January 2012: Frozen Pitch
A slightly frozen pitch wasn't enough to stop Newcastle beating QPR 1-0 with a goal from Leon Best.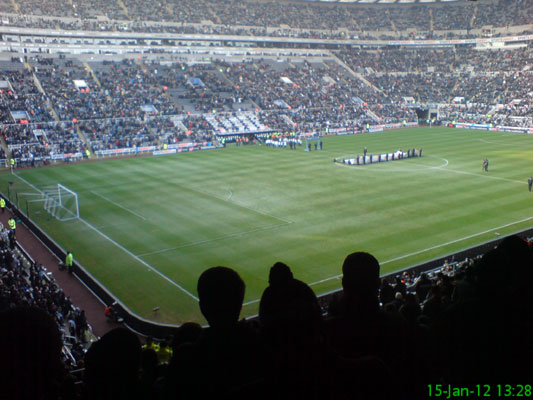 ---
14 January 2012: Gran's Birthday
My Gran on her 89th birthday. What a legend!!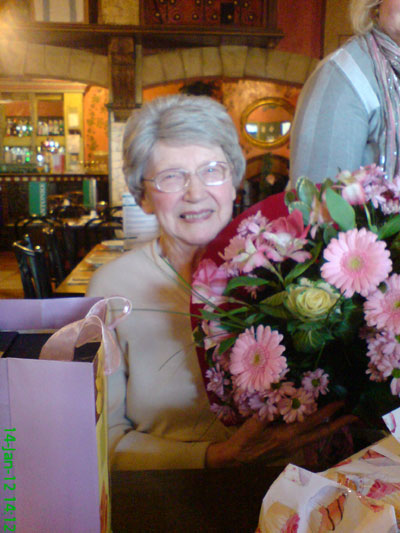 ---
13 January 2012: Charge
My 4 and a half year phone, for some unknown reason, isn't charging too well at the moment. Usually after being plugged in overnight this light should be green but unfortunately it wasn't so I gave it a few extra minutes charging before getting ready for work. And no, I don't dust the tops of my electrical sockets - sorry!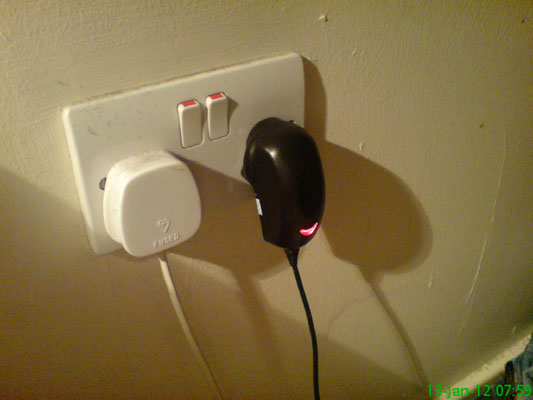 ---
12 January 2012: Veins
The veins in my hand are just about ready to burst after a tough 45 minutes on the treadmill.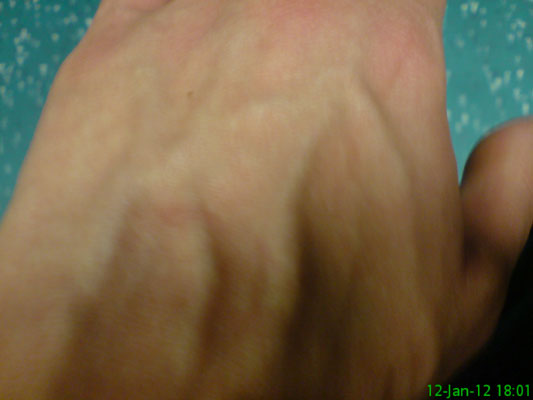 ---
11 January 2012: Tub
This little tub was the perfect size to hold the leftover sweetcorn. I will be having the rest of it for tea tonight along with breadcrumbed chicken fillet, new potatoes, carrot, broccoli and fiery chilli tomato ketchup. Exciting, no?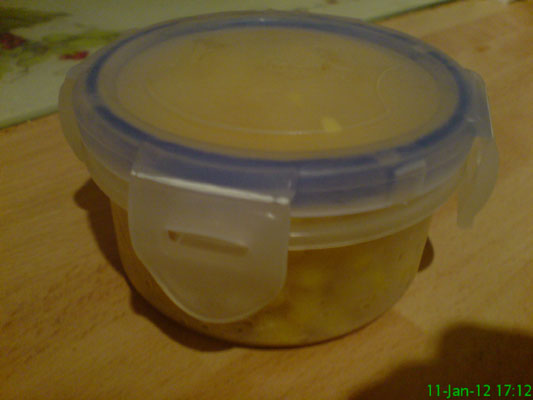 ---
10 January 2012: London
Something to look forward to: a trip to London in May, staying at a nice hotel.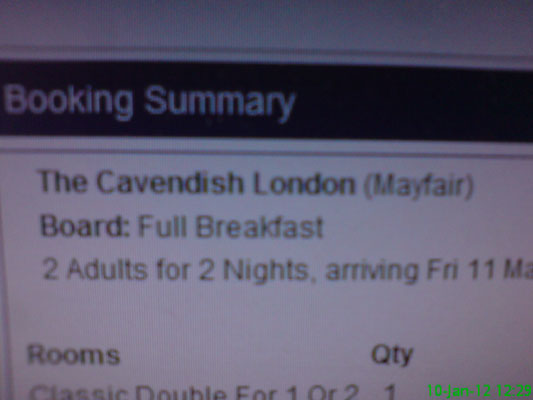 ---
9 January 2012: Thermal Socks
Another Christmas present: thermal socks to keep me warm. One pair already proved very useful at the match the other day.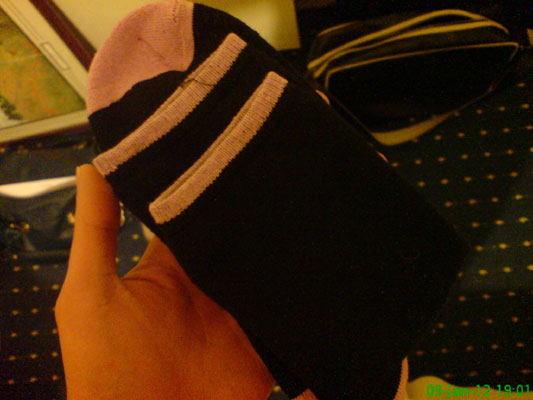 ---
8 January 2012: Twin Peaks
I've become quite addicted to this lately.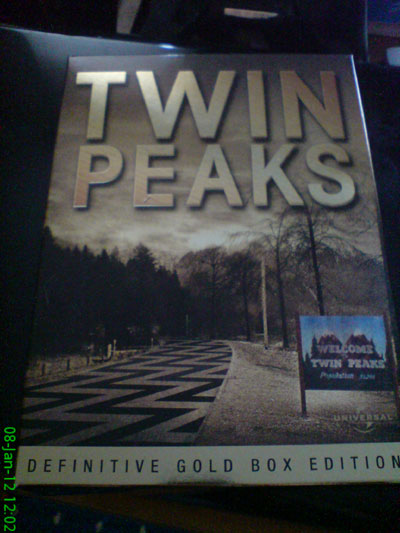 ---
7 January 2012: Stu's Birthday
Stu with the lads at Shark Club on his birthday.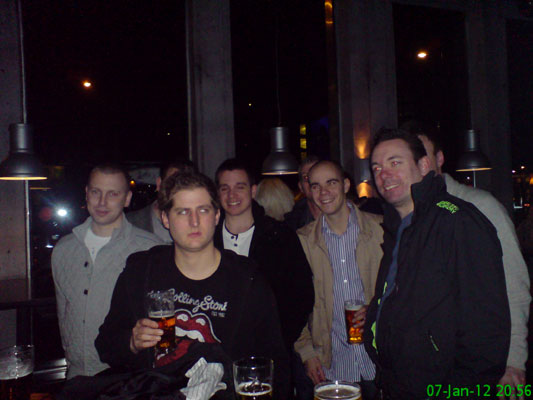 ---
6 January 2012: Cold Hands
My hands were freezing cold at work so I put my new gloves on for a bit over lunchtime. Not only are they nice and warm but they also remind me of Dr Zoidberg from Futurama (look him up if you don't believe me!) which can only be a good thing.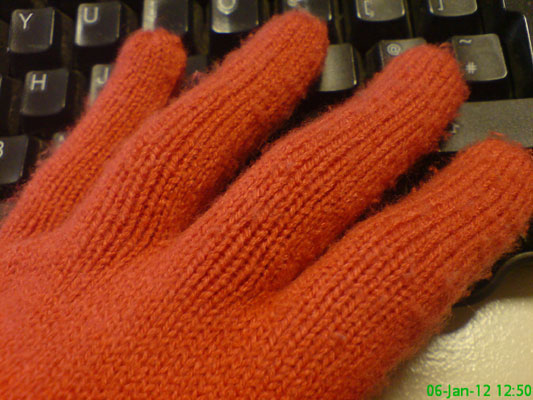 ---
5 January 2012: Weigh Day
The results are in: I've gained 2lbs since 15 December. I think I can cope with that given the amount of food and cider consumed and the number of days spent loafing around watching TV instead of moving.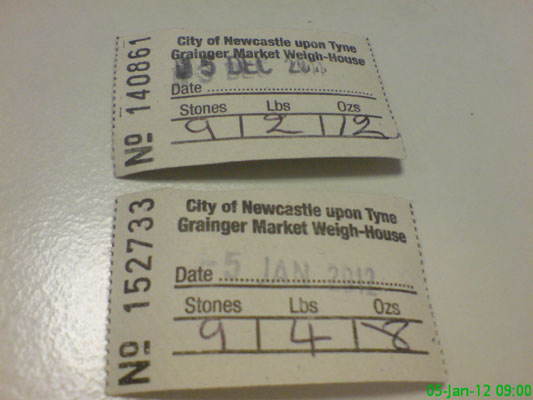 ---
4 January 2012: Newcastle United 3-0 Manchester United
On a cold January evening, it's easy to feel like you can't be bothered going to the match. Thankfully I wrapped up warm and dragged myself there to see a brilliant game in which goals from Ba, Cabaye and Phil Jones (og) led to a convincing home win.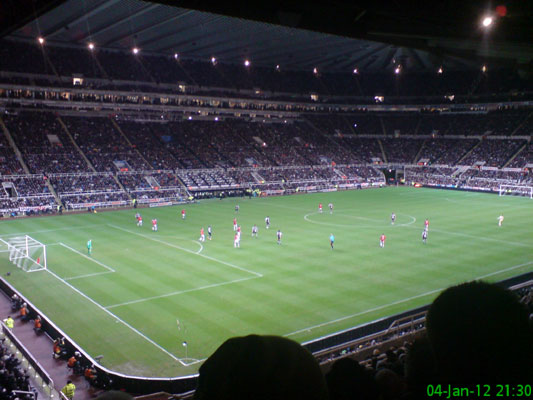 ---
3 January 2012: Back to Work
The first day back at work after the festive break can be a bit of a struggle so it always helps to get the new holiday chart up. Naturally we've all got some straight on the board: Jen is purple, Nicola is yellow and I'm orange.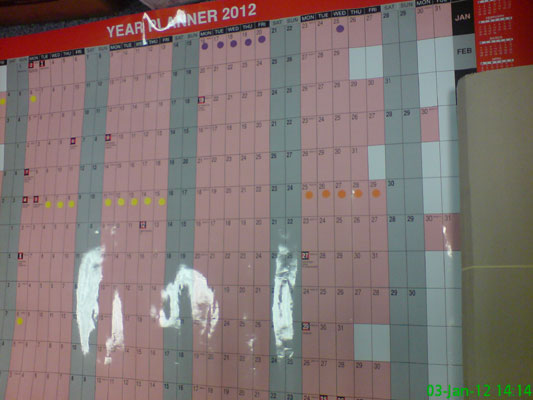 ---
2 January 2012: Nasser's Birthday Meal
Sophie and Nasser at Zizzi for a meal to celebrate Nasser's birthday.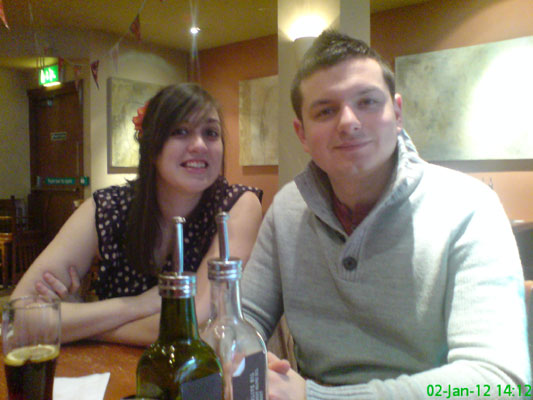 ---
1 January 2012: Dean's Surprise 30th Party
A surprise party was thrown for Dean on his 30th birthday and everyone braved their New Years Eve hangovers to join in the celebrations.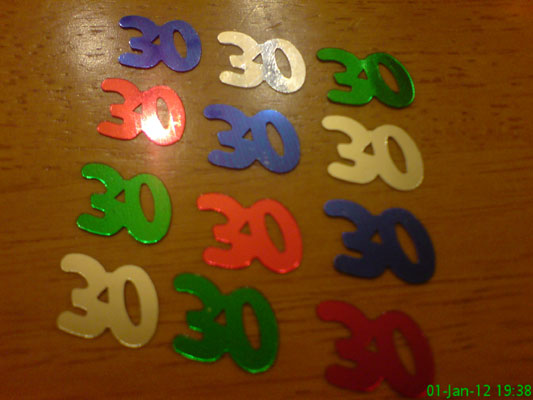 ---