2012: In Pictures
31 July 2012: Library
My Kindle library. The top row is books I have yet to read. The two on the left are the ones I'm most looking forward to and the others are saved for when I'm really bored.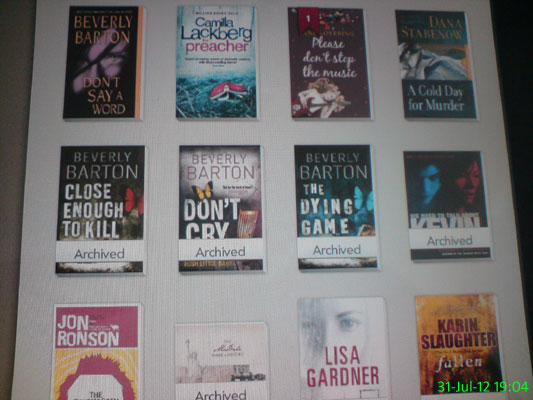 ---
30 July 2012: Olympic Channels
This is bordering on heaven for a sports fan like me. And all in glorious high definition!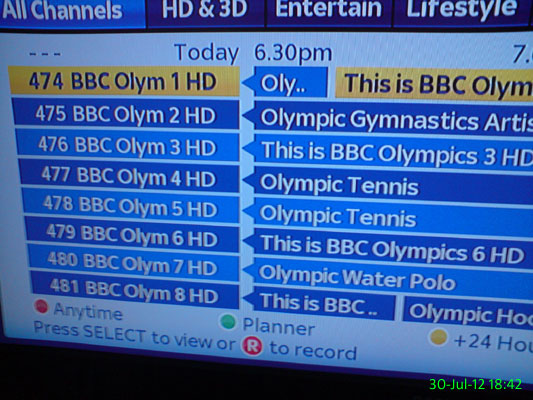 ---
29 July 2012: Japan 1-0 Morocco
Japan take a corner in their Olympic football game against Morocco at St James' Park. In the following game, Honduras also beat Spain 1-0.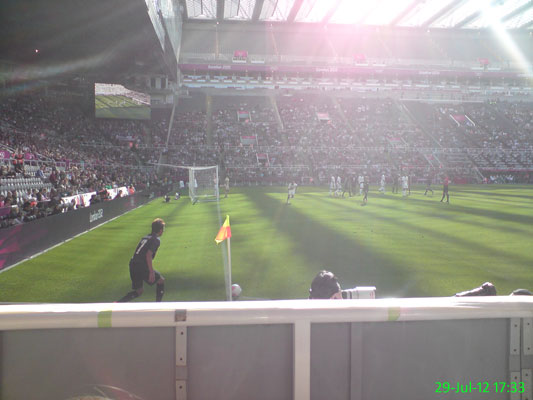 ---
28 July 2012: Body Fat
I still had some birthday money left over, so I bought some Omron scales from Amazon this week. As well as weight they also give results for body fat percentage and visceral fat. I'm pretty pleased with my body fat reading this morning. According to Wikipedia (the fountain of knowledge) 'fitness' levels for women are 21-24% with athletes being around 14-20%. A bit more work and I might make the end of the Olympics! Visceral fat was level 2, which is also quite good - evidently last night's pizza hasn't taken effect yet.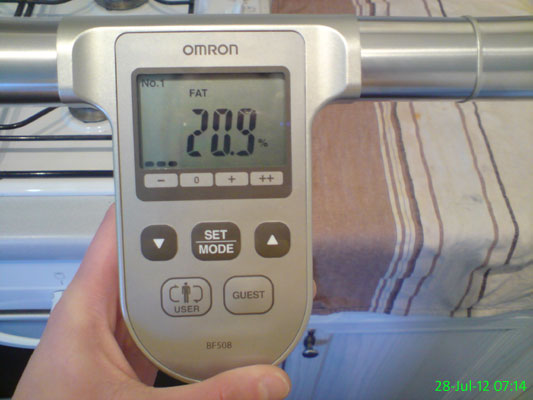 ---
27 July 2012: Pizza & DVD Night
It's been a while since Ali and I had one of these, but a night of pizza and cheesy horror films with my big sister is always a treat!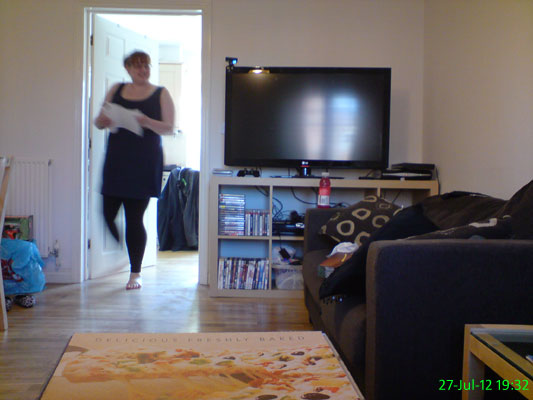 ---
26 July 2012: Figures
My first job at work each morning is to ring my client and obtain the up to date account figures for the mortgage possession hearings that day. This is the sheet I use to make a quick note before typing them onto the database. It's highly exciting stuff.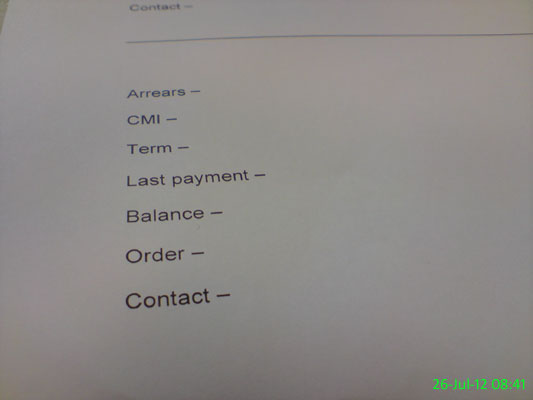 ---
25 July 2012: Baking Tray
We recently bought a new, smaller baking tray, which is pretty useful.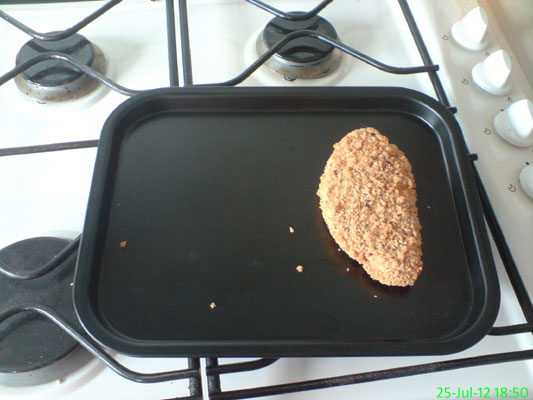 ---
24 July 2012: Bin
I like the foot pedal. I don't like being barefoot. Kind of a mixed emotion going on in this photo.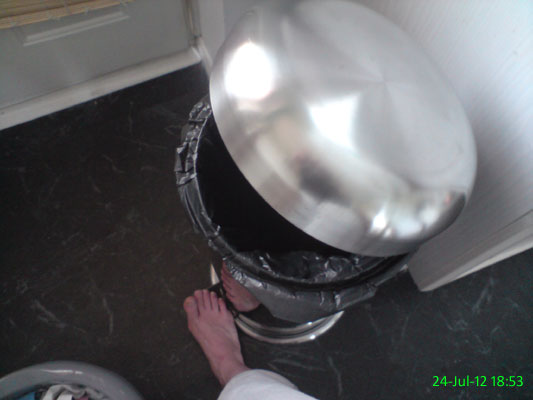 ---
23 July 2012: New Pyjamas
I bought these from Matalan yesterday. They're not the nicest pyjamas I've ever had, but I suppose they're better than an old pair of shorts.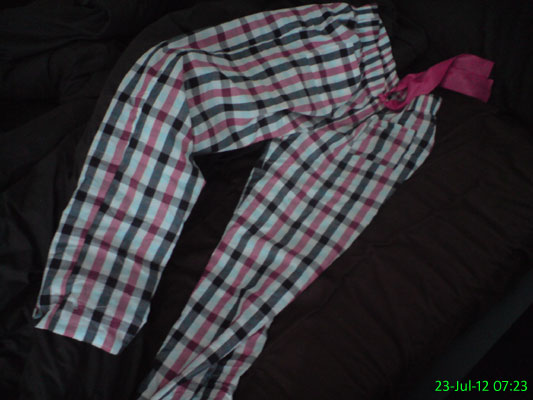 ---
22 July 2012: Sunday Carvery
Sunday lunch at the Killingworth Arms is always popular, so we made sure we were there before the lids were even removed.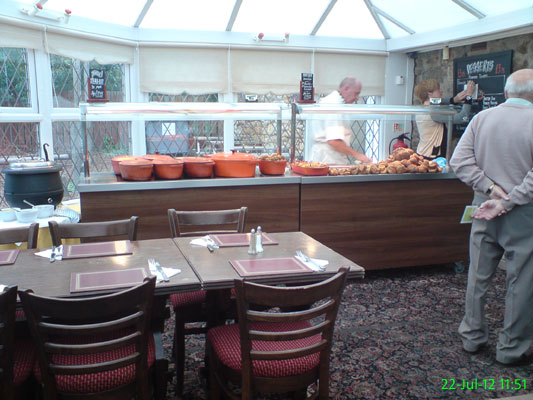 ---
21 July 2012: Air Show
It's the Sunderland Air Show this weekend, but thankfully I didn't need to venture south as several planes passed over our house on the way there.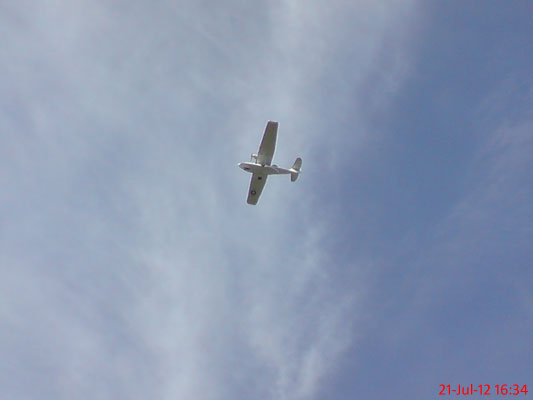 ---
20 July 2012: PS3 Face
The PS3 hasn't been working properly so I spent about 20 minutes trying to get it to switch on so I could watch a DVD. While I was waiting, I realised that it reminded me a bit of a face with the two discs as eyes and the slot for a mouth.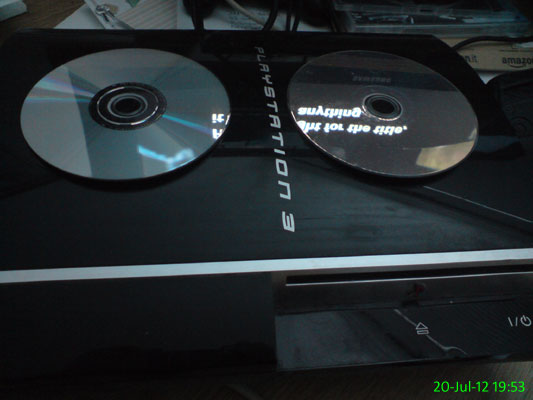 ---
19 July 2012: Cushions
Some cushions my Auntie Sue dropped off for us, which are proving very useful for slobbing about in front of the TV.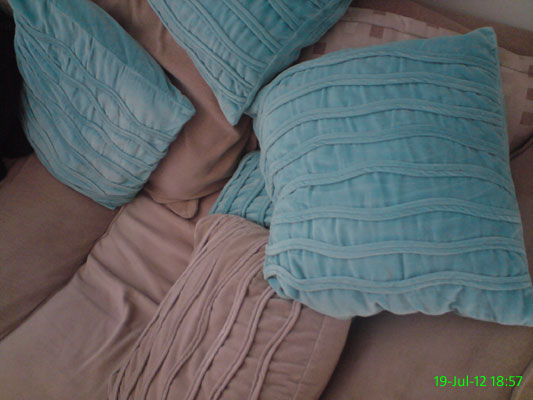 ---
18 July 2012: Blood Donation
My first visit to give blood in several years! I can't say I've missed the leaflets they make you read.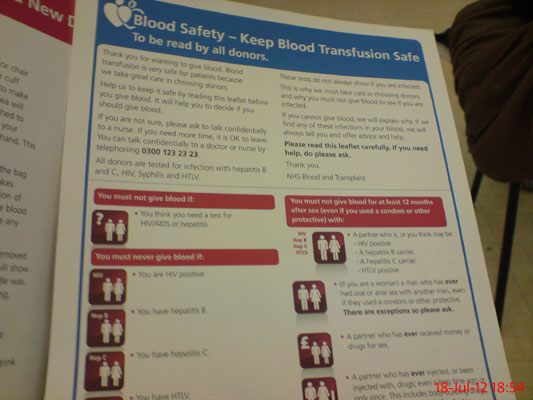 ---
17 July 2012: Out of Date
My mam will probably be amazed to hear this, but I had out of date milk on my Weetabix today. I'm usually pretty paranoid about Use By/Best Before dates but it smelled ok. 12 hours later, it hasn't killed me yet.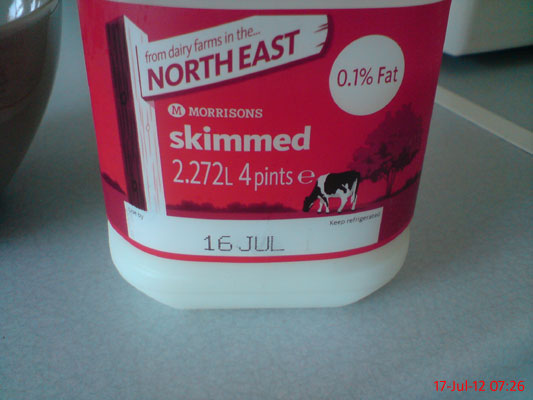 ---
16 July 2012: Camilla Lackberg
My sister recommended this author and I'm really enjoying this book so far.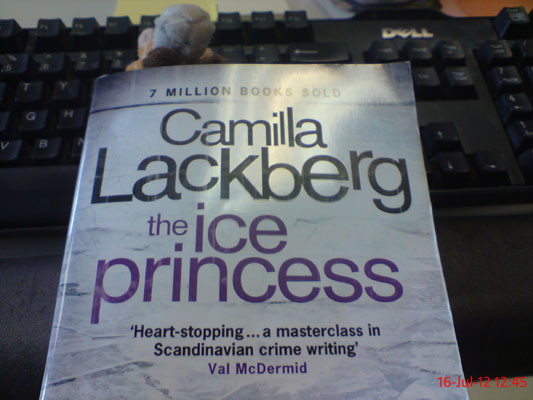 ---
15 July 2012: Quayside Market
After a trip to the gym I decided to have a walk along the Quayside to browse the Sunday market. You can't make out many of the stalls along the right hand side of this photo, but I promise they're there.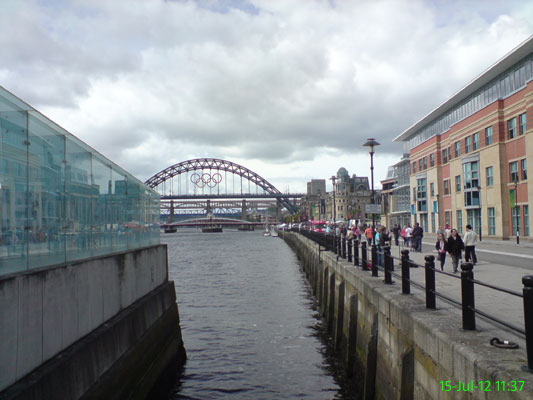 ---
14 July 2012: Eggy Beans
Beans on eggy bread is probably quite wrong, but it tastes SO RIGHT. My presentation isn't up to scratch, but there are certain meals you just can't dress up.
---
13 July 2012: Kettlebell DVD
After shovelling a Wispa McFlurry down my neck as a Friday treat, this DVD which I borrowed from Leanne is giving me the evil eye. I'll probably give it a go over the weekend, though if it's anything like the workout I found on Youtube it'll probably have me crying and rocking in a corner.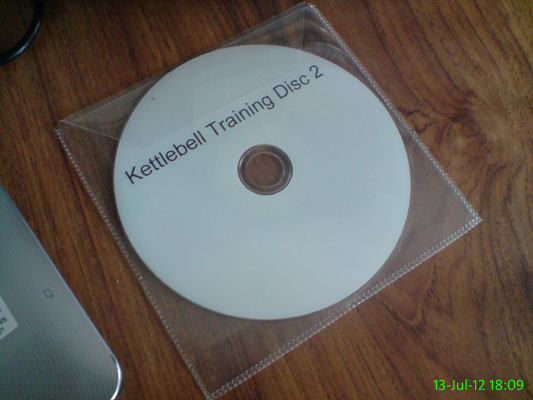 ---
12 July 2012: Weight Graph
This is the graph I'm keeping of my weight in 2012. It looks a bit severe at times but there's only a difference of 5lbs across the whole thing. The dork in me just can't help keeping it up to date.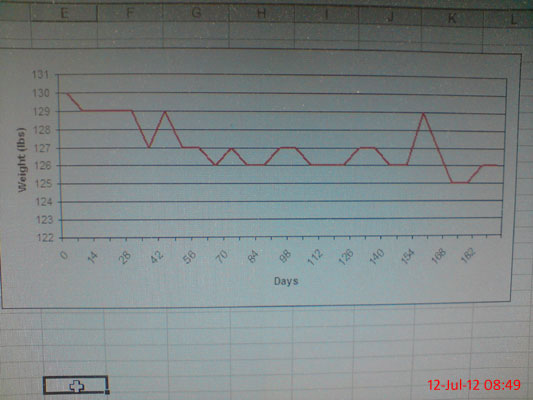 ---
11 July 2012: Grim View
Summer is yet to arrive and the view out of the bus window indicates it won't be turning up any time soon.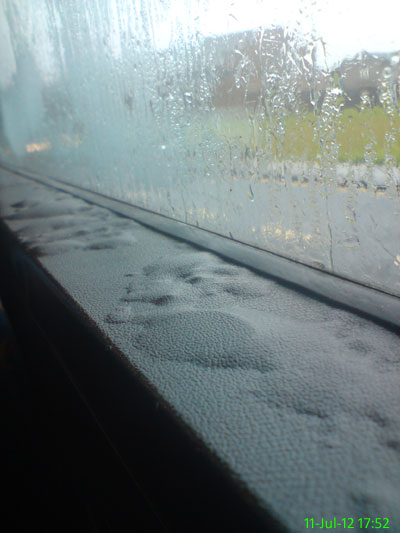 ---
10 July 2012: Handles
This is one of the machines I use at the gym: the Biceps Curl. It's pretty straightforward - elbows on the cushioned bit at the bottom of the shot, grab the handles and pull them towards you. I would dazzle you with my strength and tell you the weight I use, but since this is in the ladies area of the gym it doesn't tell you the actual weight. I use level 7 out of 12.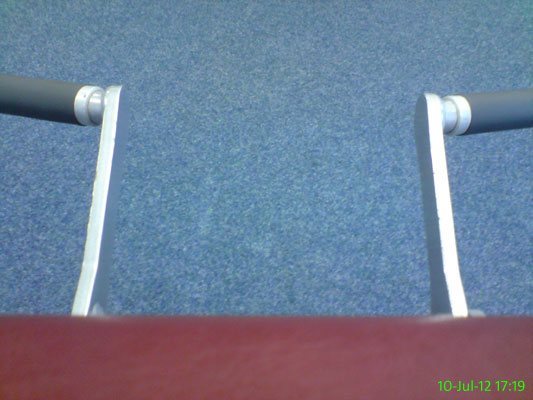 ---
9 July 2012: Chilli Relish
One of my purchases from the Chilli Festival, which is going to spice up the wraps I'm making for lunch tomorrow.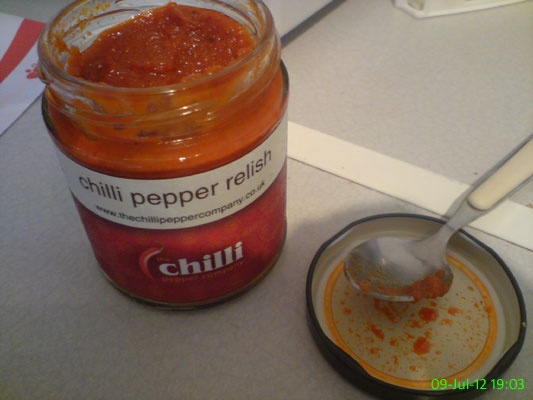 ---
8 July 2012: Stripper
After a family meal, Ali, Stu, Michael and myself popped into the Wheatsheaf for a few quiet drinks. The pub was having a party for the landlady's birthday, which included a policeman stripper. Not the most normal Sunday I've ever had, and I picked a terrible time to be stone cold sober.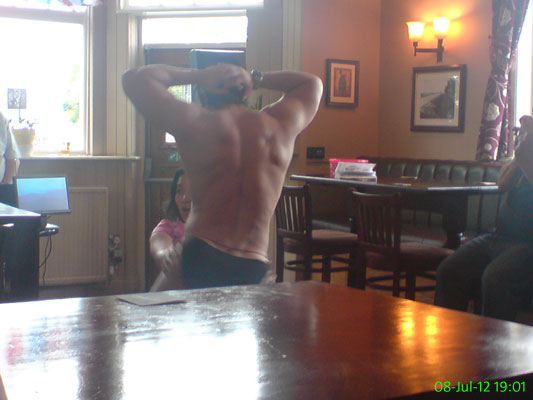 ---
7 July 2012: North East Chilli Festival
I had a wander round the Chilli Festival at Seaton Delaval Hall with Michael, Paul, Angela and Luke. There were plenty of delicious things to taste and I ended up buying a chilli pepper relish and an 'extremely naughty' sweet and hot jam which was made with naga chillies.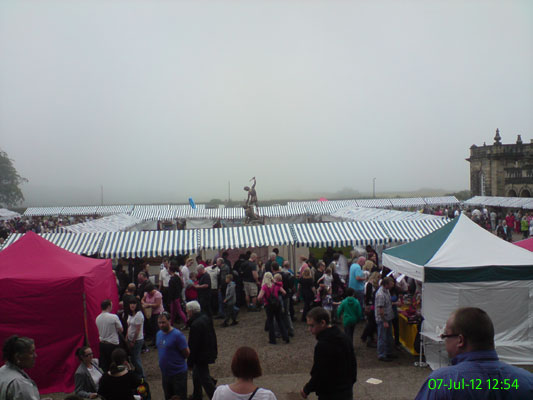 ---
6 July 2012: Flooding
Weather forecasts have been suggesting we're going to get (more) heavy rainfall and flooding, so I wasn't happy to have to walk through this on the way to the bus stop this morning. I don't think that woman was too impressed either, which is probably why she let me go through first. Thankfully, the rain held off for most of the day and this little bit of flooding was gone by the time I got home.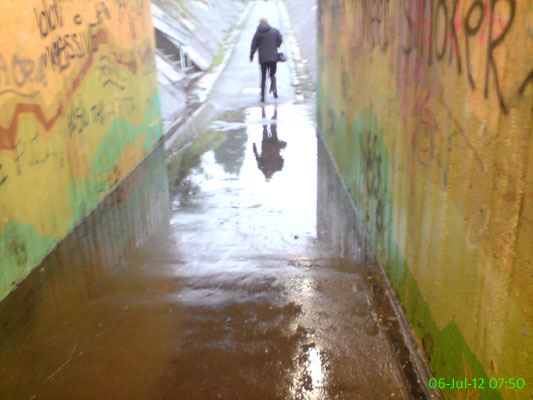 ---
5 July 2012: Ham Note
I did a bit of shopping on the way to work this morning and put some ham in the fridge at work when I arrived. I'm hoping even an idiot like me won't miss this reminder when I leave tonight. The rest of my shopping consisted of bread, tomato ketchup, toothpaste, roll on antiperspirant and Pepsi Max.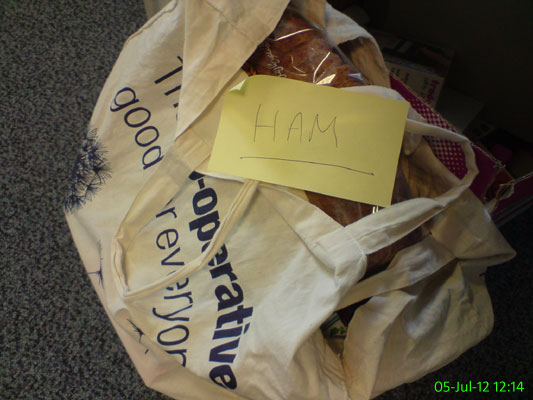 ---
4 July 2012: Alphabet
I finally got round to buying some alphabet fridge magnets. Today I'm using them to remind myself of the plan I have not to drink any alcohol during the month of July. It seemed the only time to squeeze such a resolution in before the football season starts again in August! I would've been more specific with the magnets but I only have one L which ruled out writing 'alcohol'. The first four days have passed easily enough, but I'm sure there will be many temptations in the coming weeks.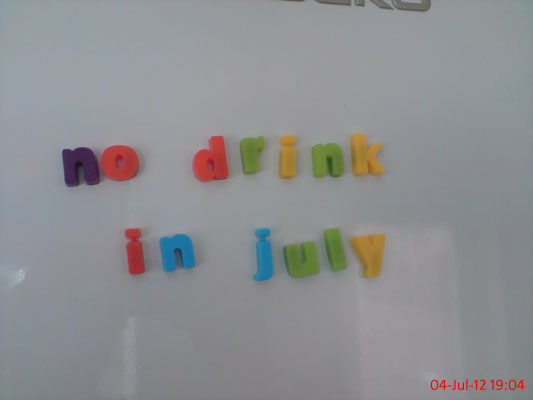 ---
3 July 2012: Kettlebells
A new addition to my ever-growing collection of home exercise equipment. They're supposed to be a pretty good workout.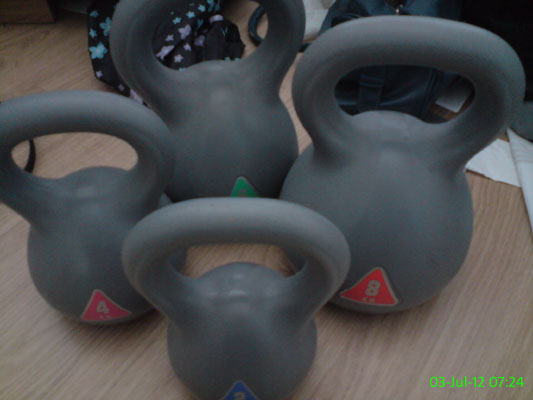 ---
2 July 2012: Watch This Space
I recently bought a new watch.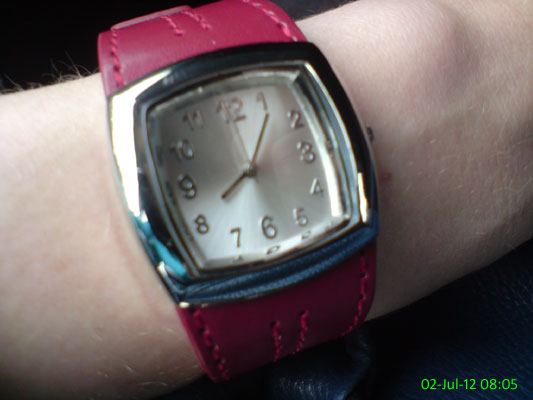 ---
1 July 2012: New Screen
After breaking my laptop screen over a year ago and having to hook it up to a TV ever since, I've finally had a new screen fitted.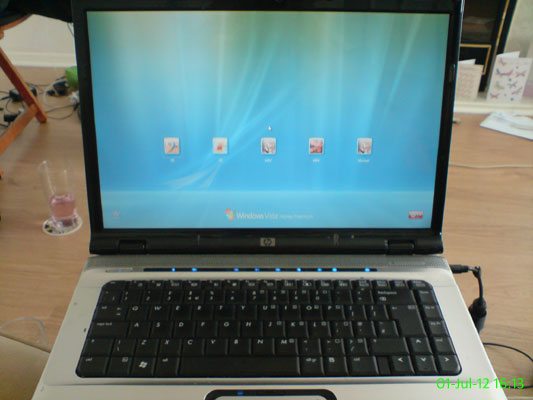 ---