2012: In Pictures
30 June 2012: Home
The Tyne Bridge (currently sporting some Olympic rings) is always a welcome sight, even after an enjoyable trip away.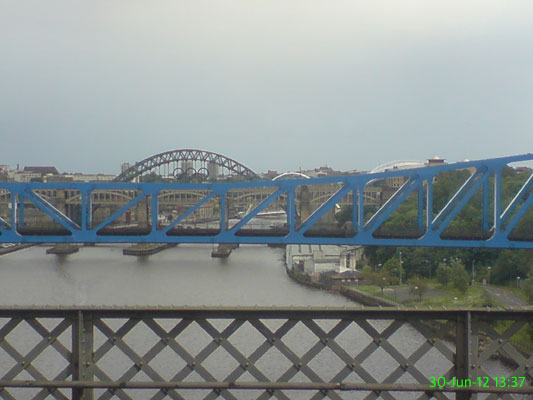 ---
29 June 2012: Stone Roses
A gig at Heaton Park that most in attendance had waited a very long time for. They were supported by Kid British, The Vaccines, The Wailers and Primal Scream and it was an incredible day.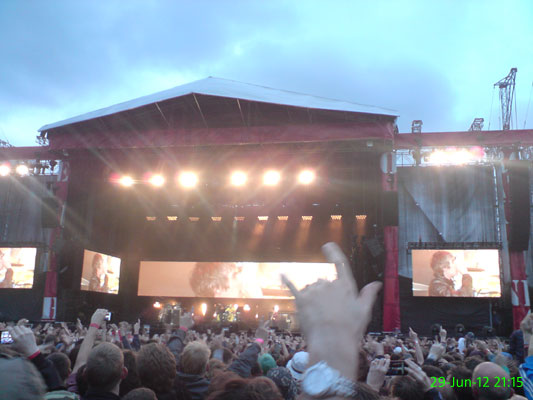 ---
28 June 2012: Stroll
I went for a stroll through some pretty muddy fields. At this point the weather was okay and thankfully I made it home before a huge thunderstorm a few hours later.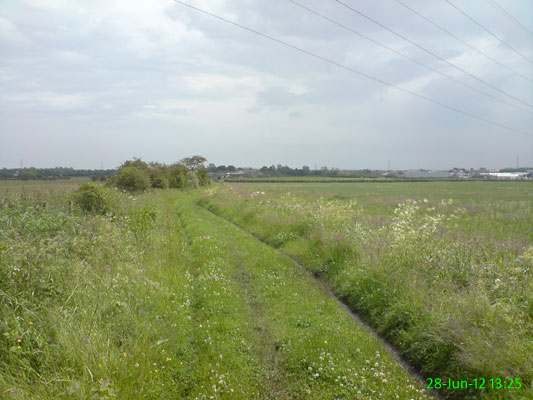 ---
27 June 2012: Noticeboard
All the truly important things are covered - takeaway menu, upcoming chilli festival, waste collection calendar. Actually that last one isn't too useful, since it only goes up to March.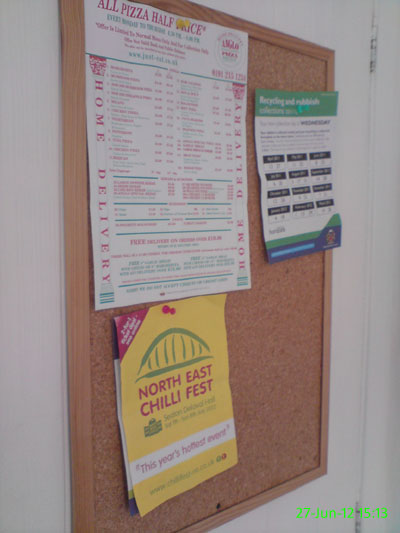 ---
26 June 2012: Birthday Shopping
The results of a shopping trip to spend some birthday money/vouchers: perfume, straighteners, socks and jeans.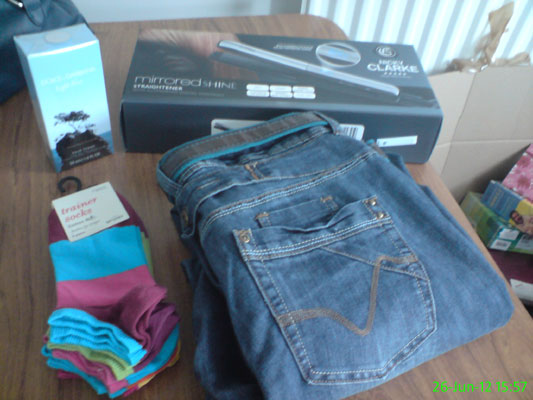 ---
25 June 2012: Change
I should really take this to one of those Coinstar machines.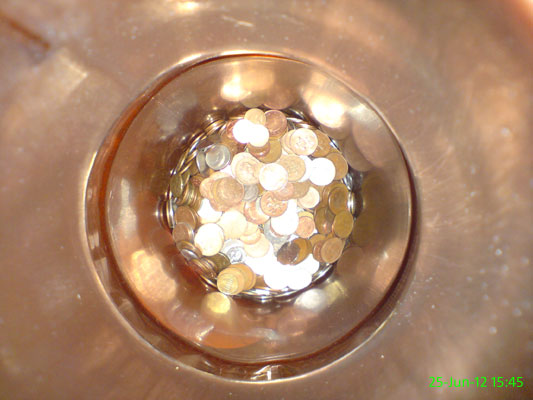 ---
24 June 2012: My 27th Birthday
Some of the cards and presents from my amazing family on my birthday. We went for a meal at the Wheatsheaf. I recommend the Thai red curry!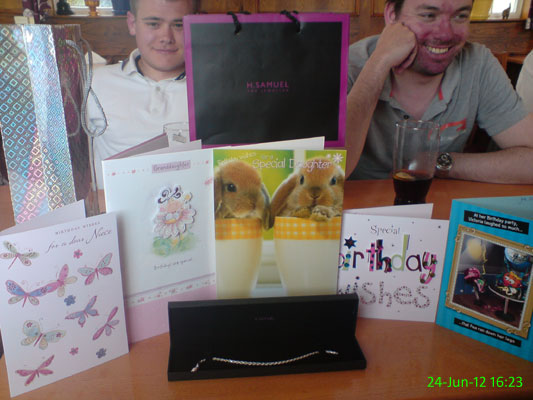 ---
23 June 2012: Horse Love
I spotted this on a pilgrimage to Asda pizza counter and thought it was quite cute.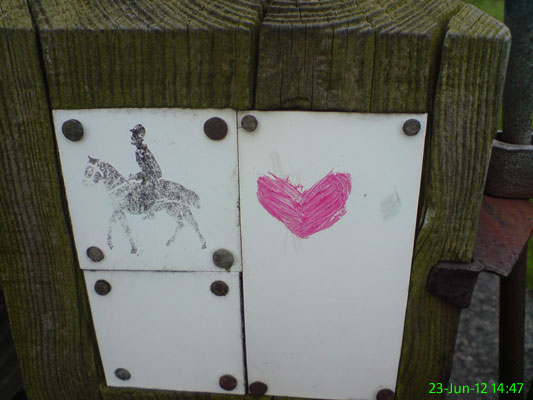 ---
22 June 2012: Little Moscow
A band called Little Moscow was playing at the Station. They were pretty good and covered lots of good classic and modern rock songs.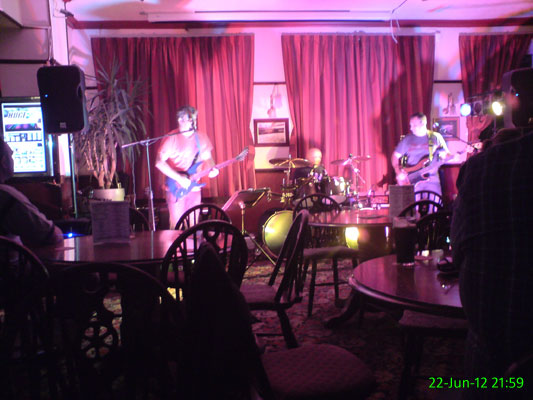 ---
21 June 2012: June Mist
I was always under the impression that June was the beginning of summer, but the mist hiding the top of this tall building would indicate otherwise.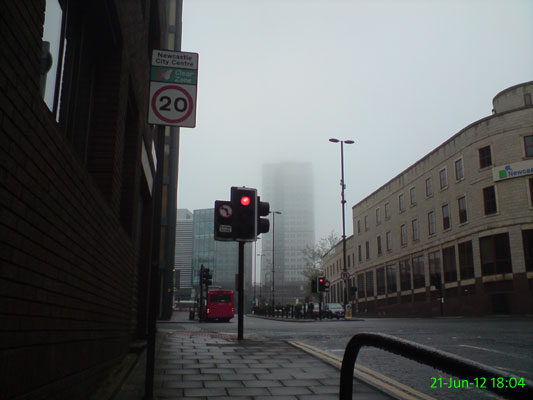 ---
20 June 2012: Zip
When boredom strikes on the bus, I take badly blurred photos of boring things, like the zip on my bag.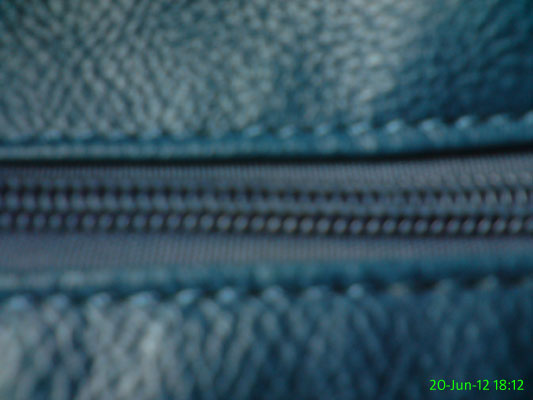 ---
19 June 2012: England 1-0 Ukraine
A few of us went round to Mick's to watch England qualify for the quarter finals of Euro 2012 with a 1-0 win over Ukraine.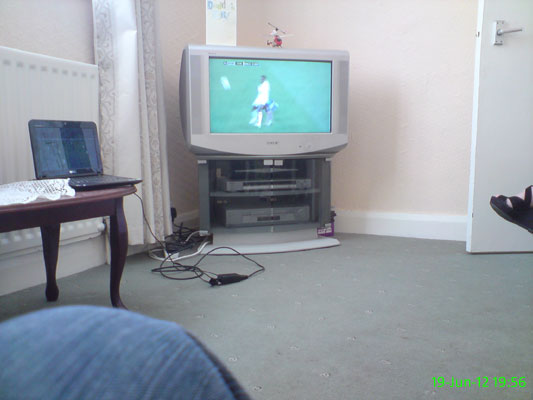 ---
18 June 2012: Next Vouchers
An early birthday present - some vouchers to spend at Next. I'm quite looking forward to a bit of a shopping spree!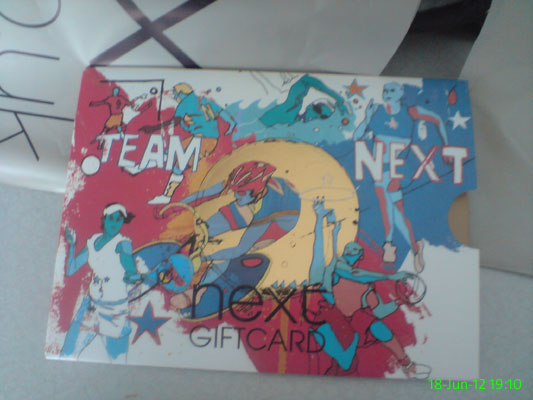 ---
17 June 2012: Father's Day
Steph, Dad and Ali in the Newton for a few Father's Day pints.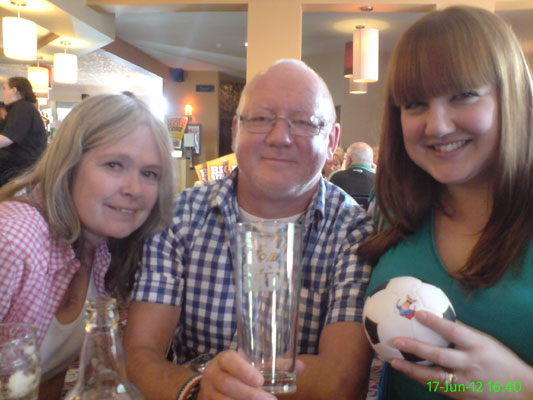 ---
16 June 2012: Table & Chair
We are gradually obtaining more furniture!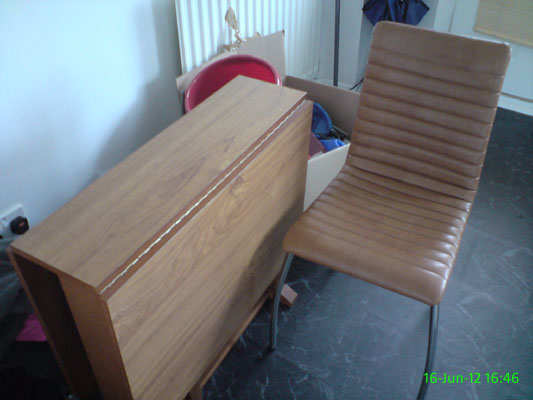 ---
15 June 2012: Frozen Yoghurt
As a lover of ice cream, I was a bit scared to try it, but I absolutely LOVE this.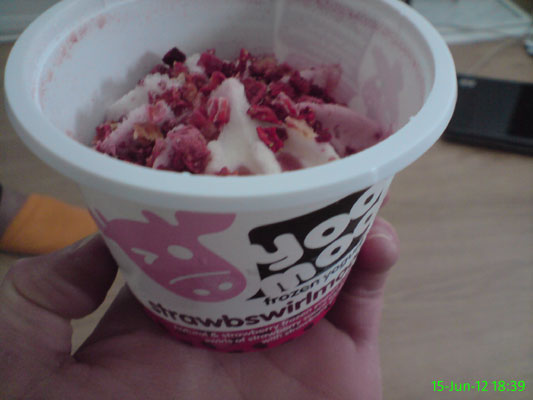 ---
14 June 2012: Postcard
More post for the previous owner - this time, a postcard. I'm starting to think my German isn't up to scratch.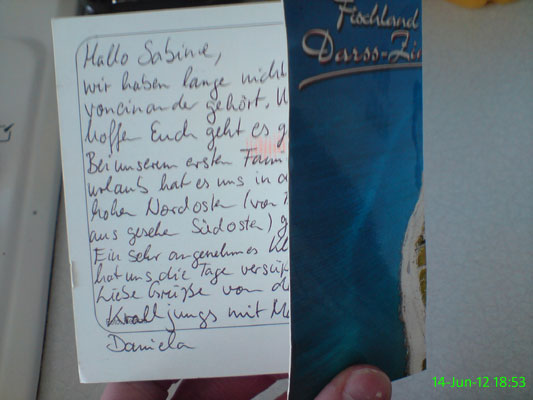 ---
13 June 2012: Outside Tap
I haven't had much of a use for this yet, but I'm sure there'll be a chance soon.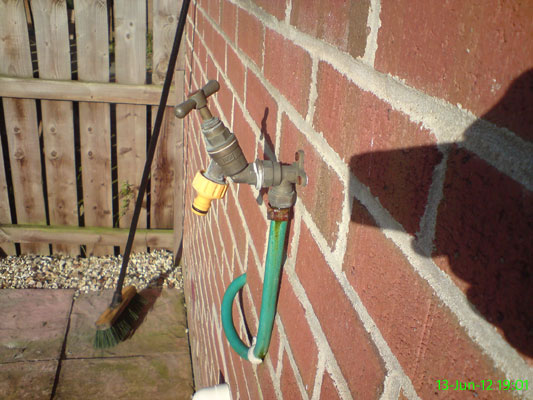 ---
12 June 2012: Greens
Part of my tea this evening.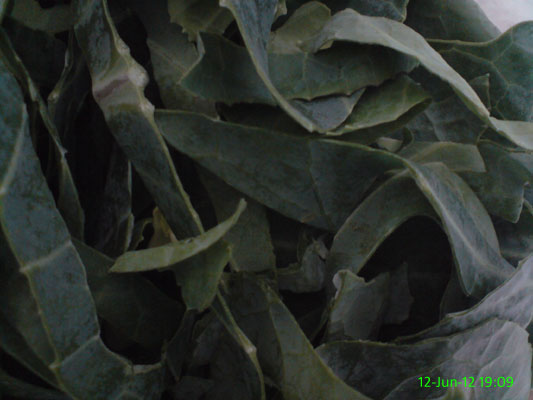 ---
11 June 2012: City Vaults
Such a lovely dingy pub to come to straight from work. England were playing France in Euro 2012 and drew 1-1.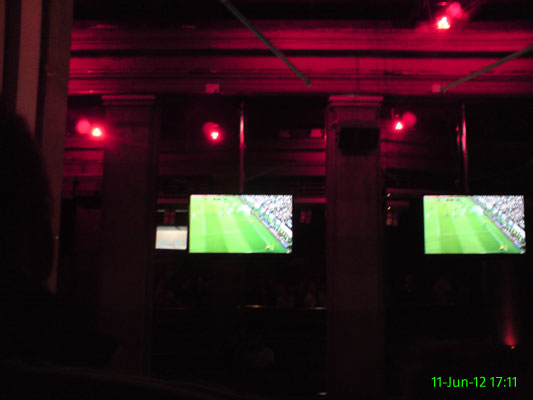 ---
10 June 2012: Poppy
One of several, in a nearby field.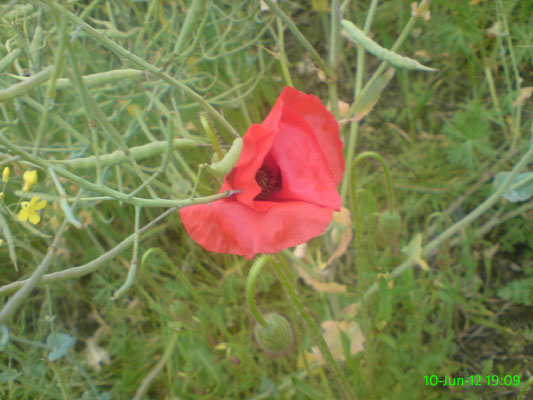 ---
9 June 2012: Multicultural T-Shirts
A couple of new purchases. The England away shirt was on offer (£12.50) so I couldn't resist and the other is based on the retro Muskies jerseys the NBA's Minnesota Timberwolves wore a few times this seaon.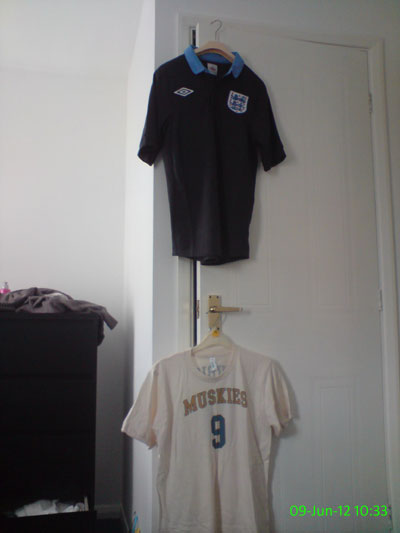 ---
8 June 2012: Gathering
A bit of a gathering to watch the beginning of Euro 2012. Michael, Matt, Headless Stu and James are in the picture, me and Ali are not.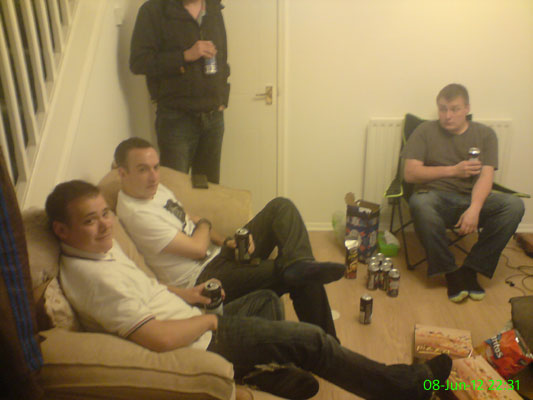 ---
7 June 2012: Antibiotics
After suffering a cold/cough/chest infection for around 3 weeks I've been prescribed antibiotics.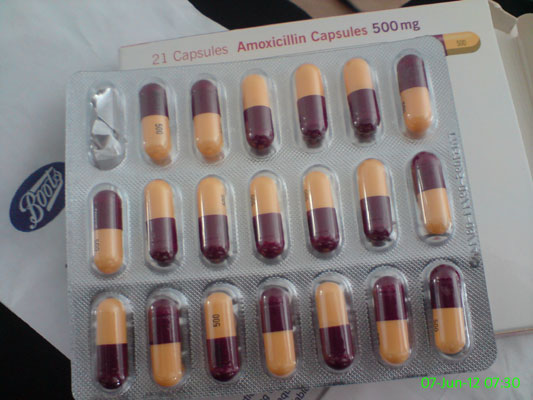 ---
6 June 2012: London 2012 Tickets
Despite Royal Mail doing their best to lose them, my tickets for the football at the Olympics have arrived. It won't actually involve me travelling to London but at least I'll experience some of the excitement.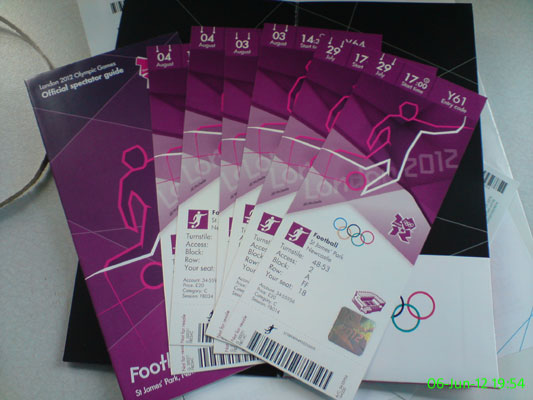 ---
5 June 2012: Discovery
Morrisons apparently wants me to buy more exotic fruit and veg. Well screw you Morrisons, I bought apples and broccoli.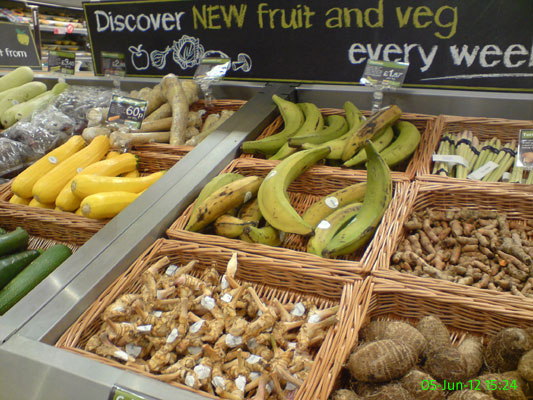 ---
4 June 2012: Beer & Cider Festival
We went over to The Boathouse in Wylam to enjoy the double bank holiday by sampling some different beers and ciders.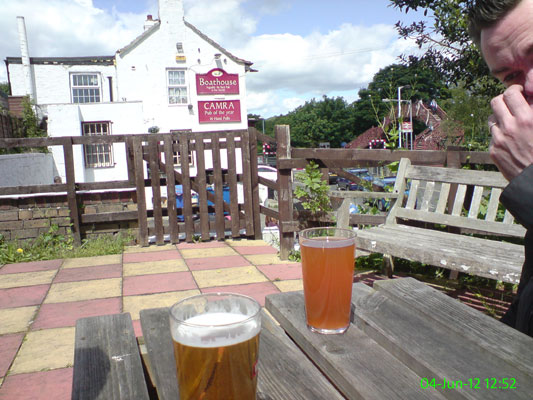 ---
3 June 2012: Pool
I don't often feel like playing pool but we had a couple of games at the Station to unwind after nearly being decapitated by the level crossing.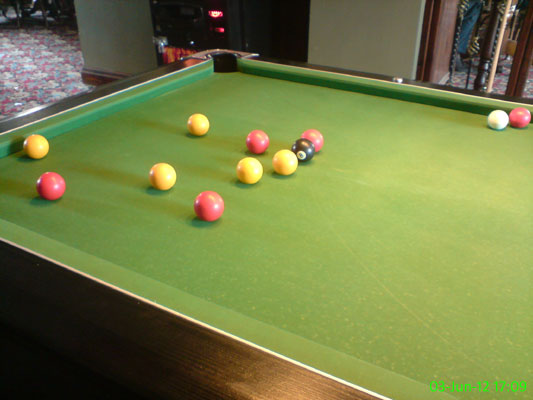 ---
2 June 2012: Peter & Pepper
Nasser and Sophie had a party, which was my first opportunity to meet their new rabbits, Peter and Pepper.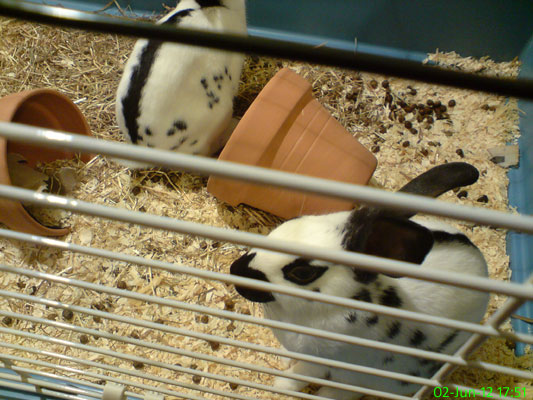 ---
1 June 2012: Blinded
The view through the blinds out of one of our front windows.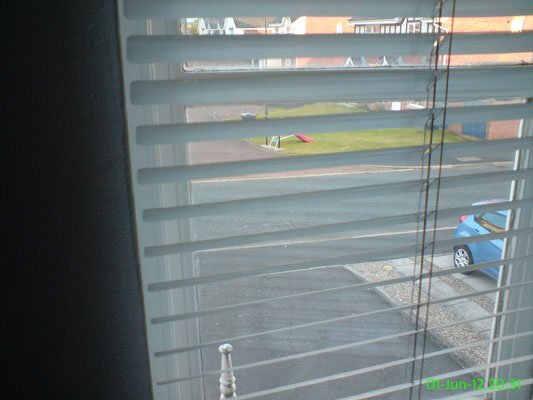 ---