2012: In Pictures
30 November 2012: Crackers
It's always lovely going round to my mam's, especially when she gets the cheese and crackers out after tea.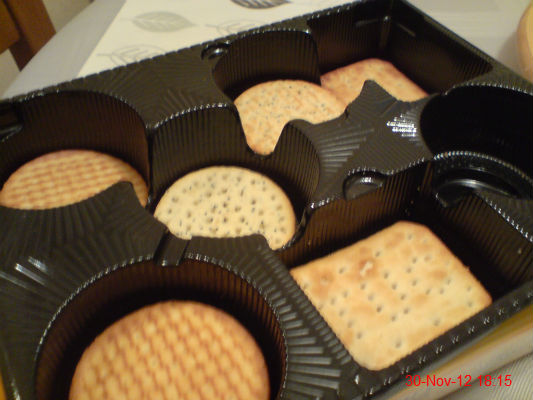 ---
29 November 2012: Healthy Takeaway
This takeaway menu arrived. Who wants to see a list of healthy options? We want grease and enough calories to floor a lion.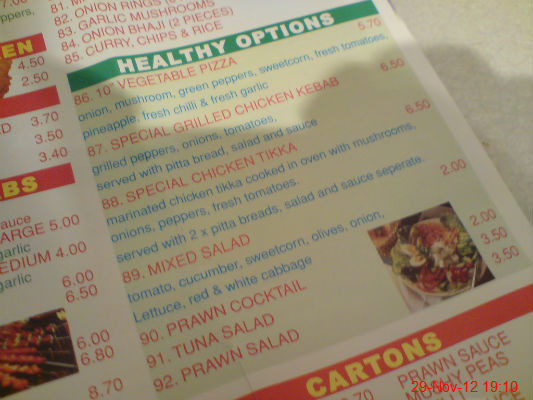 ---
28 November 2012: Ear Muffs
These were free. I'm not impressed.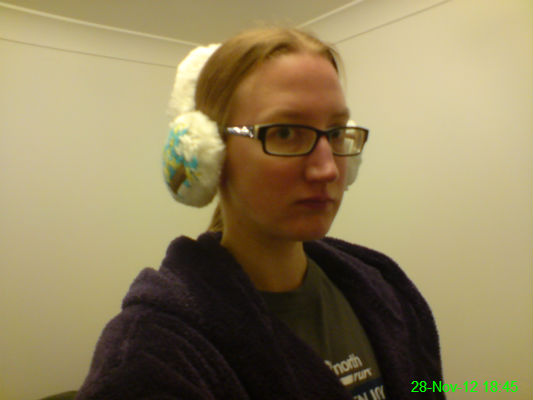 ---
27 November 2012: Freebies
It's that time of year where gifts start arriving at work and those kind folk over at AMG sent some advent calendars and some 2013 mousemats. I'm a generous soul, so I distributed them throughout the team instead of keeping them for myself.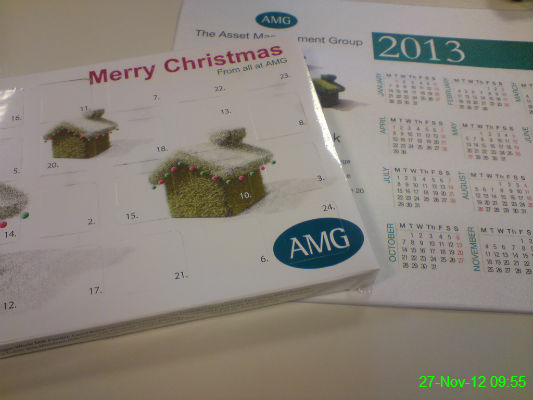 ---
26 November 2012: Xbox
Our home now contains an Xbox. I haven't used it yet, but here is the controller.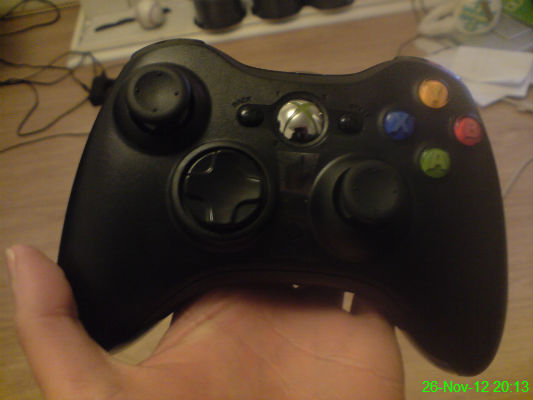 ---
25 November 2012: Karaoke Stu
Stu delighting the crowd at the Wheatsheaf by singing the Court of King Caractacus on karaoke.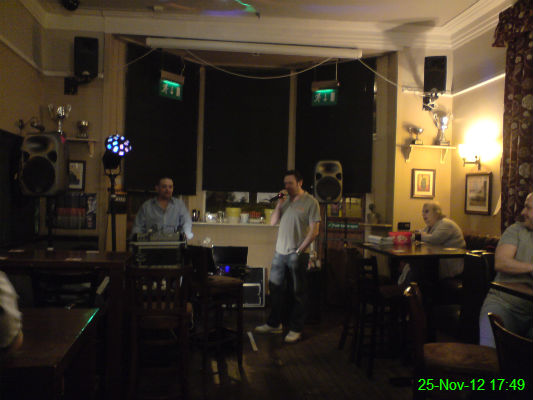 ---
24 November 2012: Sorting Office Queue
I had a package to collect from the sorting office in Forest Hall and clearly several others did too as the queue was out the door. By the time I left 10 minutes later it was halfway down the road!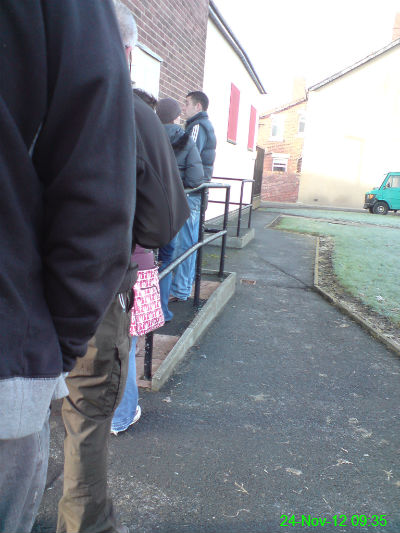 ---
23 November 2012: Marios
Occasionally the lasses from work go for a meal and a few drinks and tonight we divided up our lottery winnings and went for a happy hour meal at Marios. It only ended up costing £1 over the winnings, which I couldn't grumble at!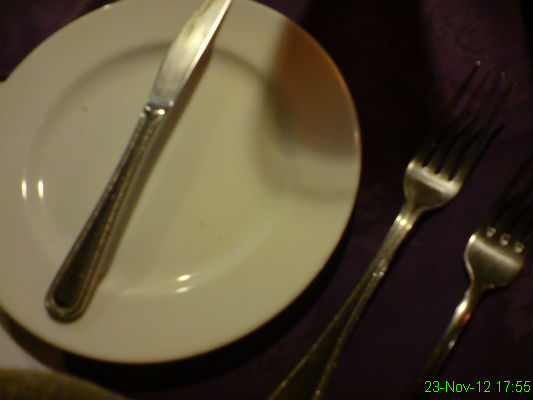 ---
22 November 2012: Newcastle 1-1 Maritimo
A match that was extremely frustrating but ensured qualification for the next round of the Europa League. We sat in Bar 1892, which is a bit posher than our usual seats. I was certainly surrounded by a few Tarquins.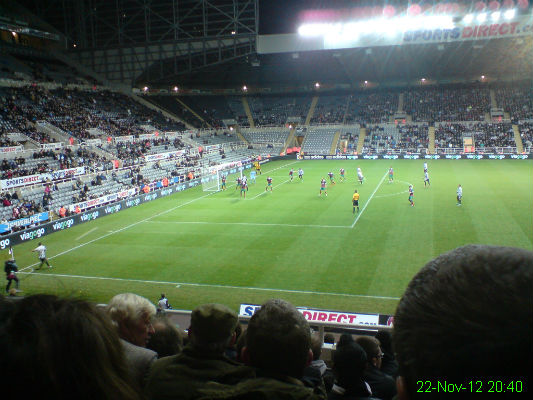 ---
21 November 2012: The Viz
It's not always to my taste, but I sometimes have a skim through if Michael buys it and there are some funny bits.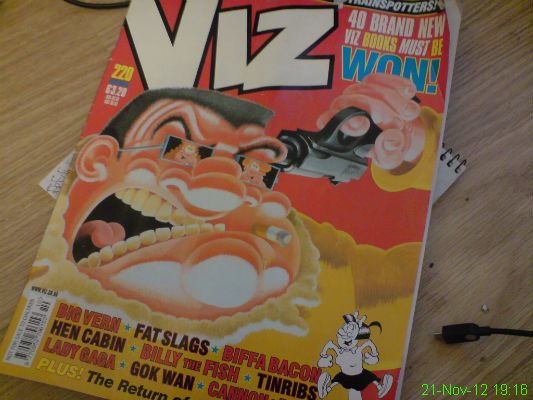 ---
20 November 2012: Mam's House
I always love a trip to my mam's house for some lovely food and of course a browse through the newspapers, because I never bother to buy them myself.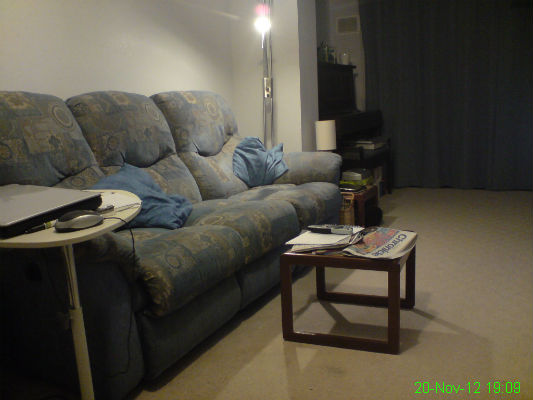 ---
19 November 2012: Hi-Vis Vest
To my utter shame, I've been presented with a vest for use during my fire warden duties. Oh the humiliation.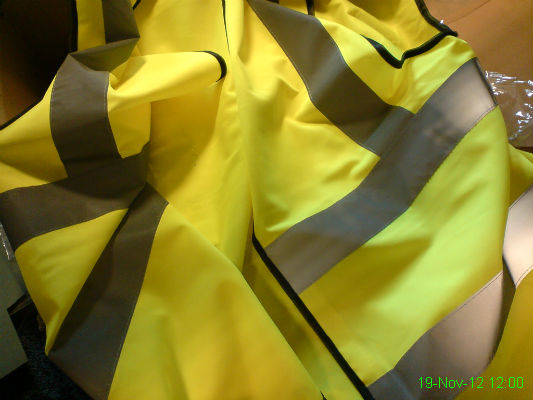 ---
18 November 2012: Carvery
The best cure for a hangover is a Killingworth Arms carvery.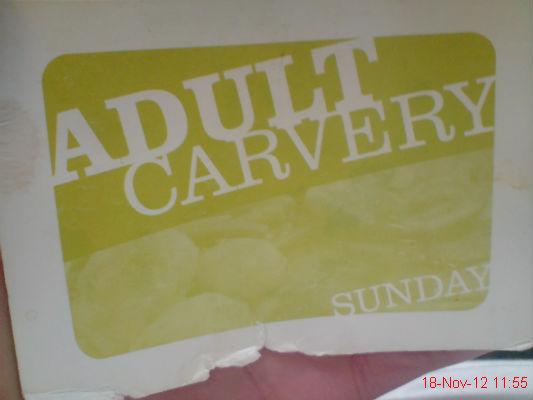 ---
17 November 2012: Lads
A typical match day out on the drink. Russell, Matt, James, Michael and Craig enjoy a pint in Number 9.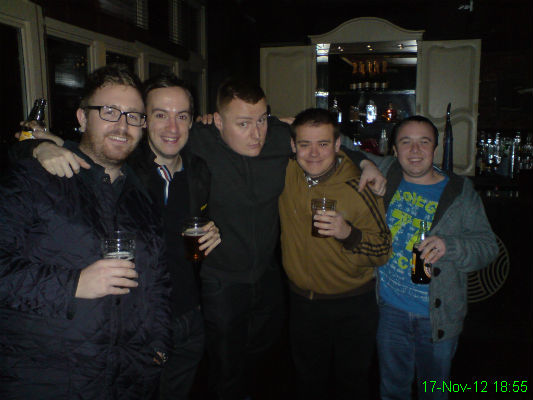 ---
16 November 2012: The Green
The area of Newcastle known as the Green or the Hippy Green used to be where the goths and rejects hung out, now it has a Nandos and a Starbucks. Things change.
---
15 November 2012: Escalator
A thoroughly exciting journey down the escalator.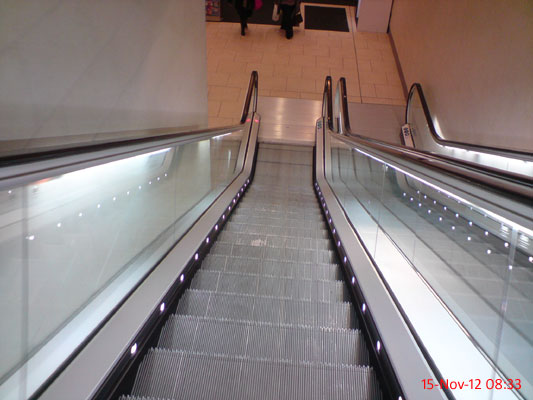 ---
14 November 2012: Ripped Foil
We have what I call "Lunch Gremlins" in the office, which are the annoying people who move things round in the fridge. Today the foil covering my wraps had a rip in it, which I found a bit alarming given the disgusting state of the fridge.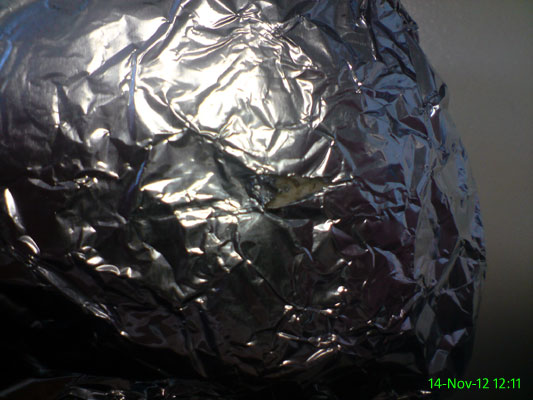 ---
13 November 2012: Kitchen Cupboard
One of our kitchen cupboards, which contains an exciting array of glasses, plates and other bits and pieces.
---
12 November 2012: Mannequin
I find headless mannequins extremely creepy. At least this one is smartly dressed.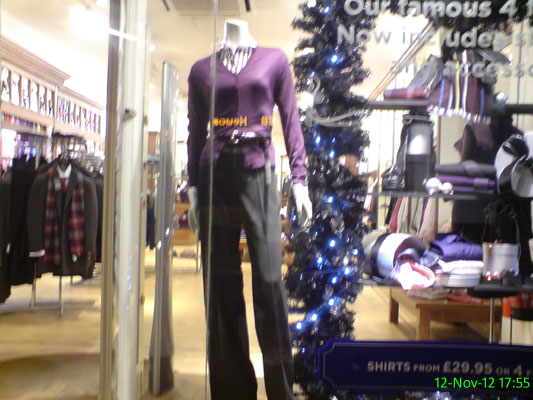 ---
11 November 2012: East Stand
A disappointed East Stand watching Newcastle lost 1-0 to West Ham.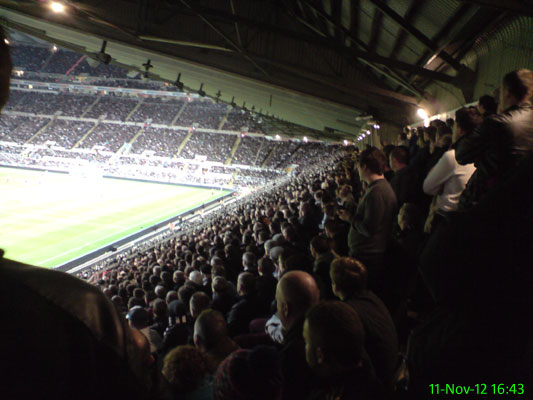 ---
10 November 2012: Souvenirs
Michael and I clearly have differing ideas about what constitues a holiday or trip souvenir. I bought a warm Club Brugge scarf, he bought several cans of cherry Dr Pepper.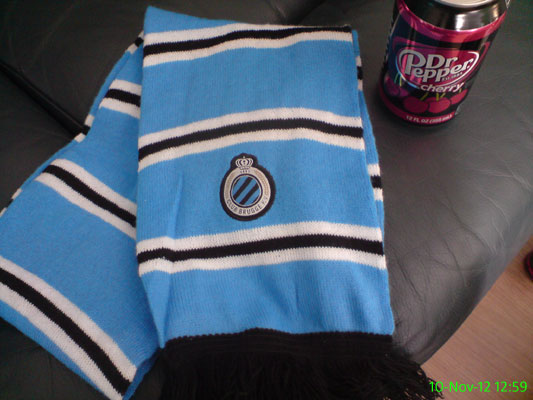 ---
9 November 2012: Unattended Beer
It's not often a yard of ale finds itself left unattended but there were evidently a lot of hungover Geordies in the Market Square because no one touched it.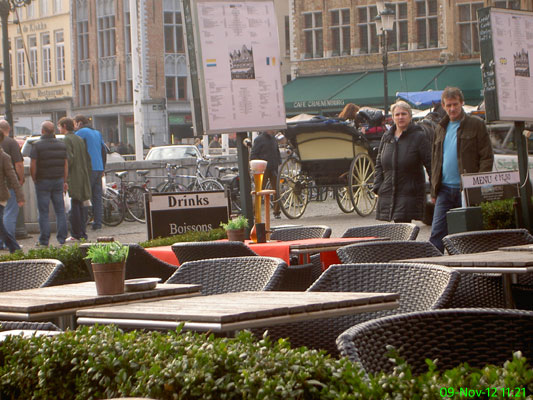 ---
8 November 2012: Club Brugge 2-2 Newcastle
I was at the Jan Breydel Stadium to see Newcastle come from behind with goals from Vurnon Anita and Shola Ameobi to rescue a point. A fantastic experience, but the stadium is pretty far away from the city centre so it was a long walk there and back.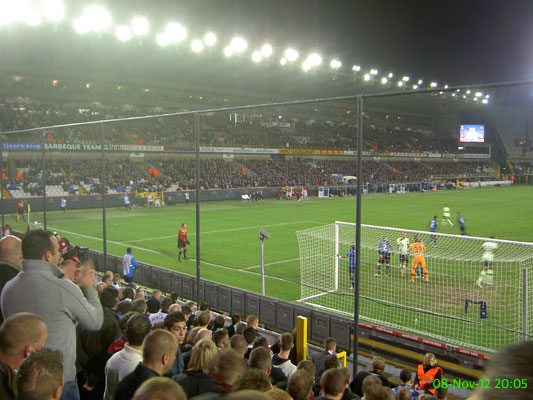 ---
7 November 2012: Bruxelles-Midi
Any Newcastle away trip always involves a round of Familiar Face Bingo and this one was no exception, as we bumped into Dino and several others in Brussels.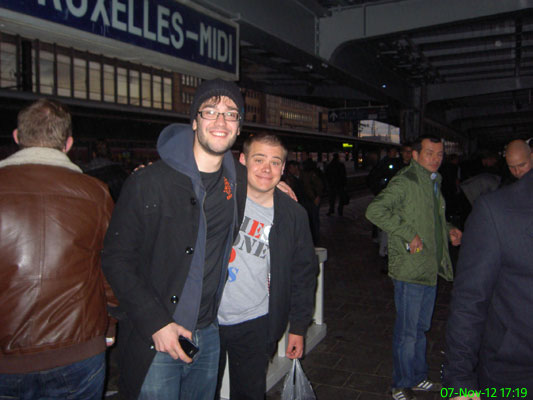 ---
6 November 2012: Temperature
Apparently our living room is roughly the right temperature.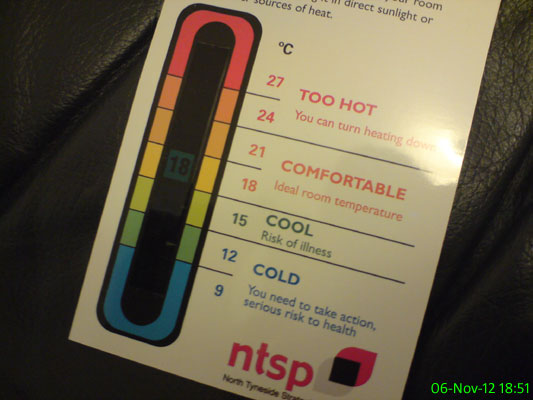 ---
5 November 2012: Euros
I paid a visit to Marks & Spencer to get some Euros, ready for going away to Brugge.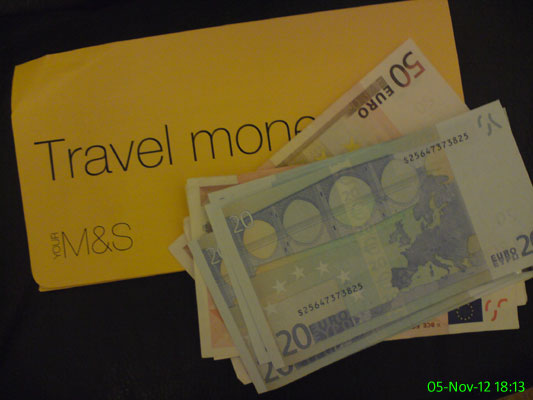 ---
4 November 2012: Craving Satisfied
I don't have much of a sweet tooth but I was craving some chocolate today. A quick trip to the shop was required and thanks to a delicious bar of Galaxy Cookie Crumble, my craving has been satisfied.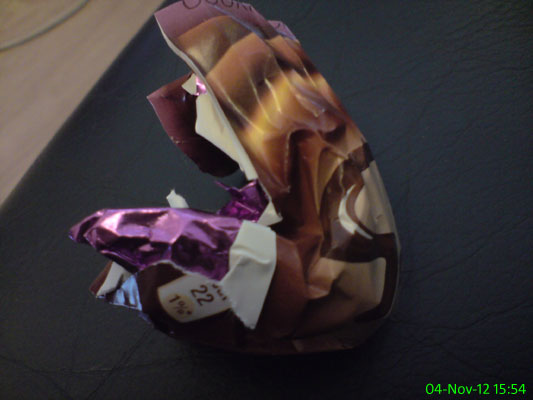 ---
3 November 2012: Fireworks
Mick prepares some fireworks at a party to celebrate his Grandad's 70th birthday.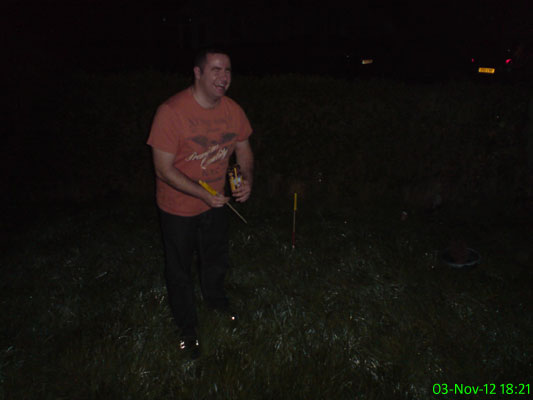 ---
2 November 2012: European Tour
As the song goes: "We're all going on a European tour!" I picked up my ticket for the away game at Club Brugge and now I can't wait to get there!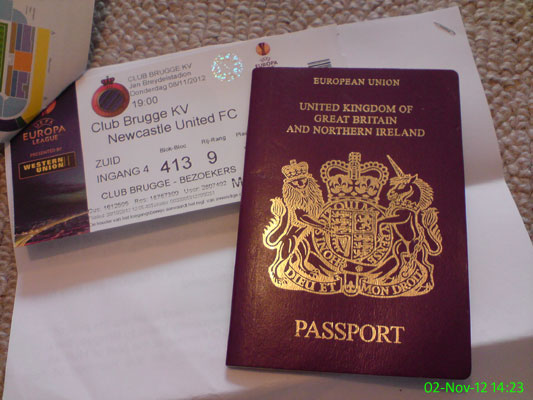 ---
1 November 2012: Eldon Square
I was a bit early for work and also for my weekly trip to the Weigh House so I had a slow stroll through a quiet Eldon Square. I was a bit alarmed to see sparkly things that look dangerously like Christmas decorations.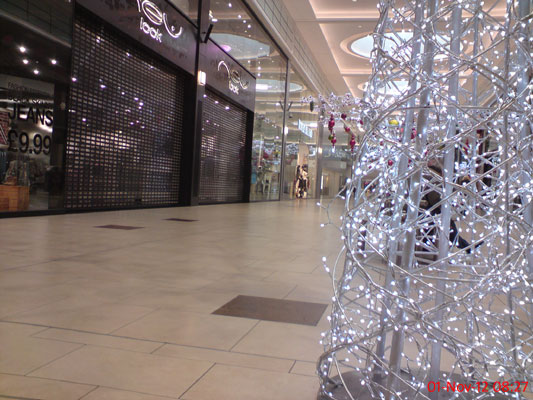 ---