2017: In Pictures
30 April 2017: Cleaner Carl
Carl spilled his drink so got to work cleaning the floor.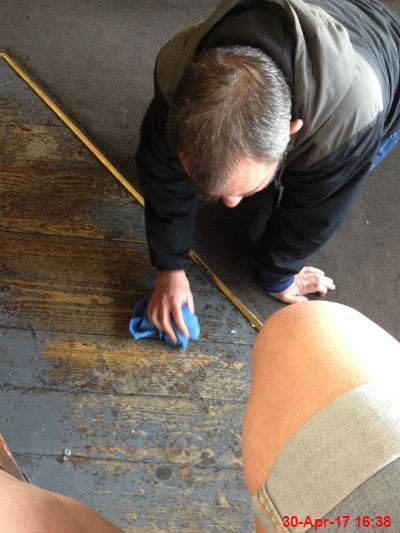 29 April 2017: Darkness
I had a quiet night in and then realised, once I'd already climbed into bed, that I hadn't taken any pictures today. It was supposed to be a selfie, but this was the version where I forgot to put the flash on. I actually prefer this one to the next attempt with the flash! 28 April 2017: Billy Bootleggers
I went to a dive bar that's opened in town recently on the way home from work. It had a pretty cool vibe going on.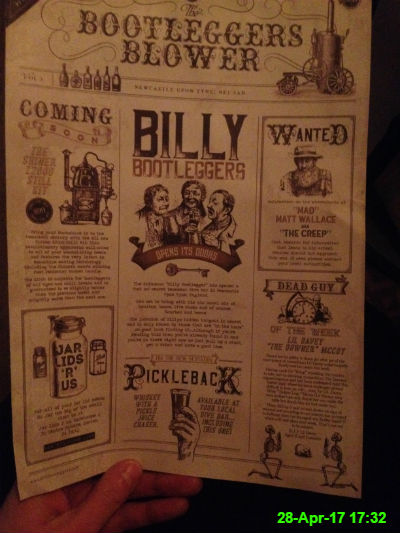 27 April 2017: Cauliflower Pilau
I hadn't seen this version of cauliflower rice before, so I had to try it with my curry tonight. Verdict: decent.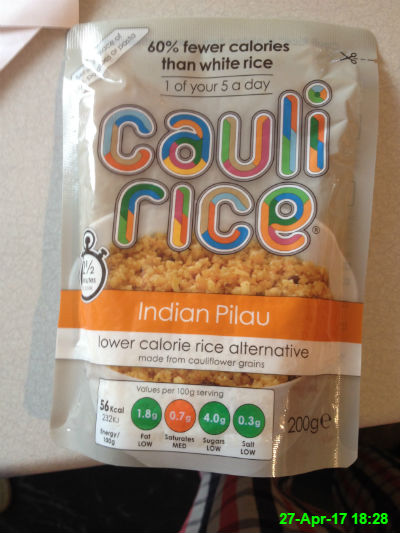 26 April 2017: 13 Reasons Why
I've just started watching this on Netflix and I can tell it's going to be something to binge on.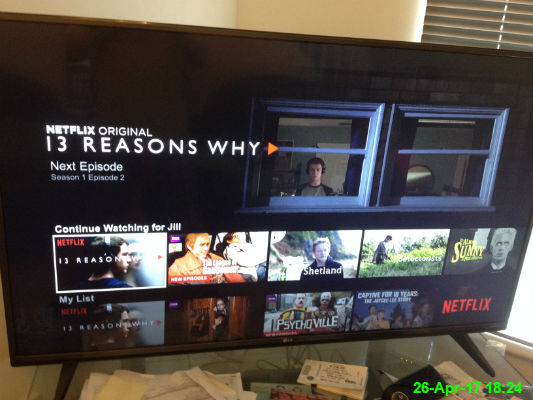 25 April 2017: Promotion!
Newcastle's 4-1 win against Preston last night sealed automatic promotion back to the Premier League. Back where we belong!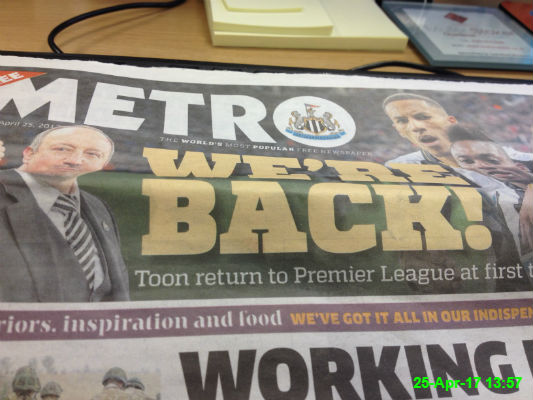 24 April 2017: Carson
Carson was up to lots of mischief today!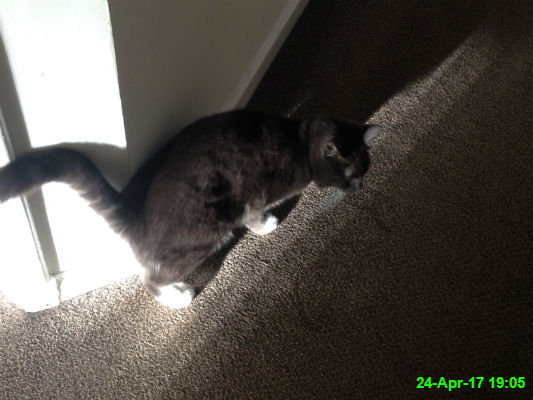 23 April 2017: St George's Day
Ali and Chris were feeling suitably patriotic!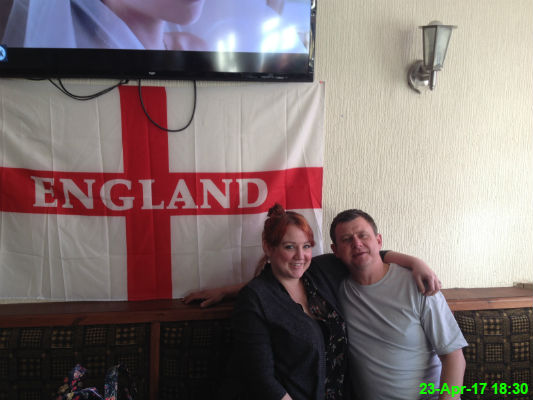 22 April 2017: Goodbye Allotment
It was the end of an era at the last West Allotment match of the season. Here's a message in the matchday programme.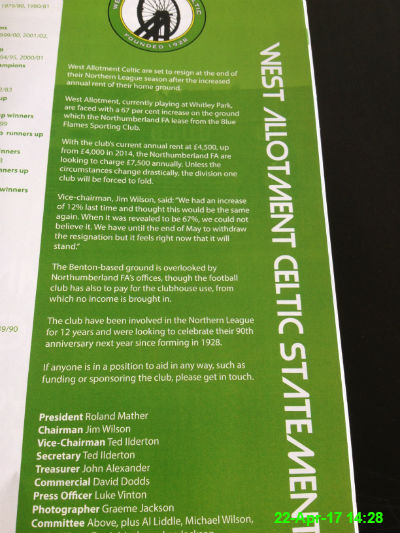 21 April 2017: Fish Friday
Back to The Chillingham for another epic portion of fish and chips!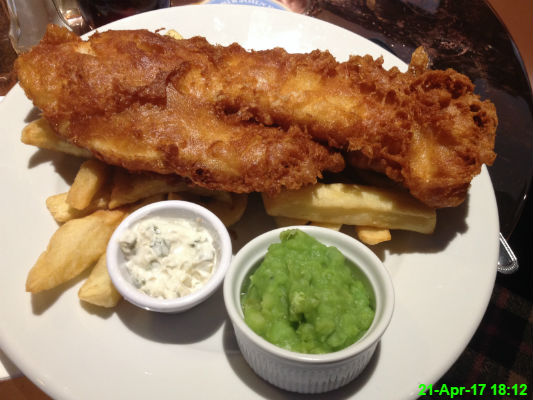 20 April 2017: Scruffy
This t-shirt was white until I decided to have some of my Easter egg, which was far more brittle than I anticipated.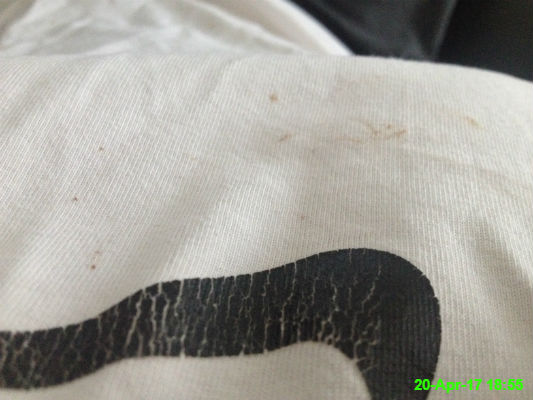 19 April 2017: Soup/Bread
I had a random craving for broccoli and stilton soup so this was tea tonight along with some roasted vegetable focaccia.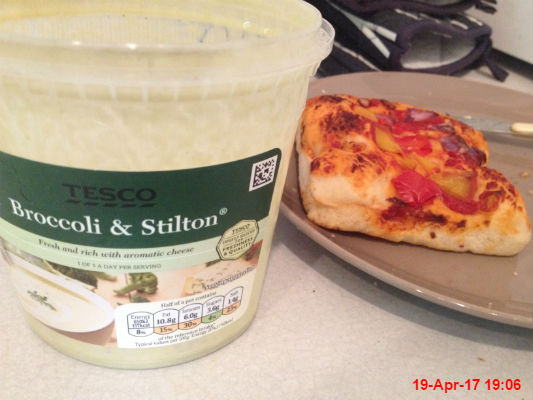 18 April 2017: Smashed Phone
To cement my post-match misery yesterday, I dropped my phone and cracked the back of it. At least the screen is fine.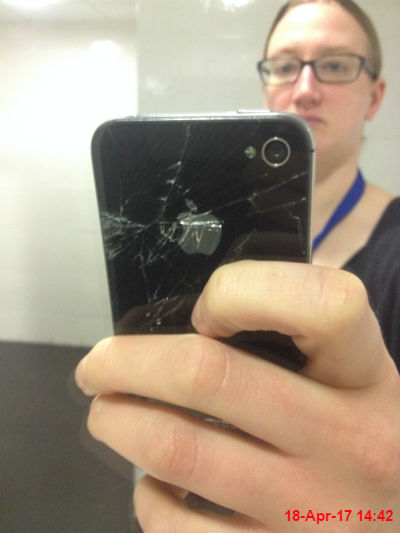 17 April 2017: Strawberry Jam
The Strawberry was jam packed to watch Newcastle lose against Ipswich, and I couldn't be bothered to take a more interesting photo today.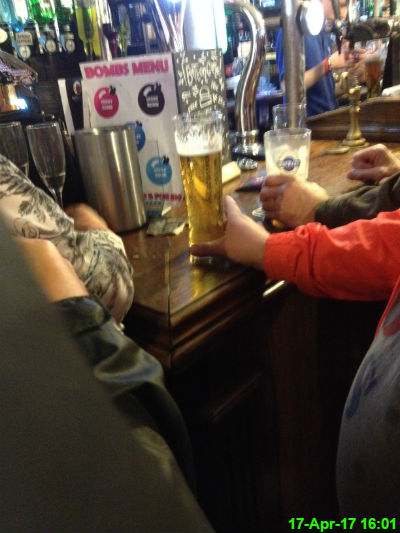 16 April 2017: Shit Shirt Day
Paul embraced the occasion with this hideous outfit and his reward for the effort was a shared fishbowl.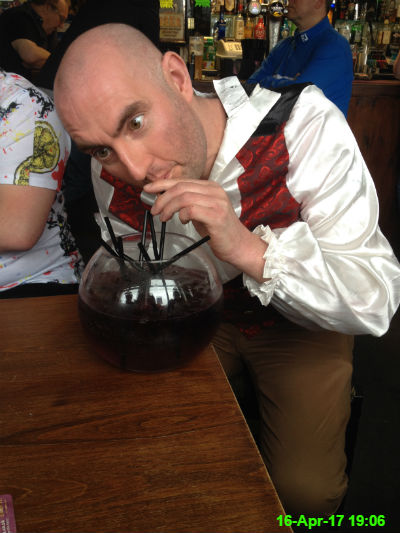 15 April 2017: Buddha
Mam gave me a dot to dot book which was supposedly 'anti-stress' but in fact caused rather a lot of stress to all 3 people that it took to complete this one picture!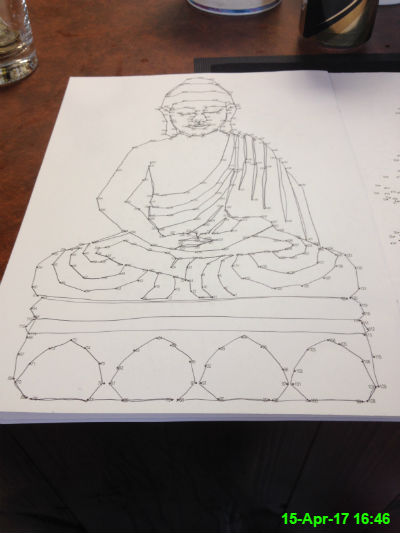 14 April 2017: West Allotment Flag
This could be one of the last times I see this flag, as the future is not looking good for Allotment.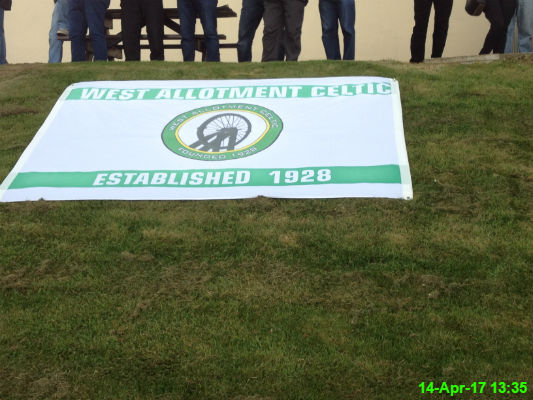 13 April 2017: Divvy Darts
Divvy Darts in the Grey Horse involves standing behind the bar and throwing your 3 darts through the hatch to the dart board on the other side of the room next door. I won a round and collected these winnings.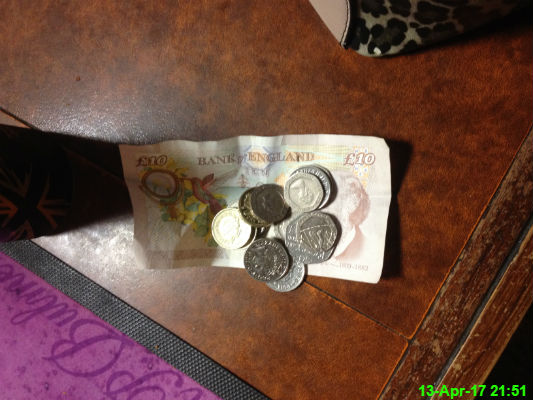 12 April 2017: P60
This envelope contains my P60.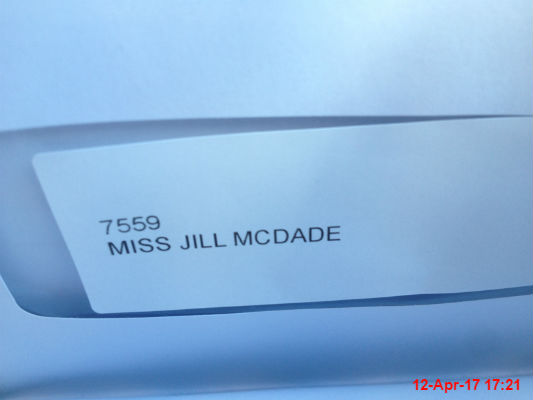 11 April 2017: Owl Shoes
Ali doesn't want her owl shoes anymore, so I'm the lucky recipient!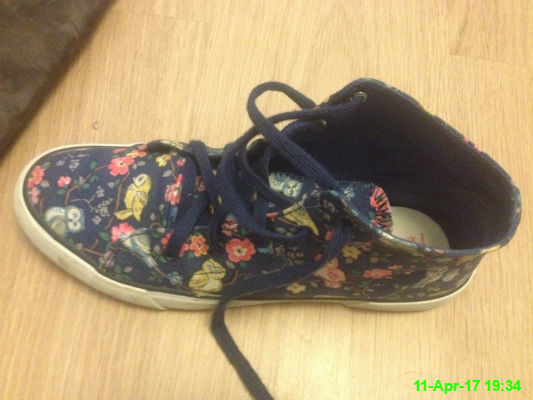 10 April 2017: Screenshot
I don't think I've ever used a screenshot as my photo on here before, but I'm breaking the trend for this one because it made me laugh today.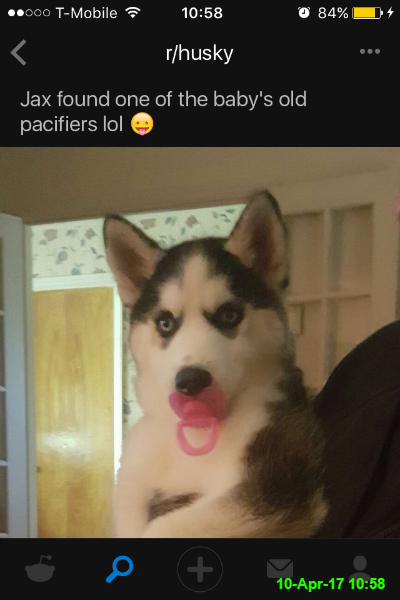 9 April 2017: Beef Dinner
Another trip to the Black Bull at Wylam and another excellent dinner! I was with Michael, Ali, Kathy, Sam and Shannon.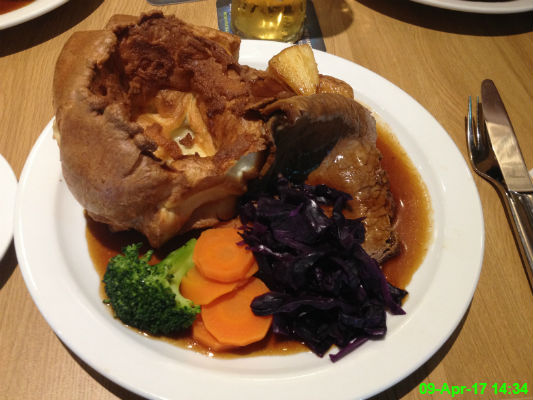 8 April 2017: Eccentrics
I bumped into Ian at the West Allotment match so of course I had to have a photo with a fellow eccentric.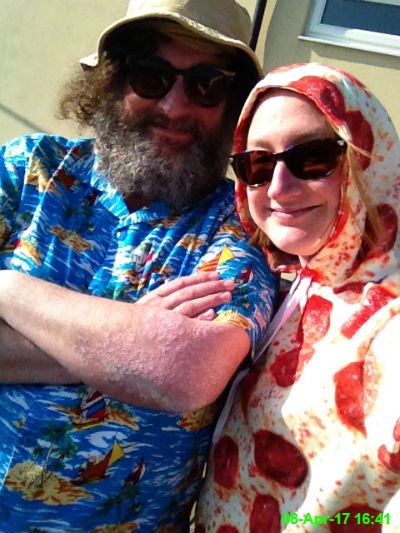 7 April 2017: Grand National Sweepstake 2017
We didn't get round to doing a sweepstake at work this year so I took part in the one at the Grey Horse instead. I ended up with La Vaticane and Doctor Harper, neither of which were particularly exciting.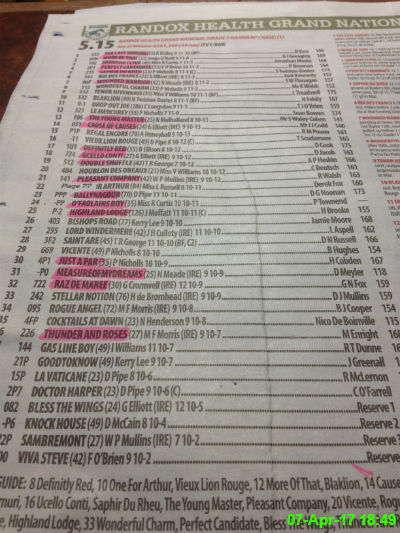 6 April 2017: Standing Desk
I long for the day I can use one of these - just look at that benefit! Though I was reading this as I sat on an exercise bike, so I suppose I need to help myself a little too.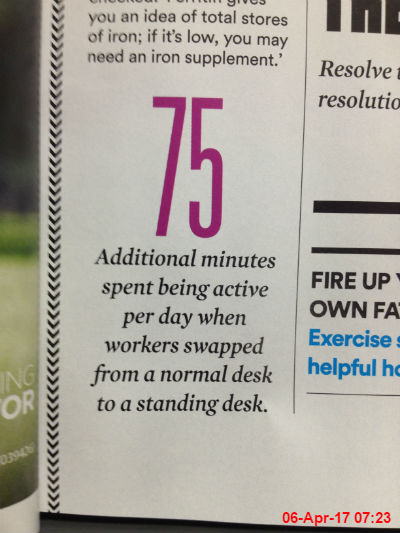 5 April 2017: The Alchemist
So many new places are sprouting up in town at the minute that it's difficult to keep track. I haven't been in this one yet, but I've heard good things about the versions in other parts of the country.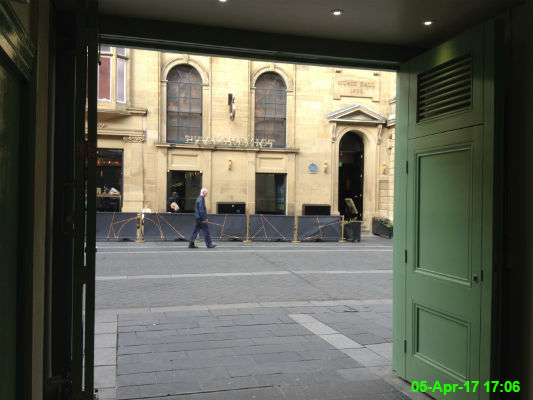 4 April 2017: Screwfix
We seem to have gained a Screwfix pencil.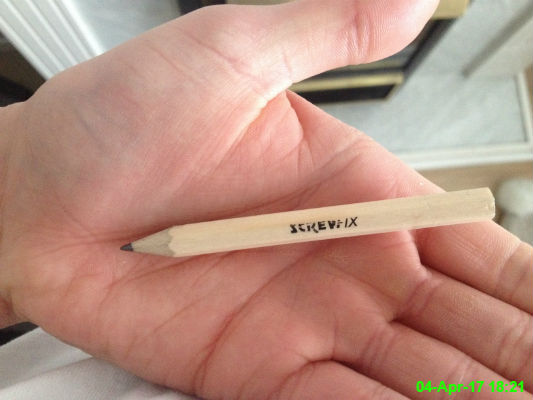 3 April 2017: Pizza Hoody
I had a day off so went straight to the sorting office to collect the package containing my pizza hoody, which I absolutely love!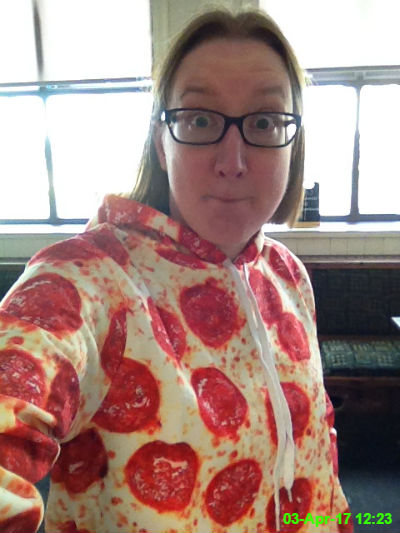 2 April 2017: Cup Final
It was a disappointing day for Burradon Under 11s as they lost 1-0 in the cup final, but it was a really good effort by all the lads.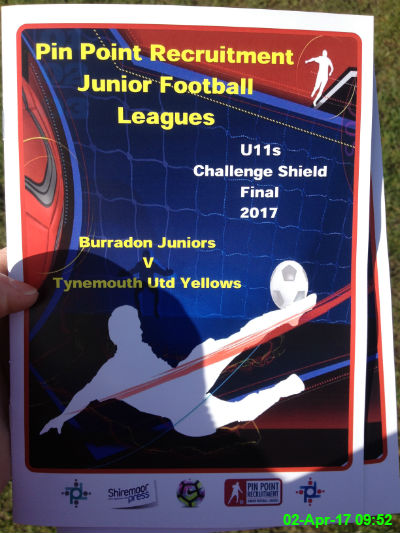 1 April 2017: Andy's Birthday
It was Andy's turn to be the birthday boy at the Three Mile Inn. This is him on the left with Julie, Tom and Richie.