2017: In Pictures
28 February 2017: Pancake Day 2017
This year I had my pancakes with curried tuna and salad.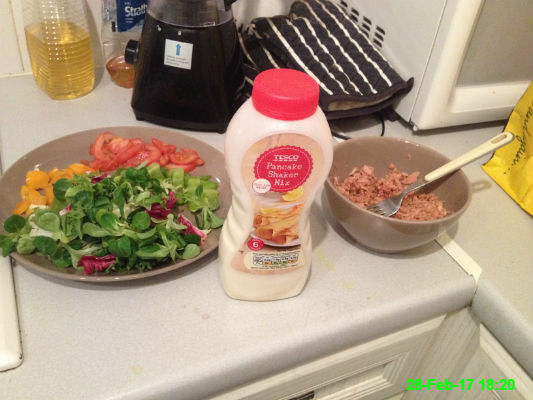 27 February 2017: Opening Hours
It was raining so I waited inside Eldon Square for the bus and there wasn't much to look at other than this notice.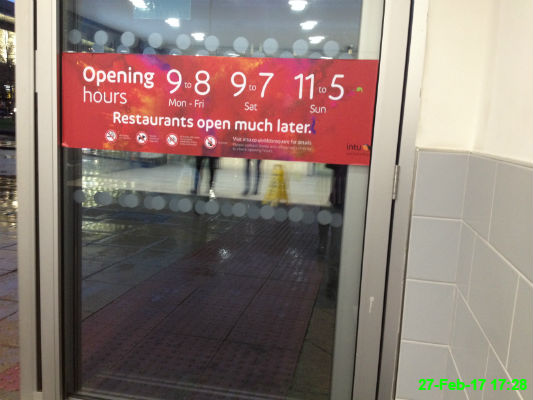 26 February 2017: Wylam Lunch
We hadn't been to the Black Bull in Wylam for Sunday dinner for ages but as usual it was fantastic.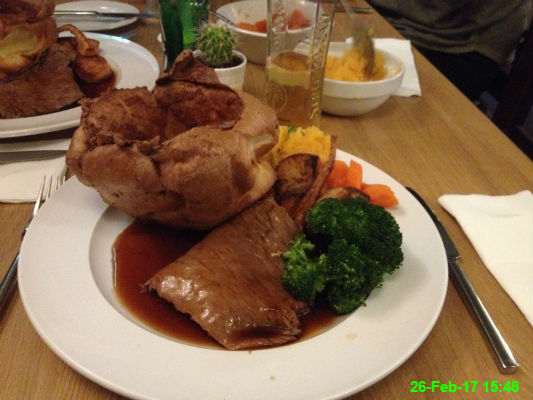 25 February 2017: Ashington
I went up to Ashington with Michael, Sam and Shannon to watch North Shields beat Ashington 3-1. It was weird supporting a team playing in red against a team in black and white!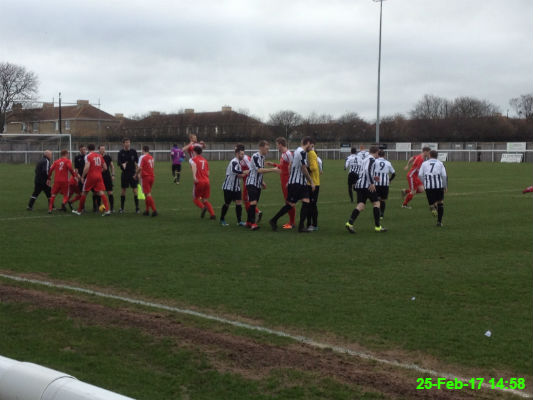 24 February 2017: Ali & Wendy
Two top lasses on a typical night out in the "Top House".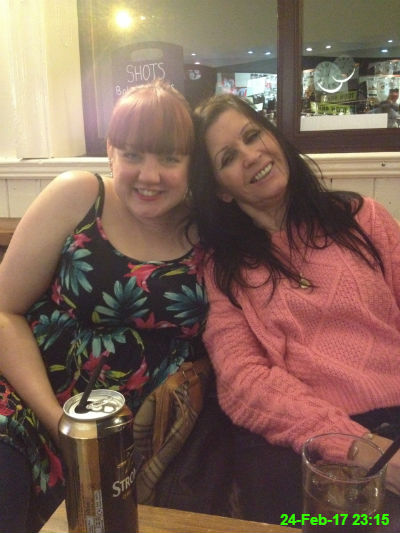 23 February 2017: Lal Qila
My first trip to Lal Qila was thoroughly enjoyable. Their 5 course special was lovely, although I couldn't believe how busy the place was.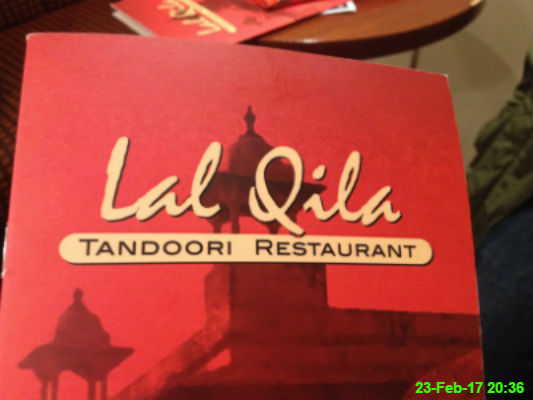 22 February 2017: The Games
I'm reading this at the minute and the subject matter is perfect for me - murder with a backdrop of the World Cup and Olympics in Rio.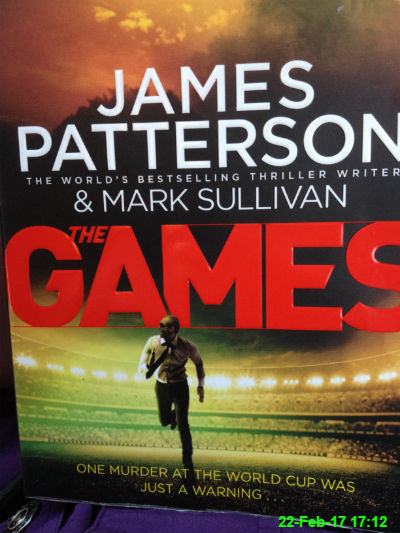 21 February 2017: Wye Aye Thai
This takeaway opened in the local area recently and has been getting very good reviews.
20 February 2017: £1 Win
I had a lazy day off work so this small win when I went out to watch the Newcastle match was one of the highlights. Newcastle winning 2-0 helped as well mind.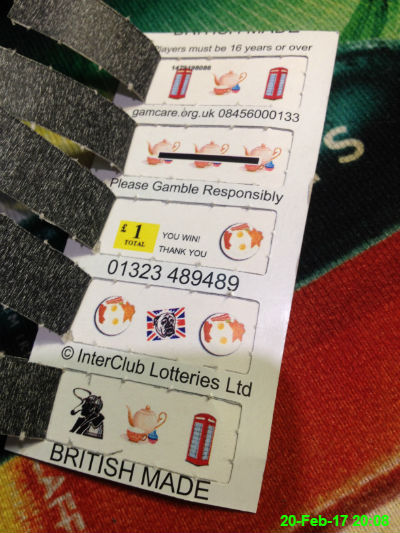 19 February 2017: Tudor
I found this on our old badge board and thought it was great.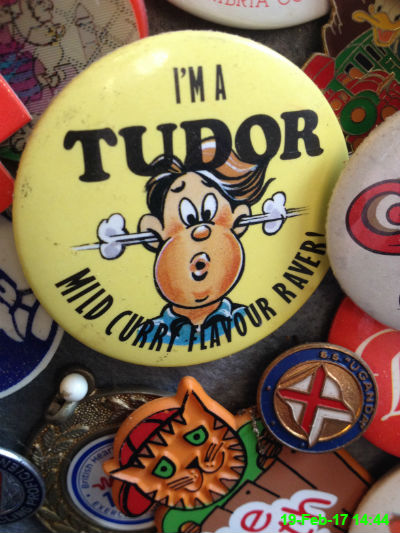 18 February 2017: The Stan
My weekend of sport continued with Heaton Stannington beating Esh Winning 2-0.
17 February 2017: Eagles
For the first time in ages I went to see Newcastle Eagles, who beat Bristol Flyers 108-94.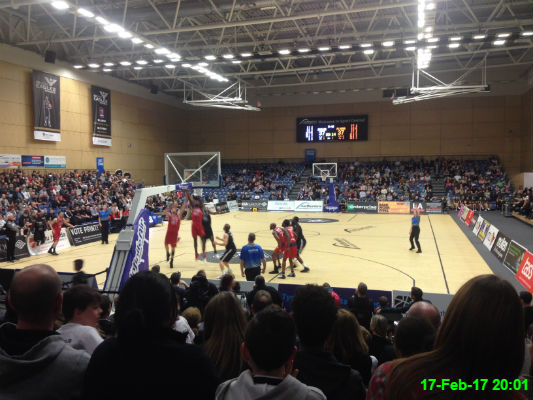 16 February 2017: Money Back
After my recent complaint about the salad I got from Tesco, I've received a £1 gift card.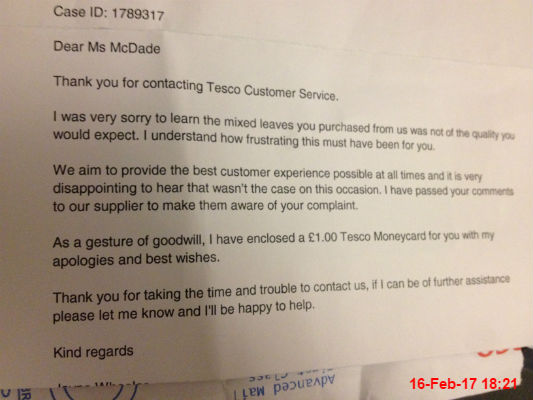 15 February 2017: Quiz Scribbles
Some of my scribblings at the quiz. In this round, pairs of answers rhymed with each other, e.g. Tommy Cooper and Stormtrooper, so it took a bit more thought than usual.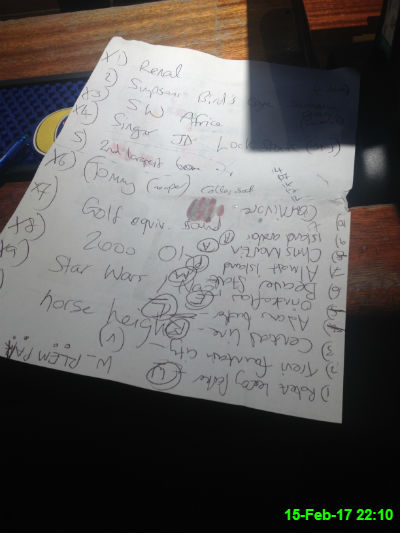 14 February 2017: Pride & Prejudice
I went to the theatre with Alison to see Pride & Prejudice, which was excellent.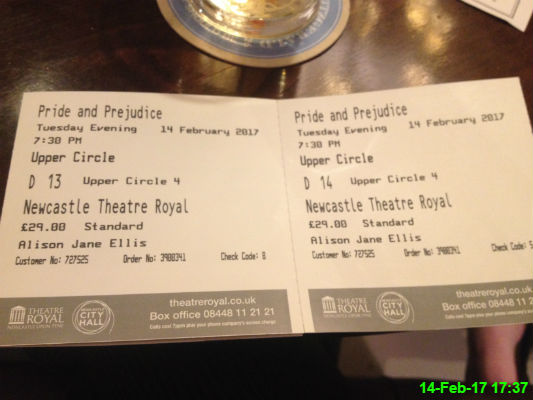 13 February 2017: Tasers
Remind me not to become a terrorist.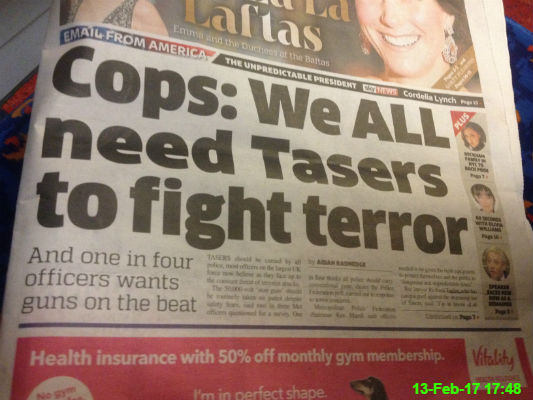 12 February 2017: Besties
It's always great fun to spend a day with Ali and Michael.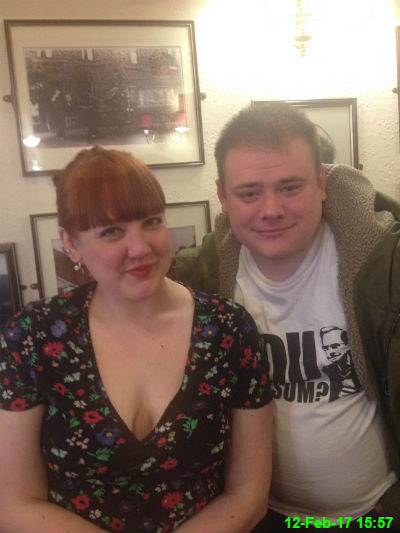 11 February 2017: York
My crew for a day out in York: Sam, Paul, Michael, Leon, Andrew, Darren, (someone random) and David.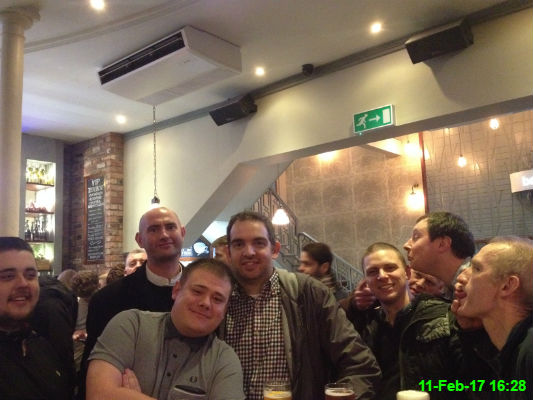 10 February 2017: Alsatian
At first glance I was convinced that this coat on the gym floor was a curled up sleeping Alsatian!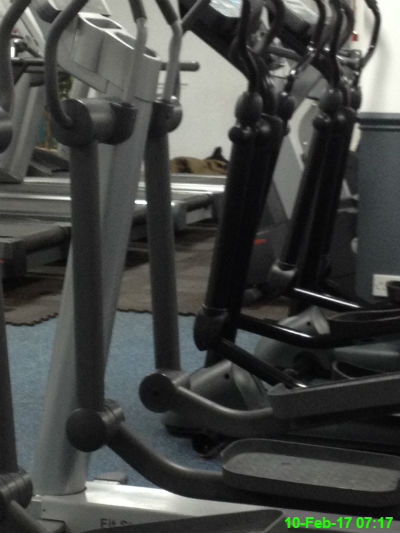 9 February 2017: Unwashed
This salad leaf was definitely not "washed and ready to eat".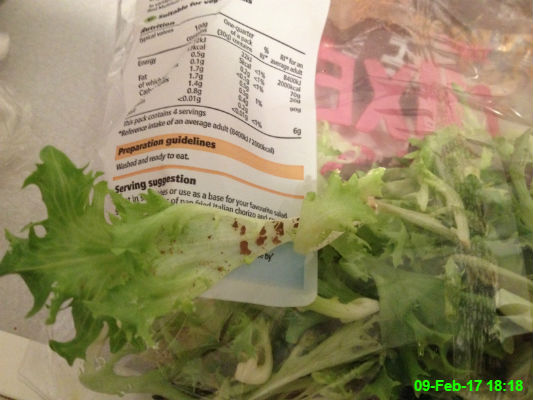 8 February 2017: Thunderbirds
This show was great when I was a kid. Thunderbird 4 was my favourite - it was so cute!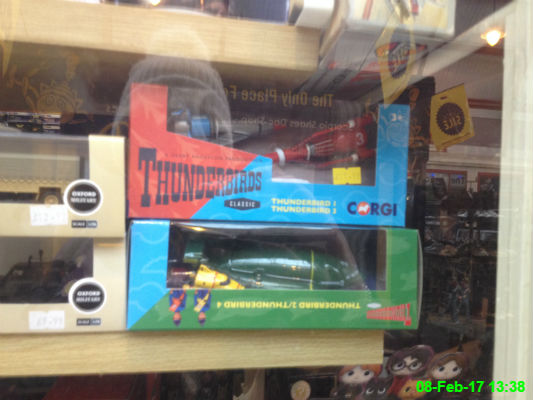 7 February 2017: Splash
I got halfway down the street and stepped on a loose paving slab, resulting in this lovely splash of dirty water up my leg.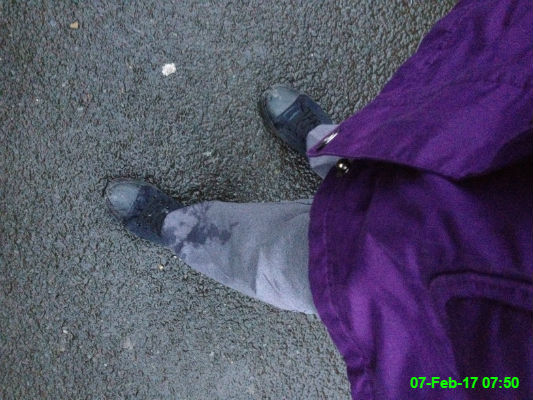 6 February 2017: Two Speed
Success for me in the Daily Mirror crossword.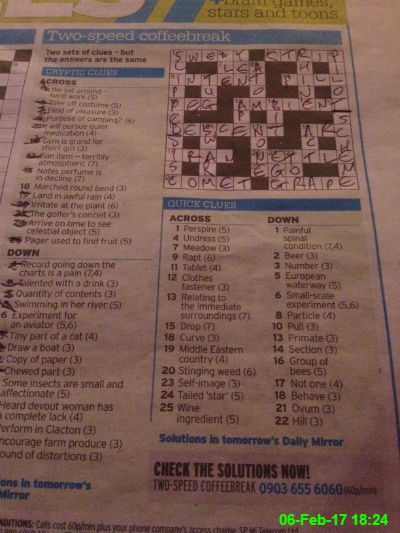 5 February 2017: Fry Up
I asked Kathy for a bacon sandwich and this appeared!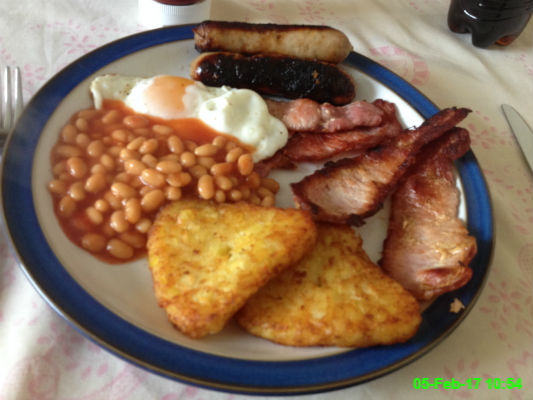 4 February 2017: Chester-le-Street 0-1 West Allotment
The excrutiatingly long bus journey to and from Chester-le-Street was worth it to see our team win.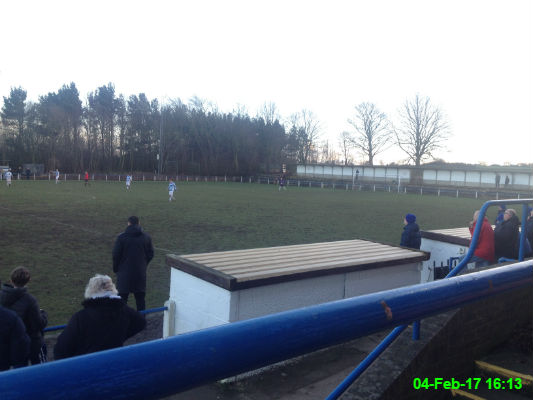 3 February 2017: Fidget Cube
I couldn't resist buying one of these since I'm a hopeless fidget.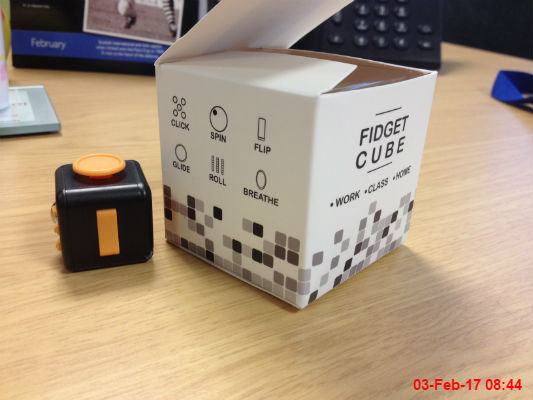 2 February 2017: Horoscope
"Work and fitness goals make progress" couldn't be further from the truth today.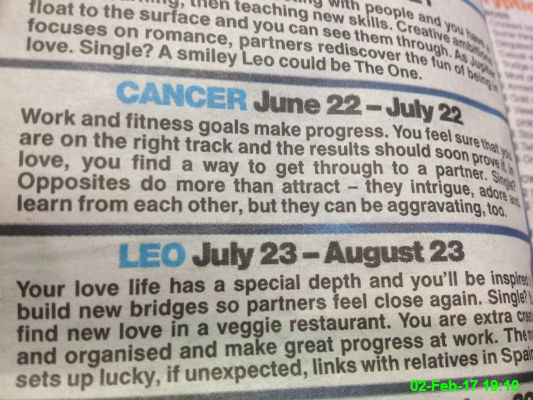 1 February 2017: Groundhog
We're a bit early as it's not Groundhog Day until tomorrow but here's Punxsutawney Phil.