2017: In Pictures
31 October 2017: New Bag
FINALLY I bought a new handbag, after about 47 repairs to the previous one.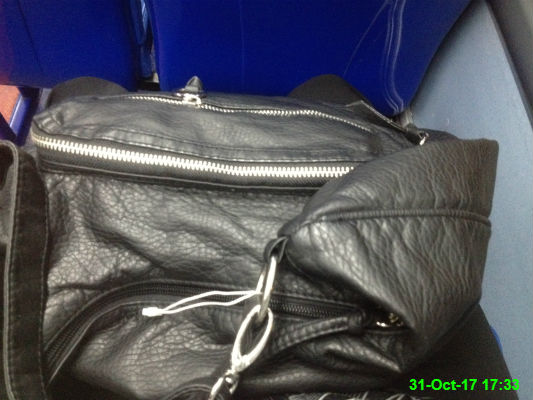 30 October 2017: Alnwick Garden
There was a charity raffle over the weekend in the Travs and I won a free pass to The Alnwick Garden.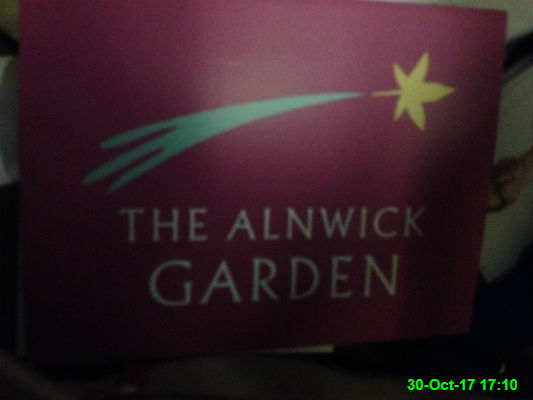 29 October 2017: Box
I spotted a box at my mam's house and couldn't resist seeing whether I could get in.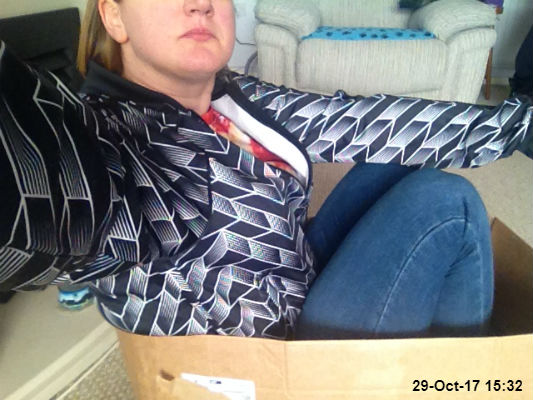 28 October 2017: Tulip
Nass and Sophie hosted Foundenton and we were treated to a set from Richard Tulip. It was a brilliant night and so good to see some familiar faces from the old Foundation days.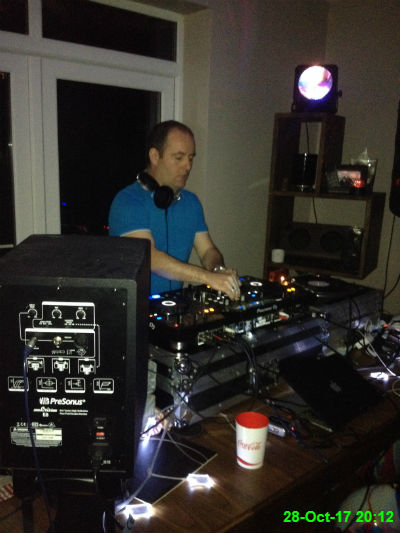 27 October 2017: Fishbowl Selfie
A Friday night fishbowl of divvy juice with Christy, Ali and Kay.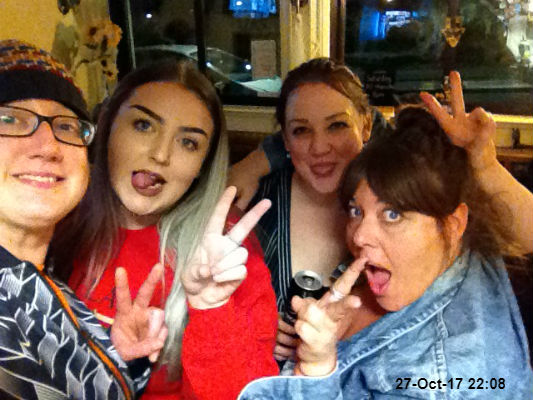 26 October 2017: Tipi
Hadrian's Tipi is back, this time in the derelict area.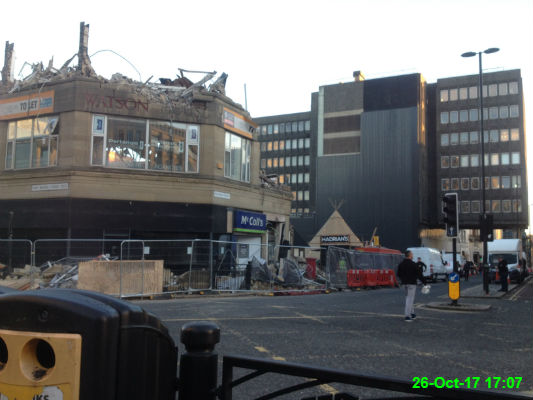 25 October 2017: Bum Deal
I'm a badger fan but this is a new one on me.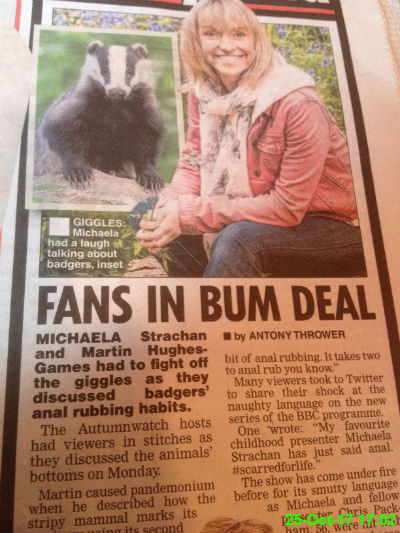 24 October 2017: Souvenirs
As well as two hats I've also gained two new giraffes from York.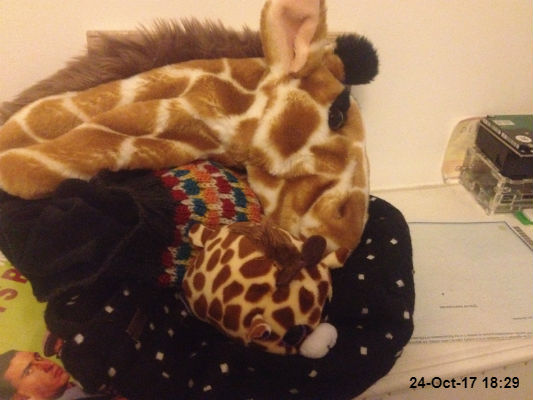 23 October 2017: Double Winner
My number 32 eventually came out as the bonus ball so I won £45 from the Grey Horse and £59 from work.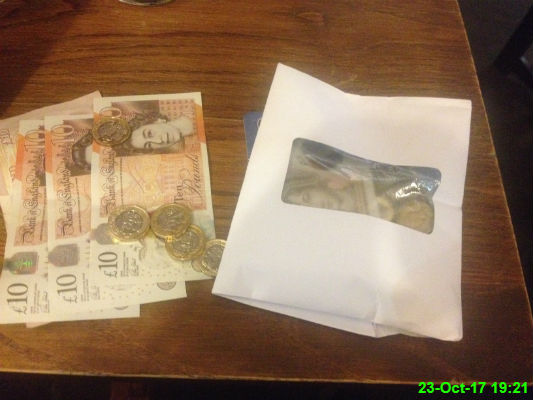 22 October 2017: Cheeseburger
Shannon just casually eating a cheeseburger in Superdrug.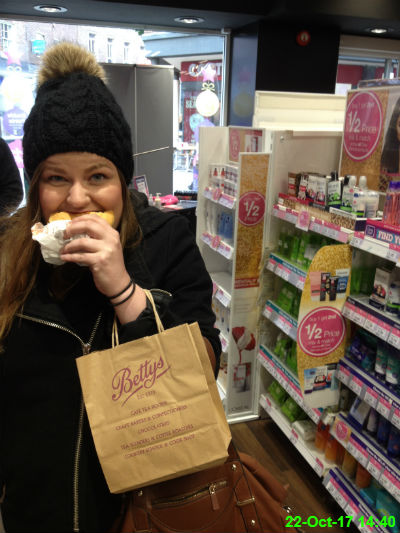 21 October 2017: Hats
I took them to a hat shop and collectively we spent over £100. Oops!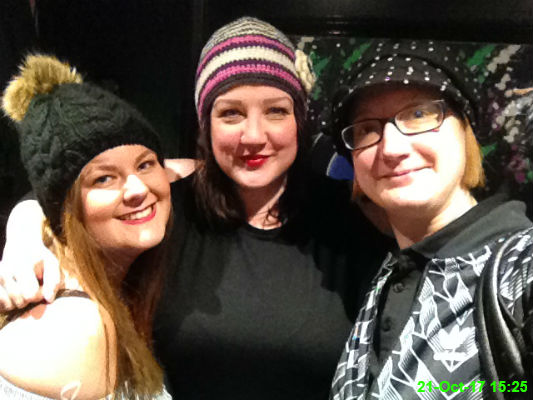 20 October 2017: York Apartment
I arrived in York with Ali and Shannon for a fun weekend away.
19 October 2017: DX
I went to collect our DX mail this morning and I always find the place really creepy.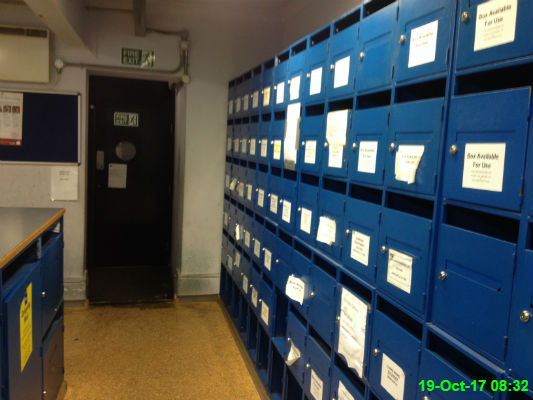 18 October 2017: Rotary Back Machine
It's ages since I used this and I fancied a change this morning.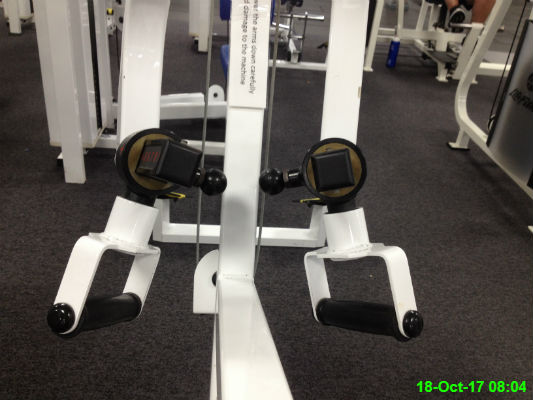 17 October 2017: Disabled Parking
Morrisons have added extra disabled and parent/child parking bays but already some people are saying there are too many. As far as I'm concerned it's a good thing!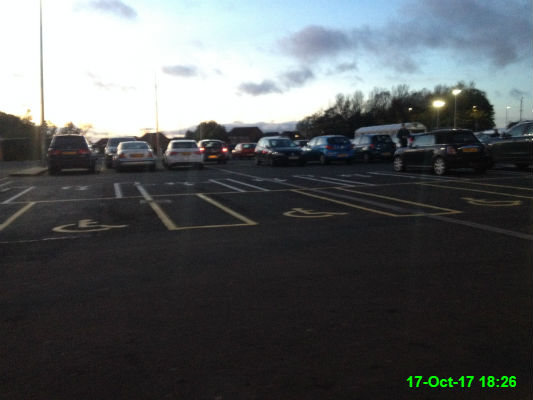 16 October 2017: Dust Cloud
The sky turned a weird colour today. At this point it was kind of greyish but as the afternoon went on it was sort of a red/orange colour. Apparently it was due to a storm blowing a dust cloud over, but it was surreal to have the place seem like darkness in the middle of the day.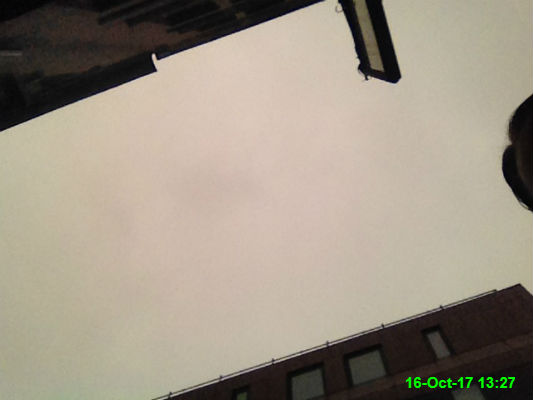 15 October 2017: Canadians
The Canadians came to town so of course I suggested we take them to Colonel Porter's Rhum Emporium. This is Yvonne and John, both from England, with Nicole and Nate visiting from Canada.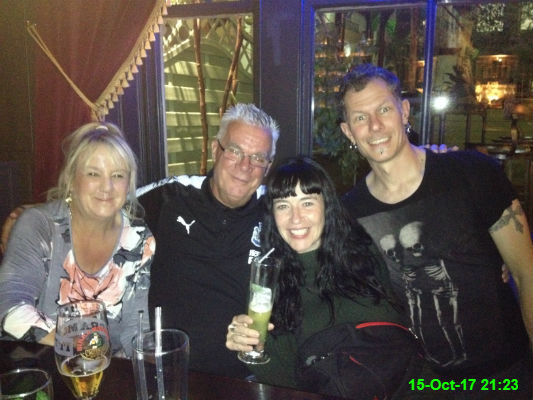 14 October 2017: Savior
My new t-shirt is lyrics from the Rise Against song 'Savior'.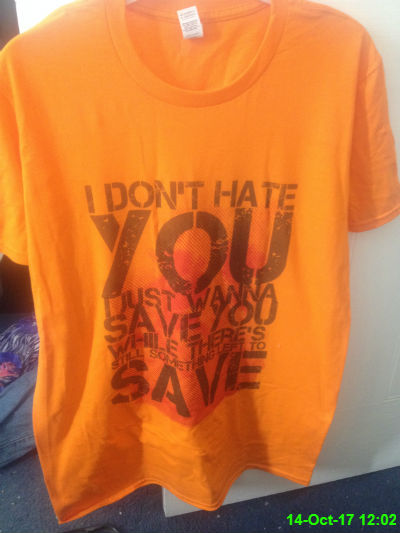 13 October 2017: Sausage Visitor
On my train back from London I returned from the toilet to find a sausage dog under my seat!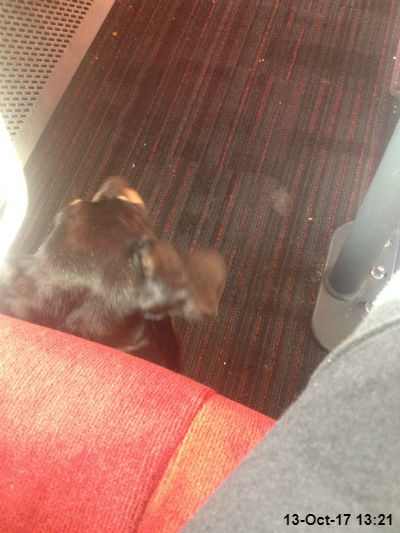 12 October 2017: Josh Pyke
After 10 years of being a fan I finally got to see Josh Pyke live. The gig was at Bush Hall in London which was a cool little venue and the performance was well worth the trip.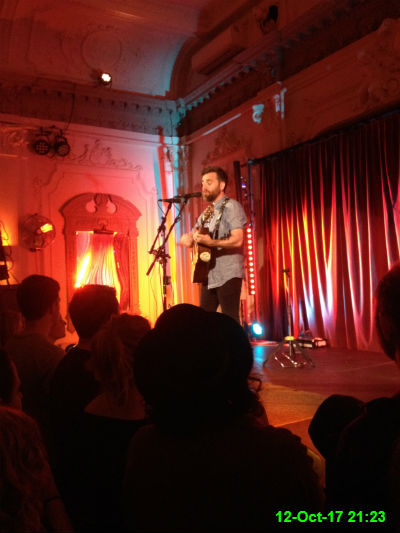 11 October 2017: Train Tickets
Months after booking them, I finally got round to collecting the train tickets for my upcoming trips to London and York.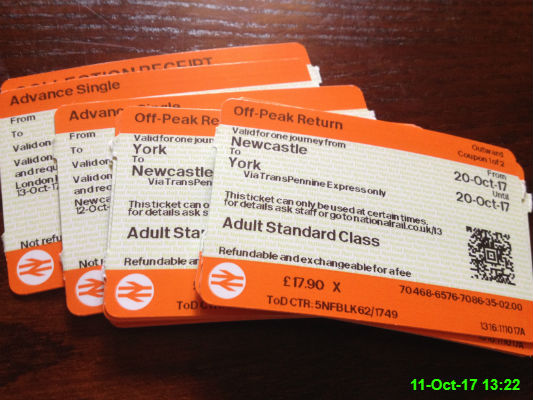 10 October 2017: Jerry's New Hat
Caroline provided Jerry with a new winter hat.
9 October 2017: Mary Higgins Clark
I got this finished off today. I wouldn't really say it got under my skin, but it passed time on the commute.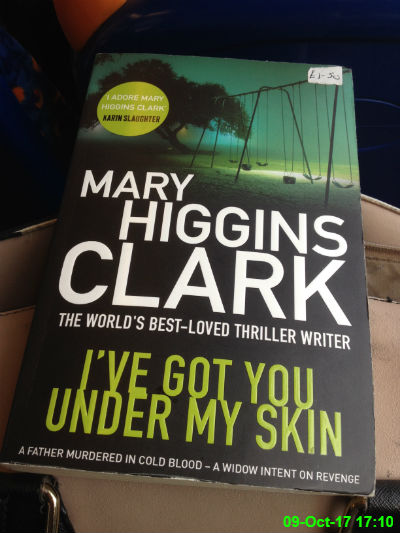 8 October 2017: Hometime
I'd forgotten to take a photo today, so you get a toilet selfie, which was my last moment of effort before heading home for food and to chill out before work tomorrow. I didn't mean for it to come out square!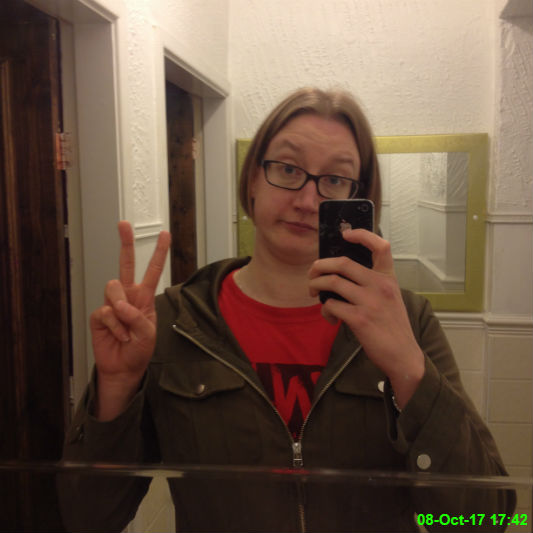 7 October 2017: Tom's Birthday
I went with Tom, Andy, Mick, Alan and Wendy to the Three Mile to celebrate Tom's birthday.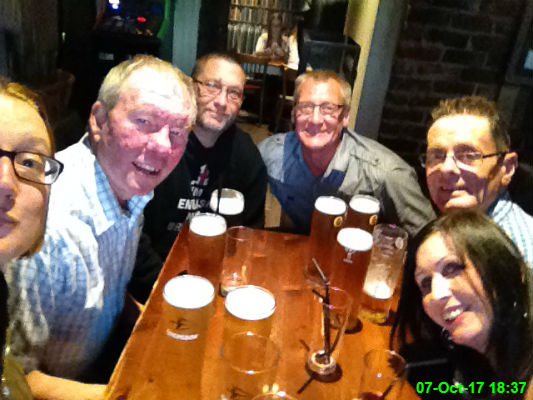 6 October 2017: Sky Colour
It's not a great photo but I loved the colour of the sky this morning.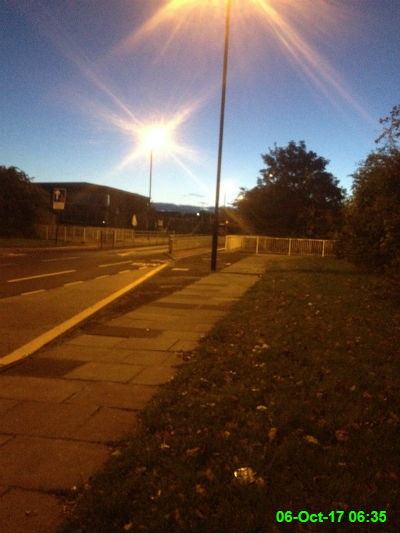 5 October 2017: Leaves
It's definitely autumn.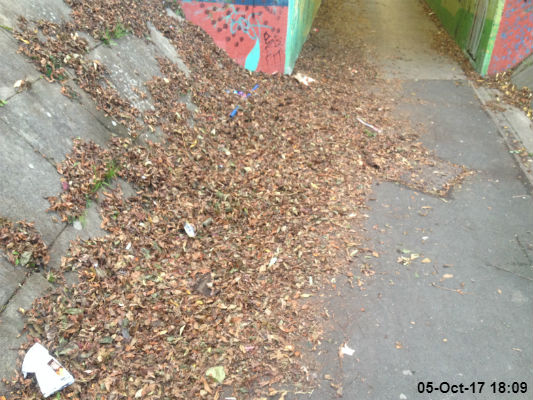 4 October 2017: Half a Building
This building looks all forlorn since it's half demolished.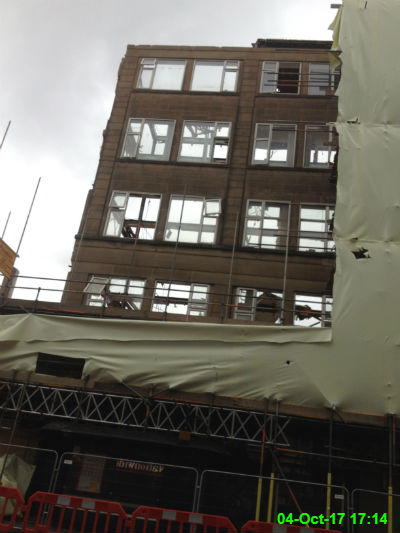 3 October 2017: Carl & Ali
Drinks after a meal at Amicis with me and Michael, our cousin Claire and her boyfriend Keith.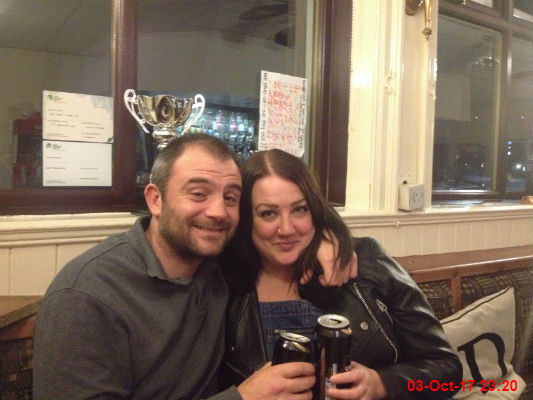 2 October 2017: Lidl Blur
I went to our new Lidl for the first time for this week's shopping.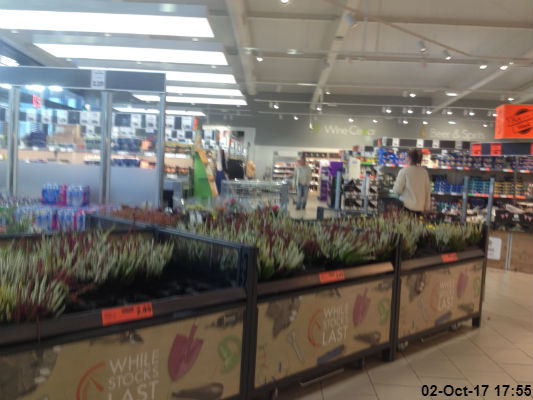 1 October 2017: Lockwood Cup
It's that time of year again! The Blue team was victorious, beating the Reds 16-8 while I watched and refereed from the balcony.