2017: In Pictures
30 September 2017: Sambuca
Micky Clarke is a bad influence as he had me drinking mid-afternoon sambucas!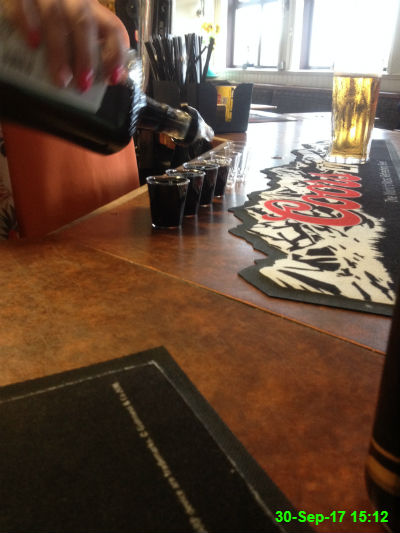 29 September 2017: Kay & John
I had a nice night chatting to Kay and John. For some reason though I look like I've just discovered my teeth.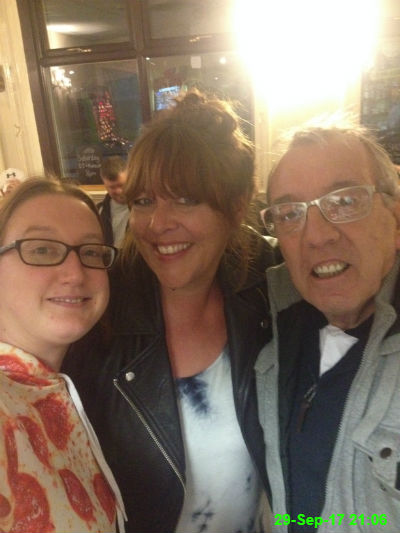 28 September 2017: Races Tickets
Michael is off to the races tomorrow night. Lads only, so I'll be fending for myself!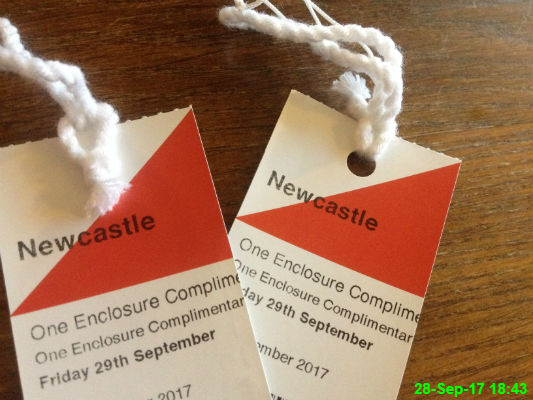 27 September 2017: Orange Tub
Mam gave me some delicious homemade soup to have for tea tonight. It used to be in this bright orange tub, but now it's safely in my belly.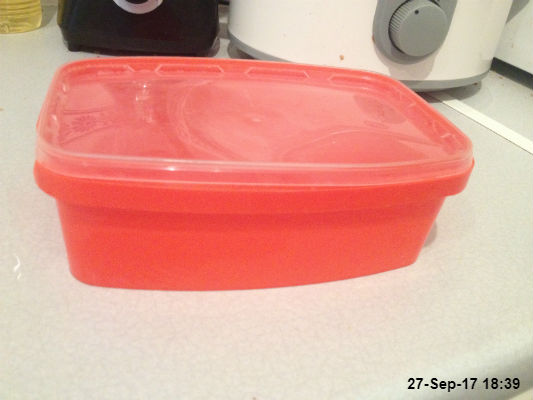 26 September 2017: Goodbye Fusi
The Fusilier has been sold to developers so it closed a few days ago. I was never a regular there, but it was one of my closest pubs when living in Forest Hall and I've had some memorable times there over the years so it's sad to think it will no longer be somewhere to pop into.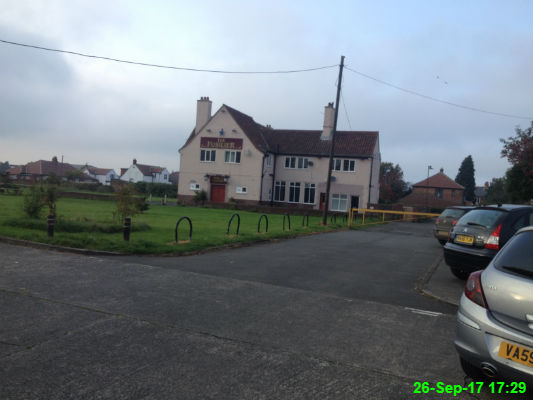 25 September 2017: Cup-a-Soups
Since the nights will be getting colder I've stocked up on a few different flavours.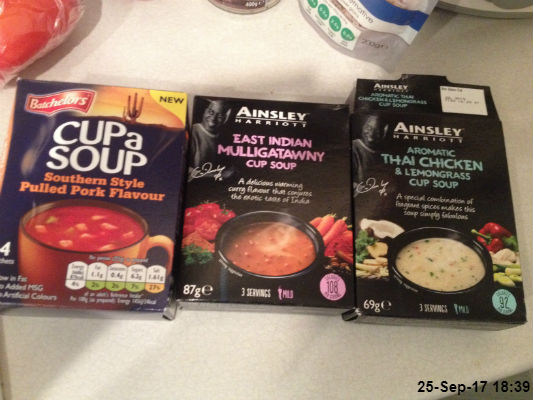 24 September 2017: Widened Path
The path behind our house has been widened so I'm waiting to see what exciting thing they do next.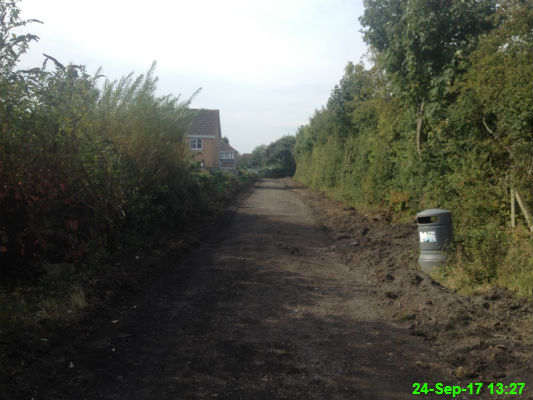 23 September 2017: World War Quiz
I tested Michael's war knowledge with this quiz in the newspaper. He scored 20.5 out of 35, which was a pretty decent score.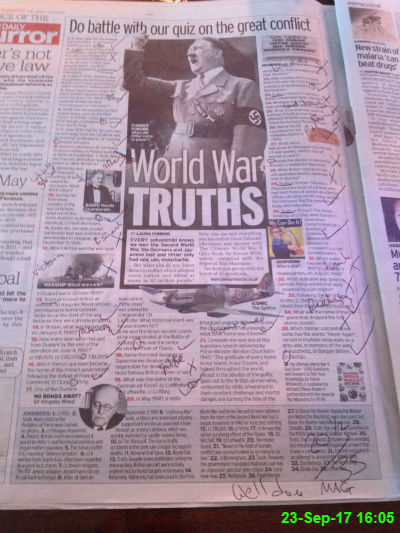 22 September 2017: Berlin Duck
I brought home a souvenir to sit on my desk at work.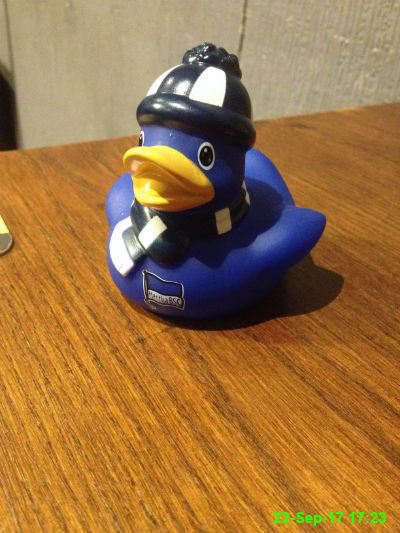 21 September 2017: Frisky Turkey
I found this sandwich at the airport amusing but decided to stick with ham and cheese.
20 September 2017: Hertha BSC 2-1 Bayer 04 Leverkusen
We got talking to the two German men standing in front of us and the game was great fun!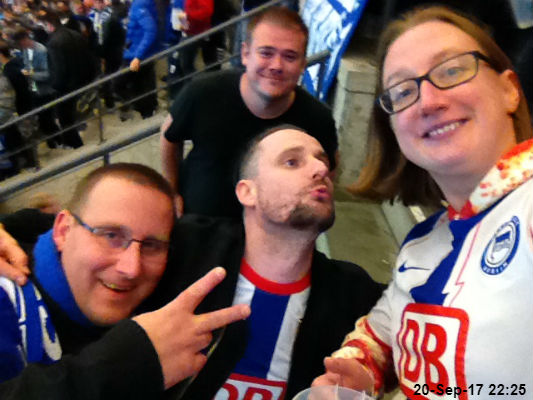 19 September 2017: Alexanderplatz
We alwasys stay in the Alexanderplatz sort of area when we go to Berlin so this was a sign that we were almost at the hotel.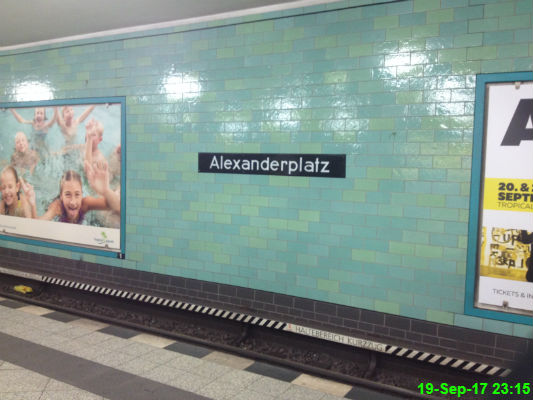 18 September 2017: Smiley Cut
Ali had a cut on her arm so I made it look happy.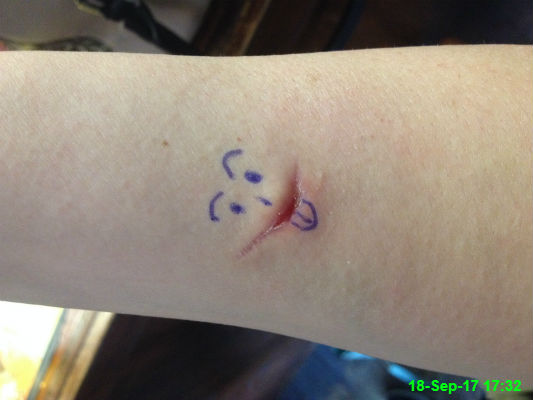 17 September 2017: Back Fields
It was a bit breezy as I strolled across the back fields this morning.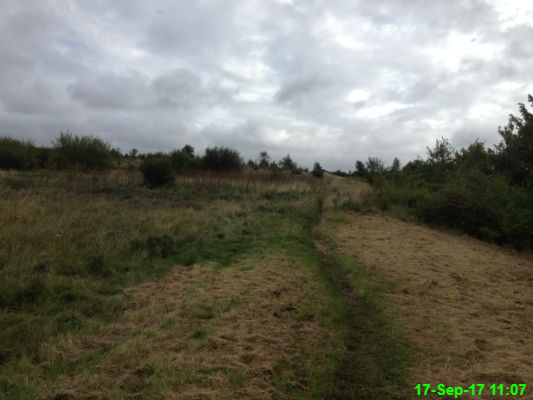 16 September 2017: Casper
Ali and I had a long overdue catchup with Sara and Katy, and their two little boys, James and Casper. Katy loves giraffes as much as I do so we're trying to get Casper interested in them.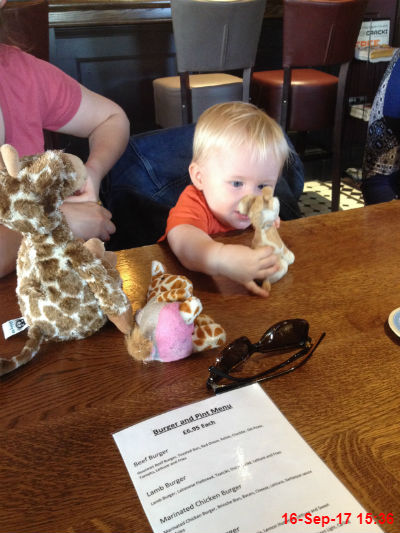 15 September 2017: YYZ
My favourite thing to see in a game of registration plate doubles is YYZ.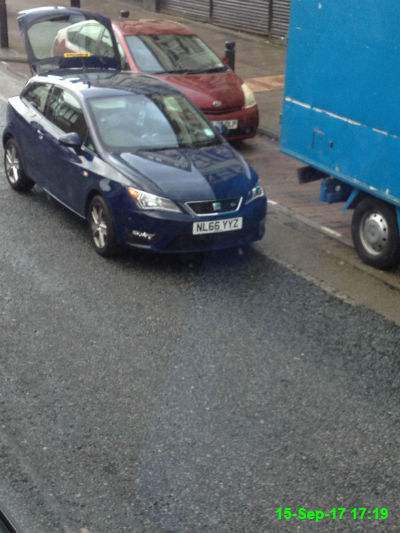 14 September 2017: Laptop Bag
Michael went to a gig so I had the task of getting his laptop bag home safely.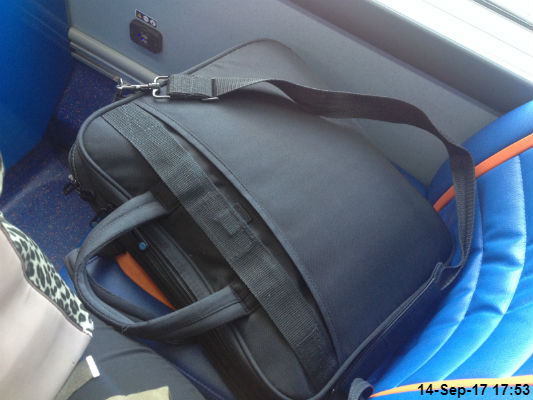 13 September 2017: Quiz Food
We popped round to the Grey Horse to have a few drinks with Sam on his birthday and didn't stay for the quiz but watched the free plates of food being prepared.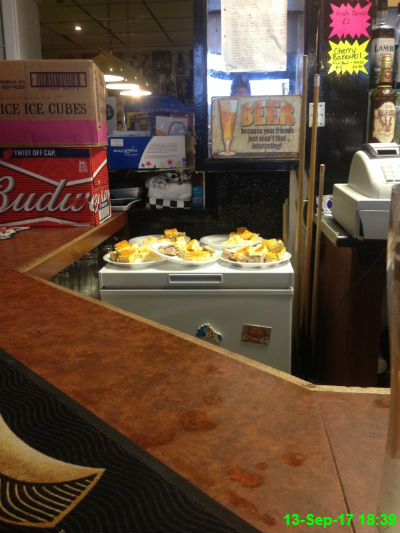 12 September 2017: Bundesliga Tickets
We're returning to Berlin in a week, just for a couple of nights, to see Hertha BSC take on Bayer 04 Leverkusen.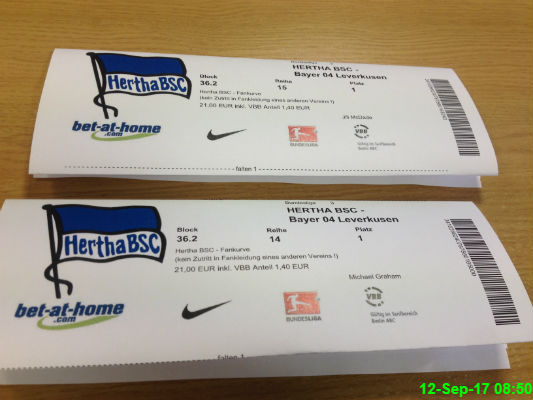 11 September 2017: Bunting
I turned my coat into some sort of bunting looking thing, for no real reason.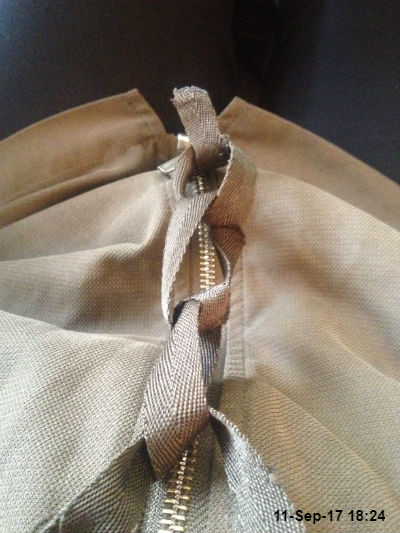 10 September 2017: Fake PB
As I mentioned the other day, I sold my Great North Run place to somebody else, so I was amused to see that I had beaten my personal best without leaving the house!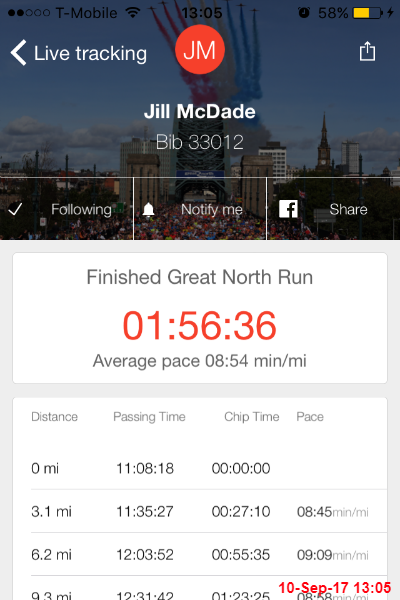 9 September 2017: Mark's Night
The Wheatsheaf held a charity night in memory of our friend Mark, who died earlier this year. It was a nice touch to have his picture and a pint for him placed on the bar, and even better that a plaque was unveiled for him.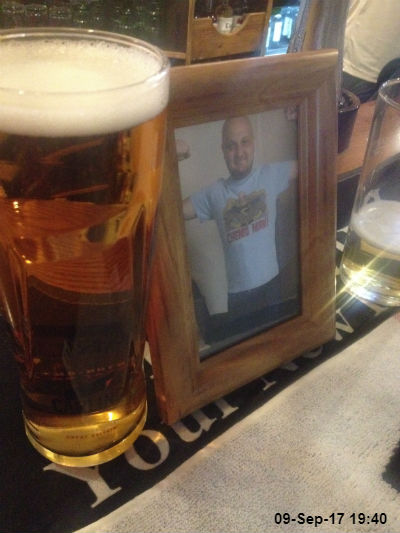 8 September 2017: Pool Wars
Another exciting Friday night featuring Michael v Jordan at pool. Michael won 5-3.
7 September 2017: People's Theatre
I don't actually think I've ever been in here, but I've been past it plenty times.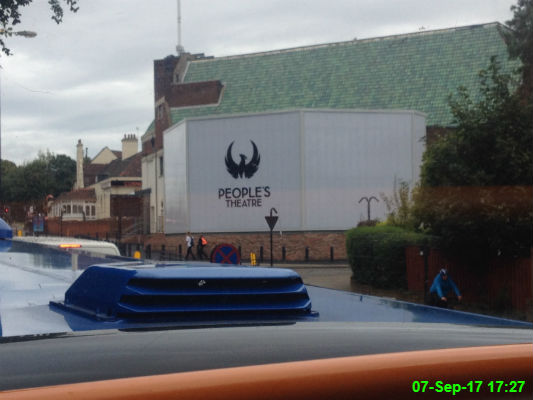 6 September 2017: Polo Shirt
I bought this polo shirt yesterday. It's actually from the men's section but I suppose I have always been a tomboy.. and anyway, isn't everything gender neutral these days?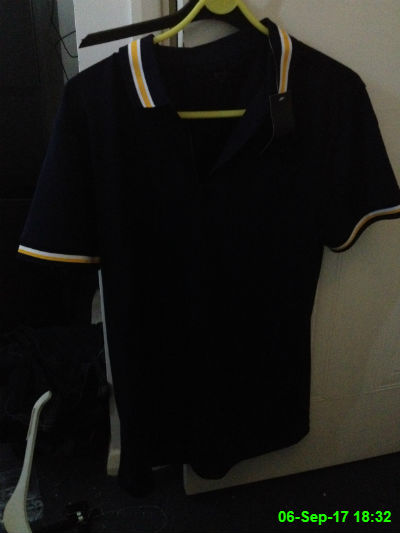 5 September 2017: Self-Service Malfunction
All of the self-service machines in Tesco had some sort of mechanical error, so I was forced to queue.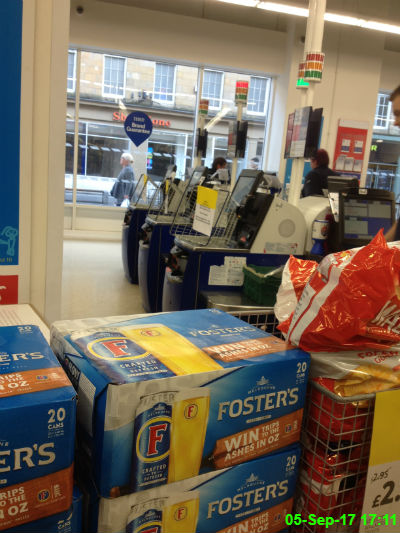 4 September 2017: Egg Nan
We had takeaway curry to celebrate.. well, nothing other than our own laziness. I had an egg nan for the first time, which was pretty nice.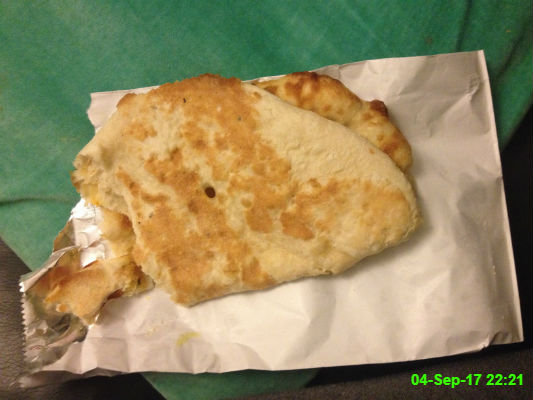 3 September 2017: Just Awful
These are some of the worst trainers I've ever seen.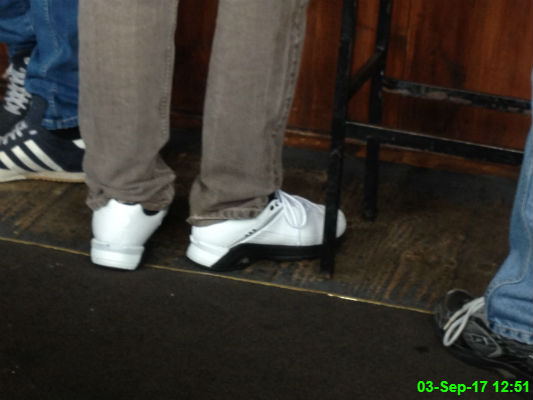 2 September 2017: Heaton Stannington 1-0 Blyth AFC
First Northern League game of this season! Heaton Stannington was the easiest option to get to today, and we were rewarded with a win.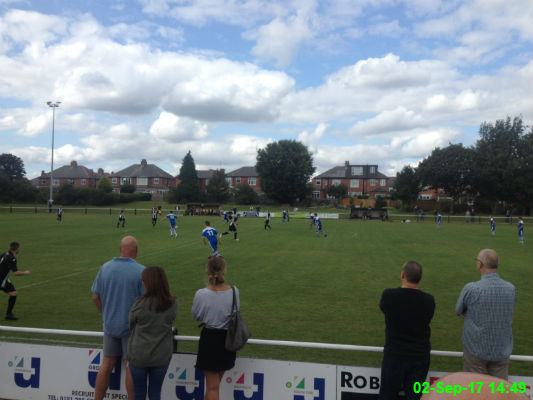 1 September 2017: Dog & Scone
I went with Fay and Sara to the dog cafe near work. Fay was in her element when she got to cuddle a pug!