2018: In Pictures
31 October 2018: Metro
I seem to have been getting the metro a lot lately. This time, between town and Gateshead.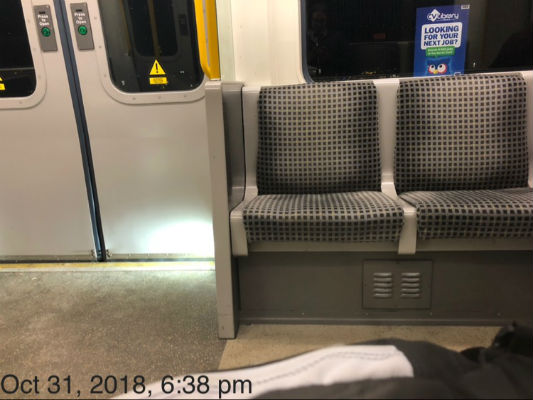 30 October 2018: Library
Can't beat a bit of quiet reading time in the library. It's officially my new favourite place.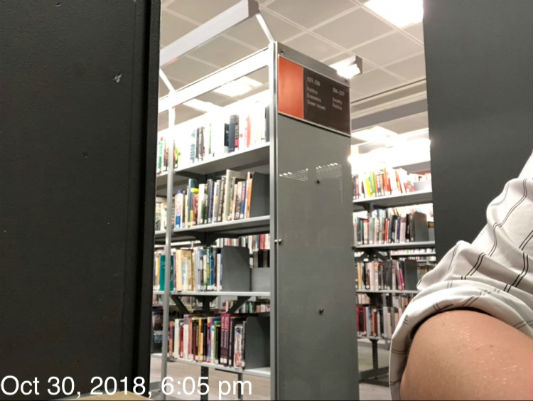 29 October 2018: No Feeding
Anyone who attracts pigeons with food in a bus shelter with a roof is a certain kind of weird.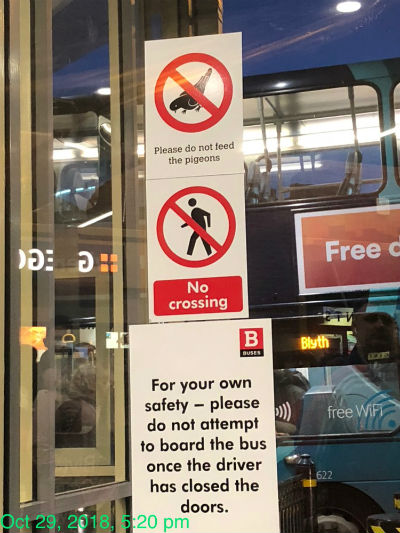 28 October 2018: Depressed Button
I think we can all be depressed at times.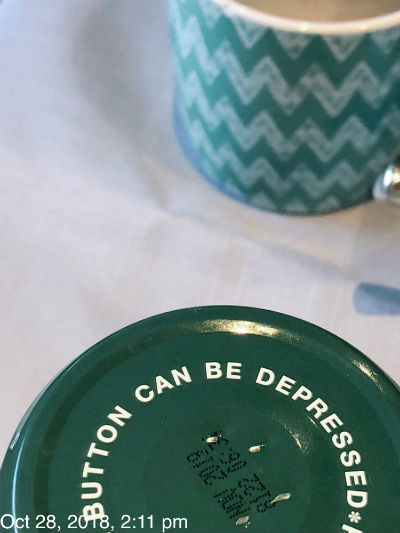 27 October 2018: Ballerina
I found this post on Twitter disproportionately funny!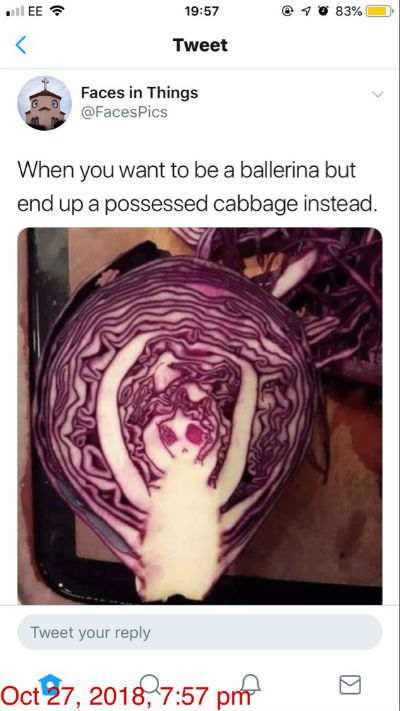 26 October 2018: Bright Moon
I didn't need to use the torch on my phone to walk along this path tonight since the moon was shining brightly.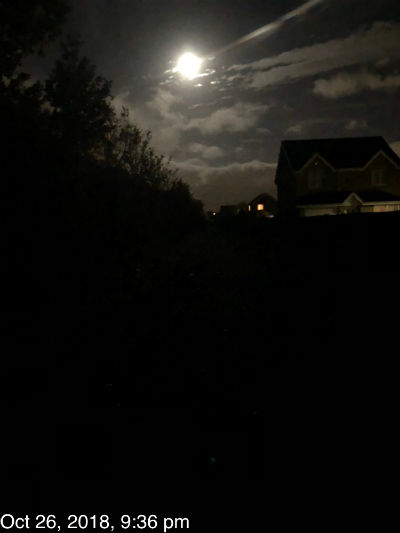 25 October 2018: Pylons
Not the most exciting thing to see against a pretty sunset.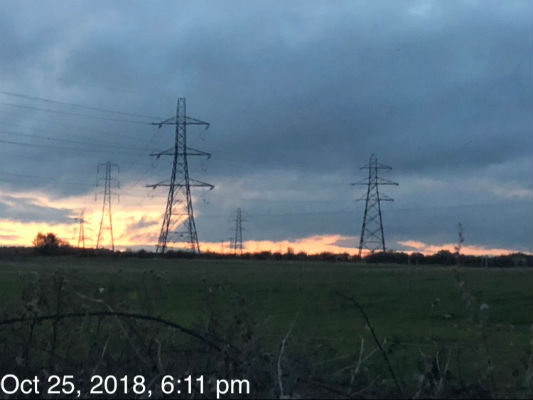 24 October 2018: Shadow?
This smear on the road looks sort of like the shadow of an invisible person standing on the path.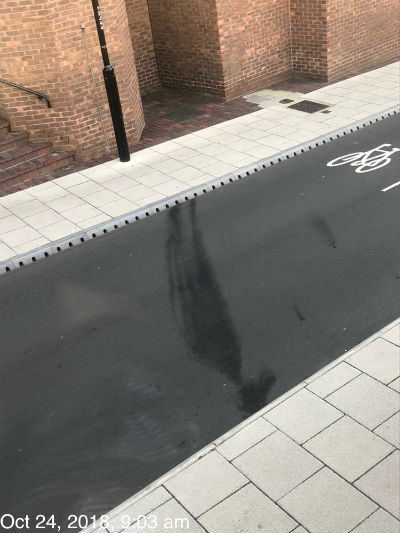 23 October 2018: Three Months
I was supposed to be at work today but when I slept in and woke up just before 9, I quickly had to ring in and take an extra day holiday. I may be 3 months sober but I'm still a bit of a nugget!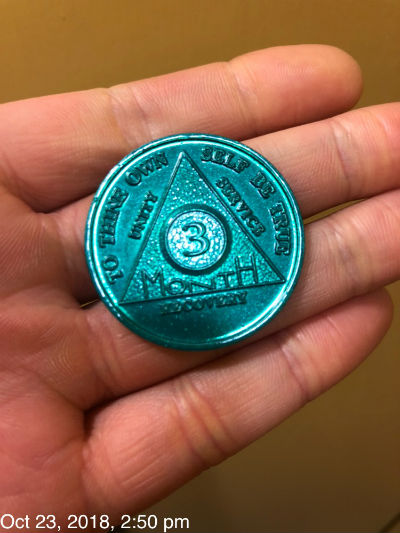 22 October 2018: Preamble
At my AA meeting today I was asked to read the preamble at the start of the meeting. I used to be so nervous when I was asked to read; now I love it.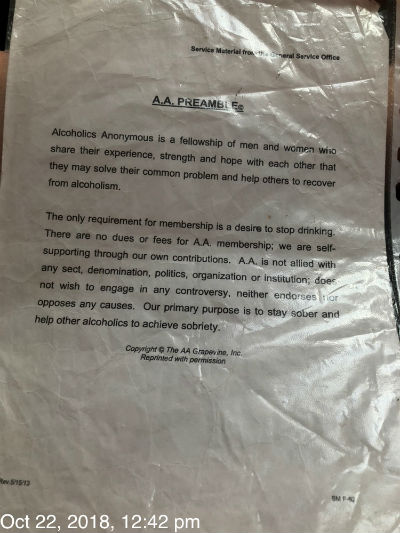 21 October 2018: Autumn Evening
A chill in the air, streetlights on and leaves on the ground.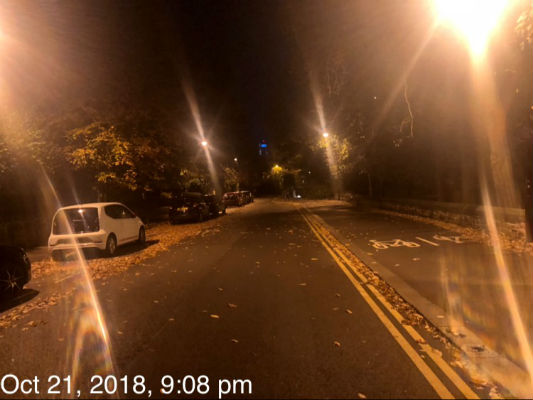 20 October 2018: Ciccarelli
My love for ice cream continues. Today I went over to Blyth and had a mixture of red velvet and mint choc chip.
19 October 2018: New Seats
The Bigg Market work continues, with... well, new seats.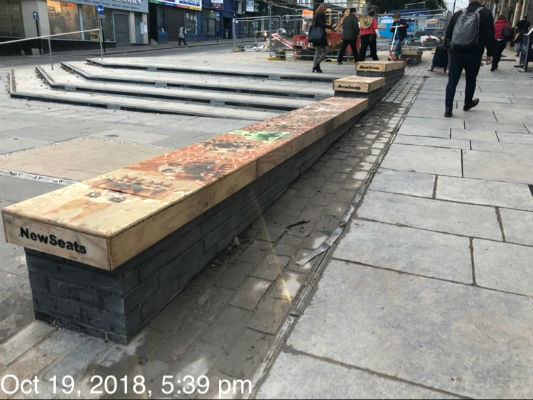 18 October 2018: The Three Musketeers
Everyone was surprised to hear I was going to see ballet (myself included) but I do love The Three Musketeers so it seemed a reasonable choice for my first time. I actually enjoyed it, though I'm not sure what I would have thought if it was a story where I didn't already know what was happening.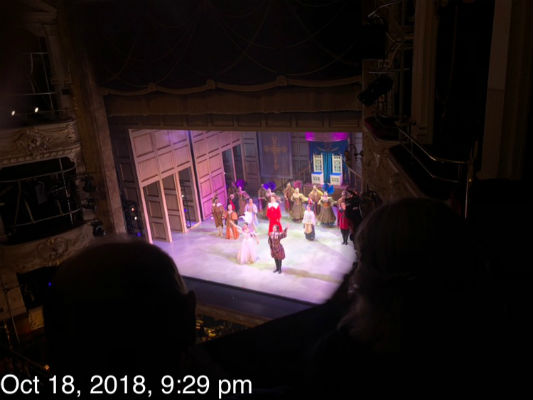 17 October 2018: Quiz Night
I hadn't been intending to stay for the quiz, but I ended up forming a makeshift team with Hollie, Ken and Michael.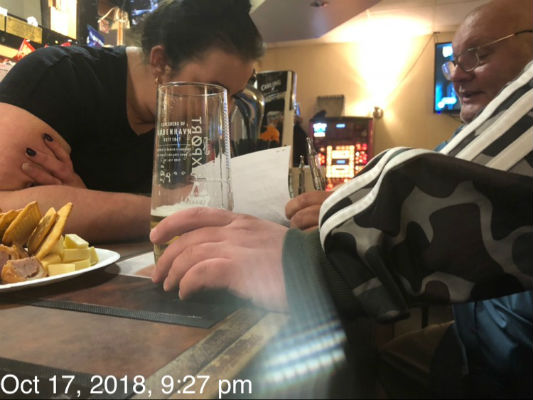 16 October 2018: Bigg Market Work
Lots of redevelopment work is taking place at the Bigg Market.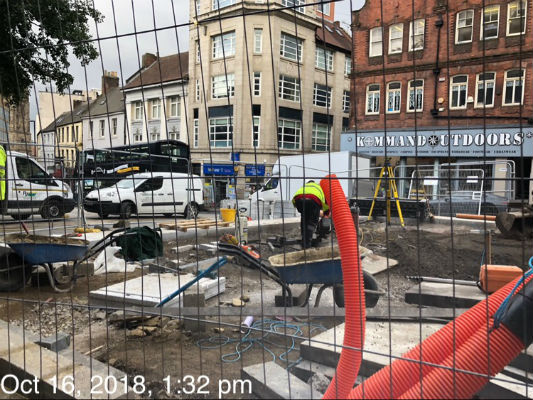 15 October 2018: Ben & Jerry's
I absolutely love ice cream at the moment, so despite the extortionate price I had to buy some Ben & Jerry's cookie dough flavour.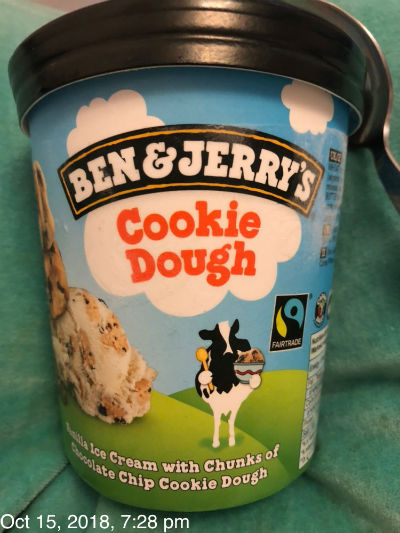 14 October 2018: Sunset
I was feeling a bit down today but this sunset did raise a smile.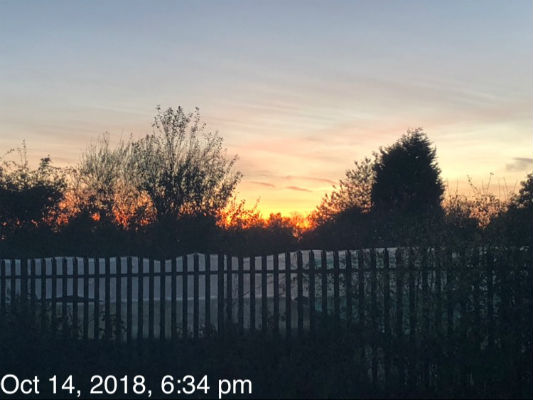 13 October 2018: McDade Street
When watching The Haunting of Hill House, I was amused to see my surname in the background. Unfortunately, it doesn't seem to be a real street.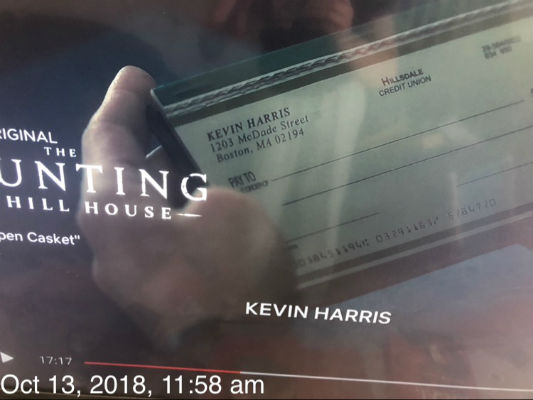 12 October 2018: Pizza Punks
I've been wanting to try this place since it opened and it didn't disappoint. I'm now firmly of the belief that broccoli belongs on a pizza more than pineapple.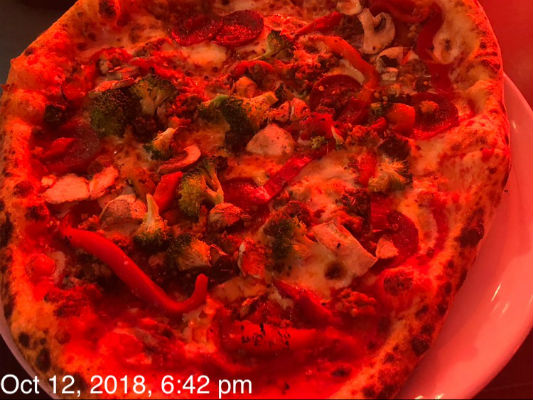 11 October 2018: Twinned Toilet
I think this was the first time I'd ever used a toilet that was twinned with another one halfway across the globe.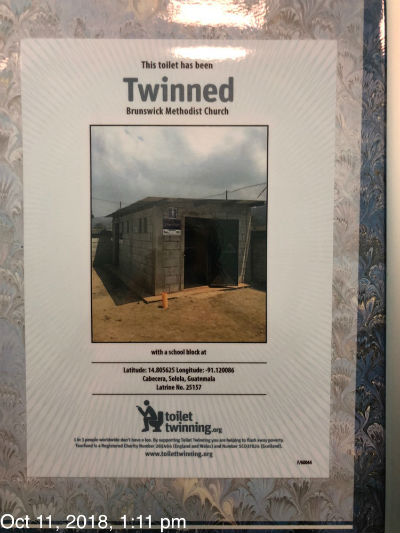 10 October 2018: Night Reading
I wasn't particularly tired so I stayed up for a bit, reading with my new head lamp as a light source.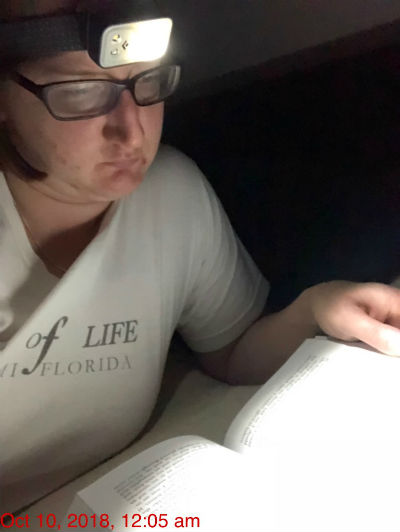 9 October 2018: Vulcan 7
I went to the theatre to see Vulcan 7, starring Nigel Planer and Ade Edmondson. Very good!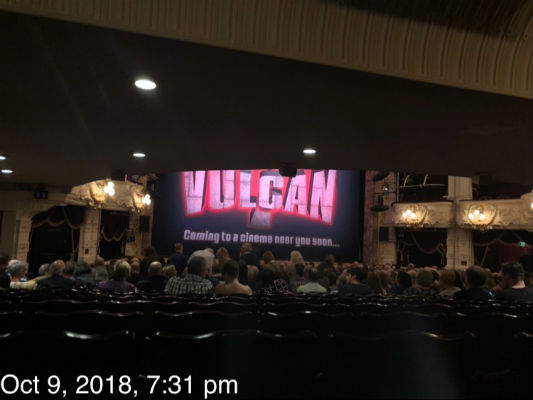 8 October 2018: Pizza Tie
I couldn't wait long before combining two of my favourite things... ties and pizza clothing. I wasn't expecting it to arrive from the US so soon, but I was impressed with the quality when it landed today.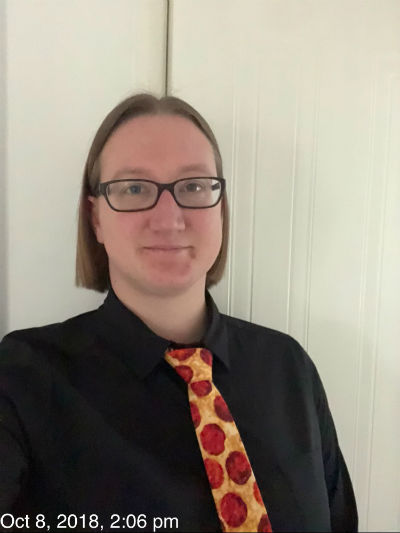 7 October 2018: The Big Book
Today I celebrated 11 weeks without a drink by reading some of the Big Book.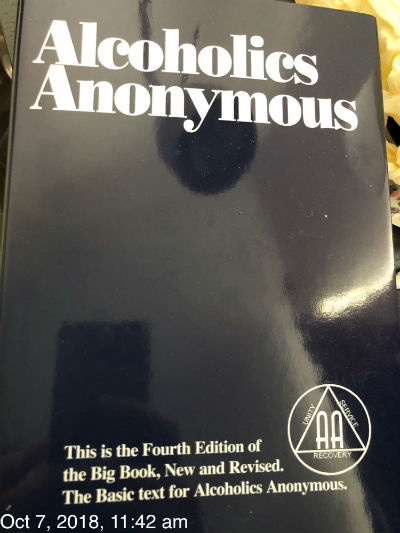 6 October 2018: Lockwood Cup 2018
With Newcastle deep in the mire at the minute, this is pretty much the highlight of my footballing calendar. The Reds and Blues played once again and I'm not sure of the final score but the Reds emerged victorious.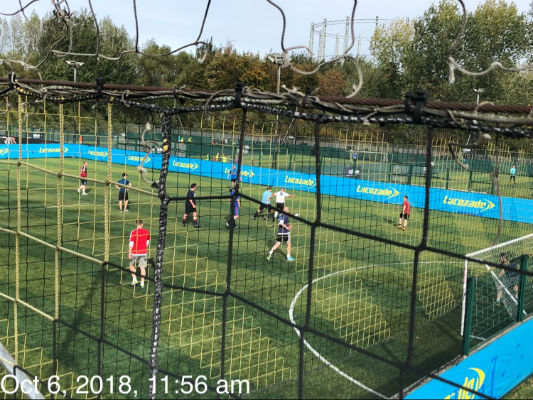 5 October 2018: Fundraising Pack
My Mind t-shirt and fundraising pack for the hike in May have arrived already! Looks like there's no time to hang about, I'll have to get started with training and raising money.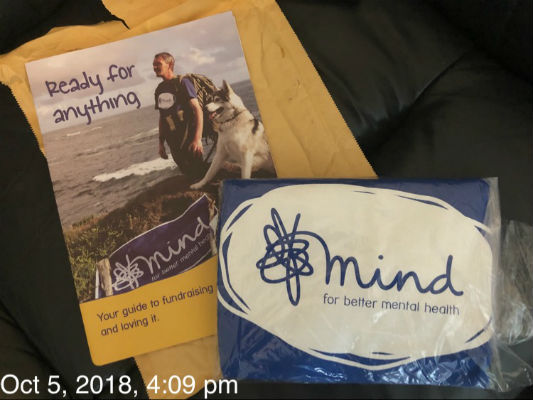 4 October 2018: No. 1 Cathedral Square
Glass buildings always look awesome when they reflect a blue sky.
3 October 2018: H&M
I haven't shopped at H&M for years, but it was a good option for some new work clothes.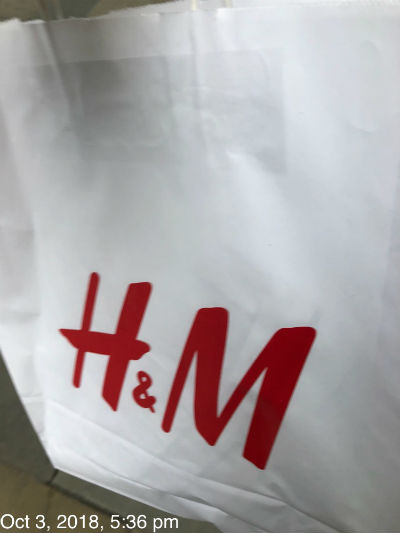 2 October 2018: SoberCast
One of my current favourite podcasts, which features loads of AA speakers.
1 October 2018: Mouthless Cat
This ornament is kind of sweet, but it seems to be missing a mouth.