2020: In Pictures
31 July 2020: Ladybird
I haven't seen one of these for what feels like ages! I was painting the fence and didn't want to drown it in brown paint so took it on a journey to the other side of the garden.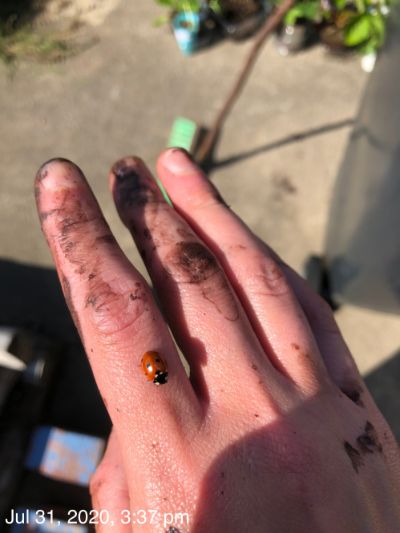 30 July 2020: Antibody Test
I received a letter recently offering me a Covid-19 antibody test so I registered and it arrived today. It was a blood test which was preferable to a swab, and unsurprisingly came back negative.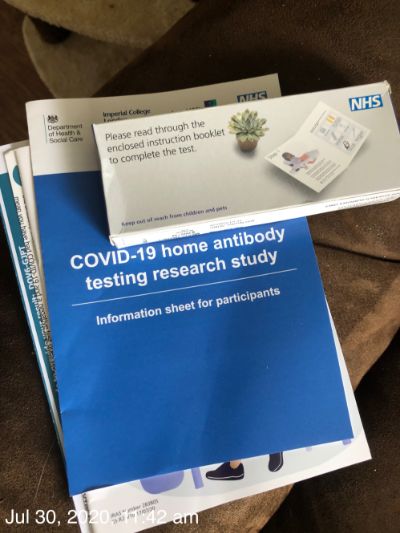 29 July 2020: Pizza Rock
Kat brought me this back from a recent trip. It was nice but tastes nothing like pizza.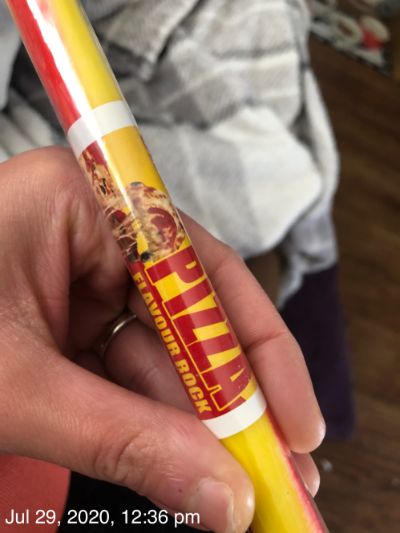 28 July 2020: Acceptance
This is a paragraph from the Big Book that is frequently referred to because it applies to so many aspects of life.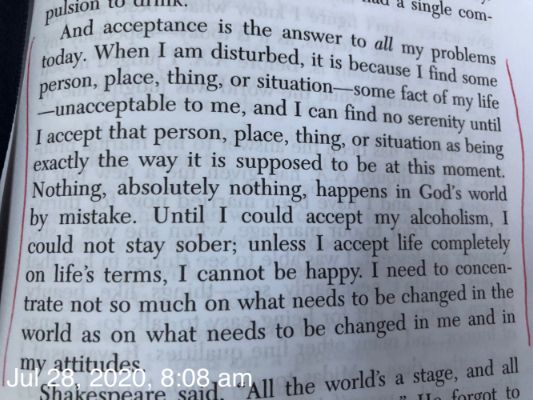 27 July 2020: Penguin Socks
My wardrobe is becoming penguin-themed one item at a time. These are the newest addition. The slippers are on their way out due to massive overuse over the last few months!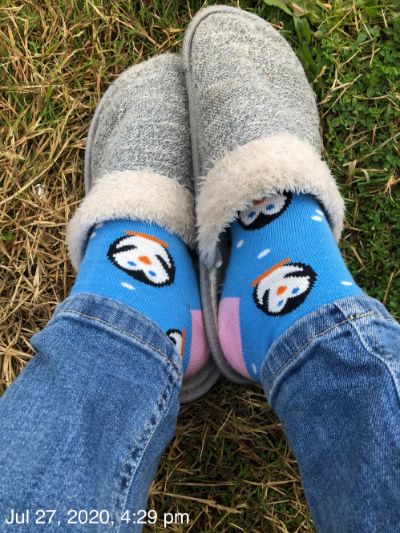 26 July 2020: Shed Doors
My latest project has been adding a bit of colour to the outside of the house by painting the shed doors. The colour is "forget-me-not" and I love the shade.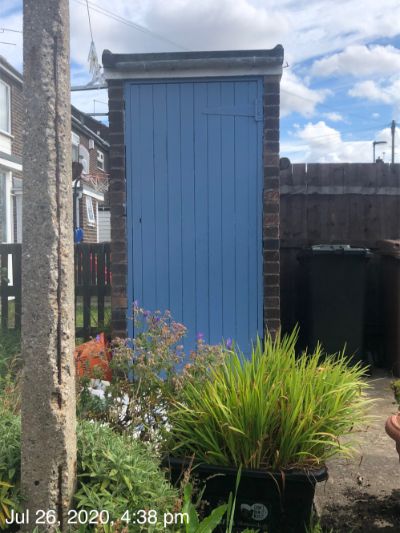 25 July 2020: Maggie's Here!
We've been waiting in anticipation to see what the rose planted in memory of Maggie would look like. I've never been much of a flower lover but she's just beautiful.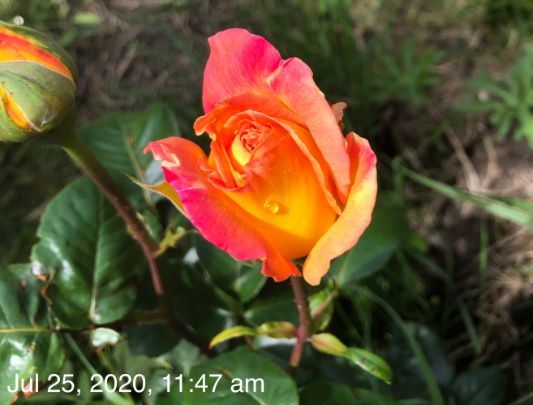 24 July 2020: Dog Park
I'm not sure who was more excited about being at the dog park - Holly or me and Ali! In between lots of running around and ball-fetching she found some time to chill in a tyre.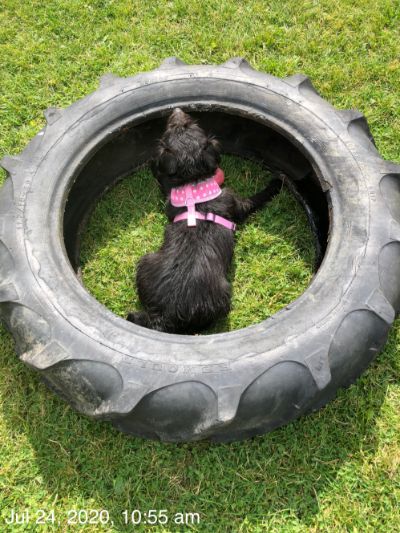 23 July 2020: Two Years Part 2
Some of the amazing cards and presents I received yesterday. Yesterday I was mostly stunned at seeing everybody but today I was filled with gratitude and felt absolutely blessed for everything I have in life.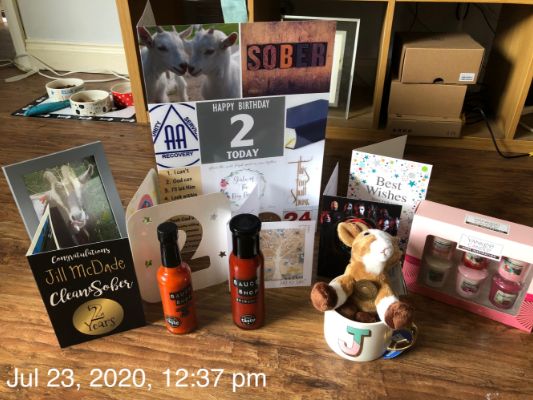 22 July 2020: Two Years
I achieved two years of continuous sobriety today! It's somehow been simultaneously a long and a short two years but it's definitely been an adventure. There was no chance of keeping it low-key as my family and friends had arranged a surprise gathering!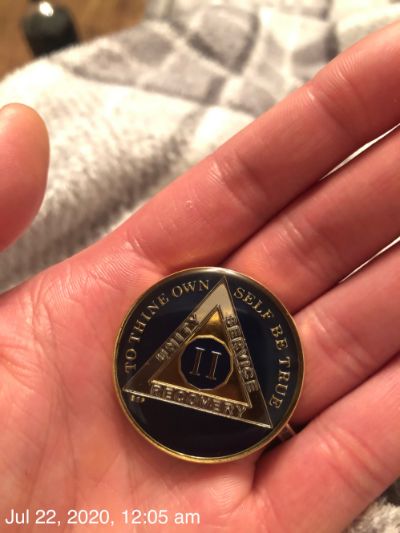 21 July 2020: 1998 Playlist
I hadn't listened to much 90s music for a while so I found a 1998 playlist on Spotify and picked out some blasts from the past. I used to love this song and I'd completely forgotten about it.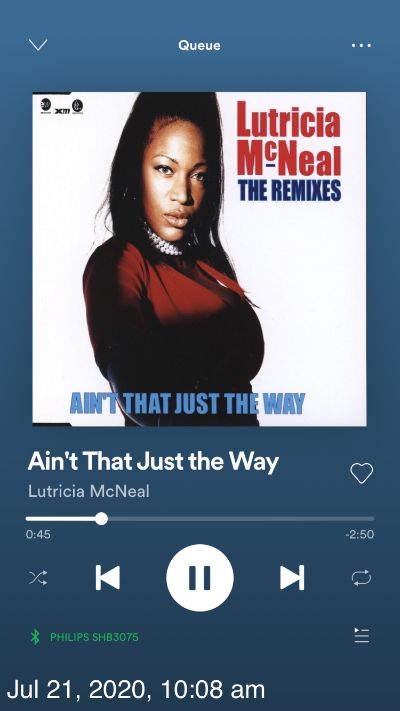 20 July 2020: Serenity Prayer
I'm not very good at having days doing nothing but it helps with my serenity if I fit them in once in a while.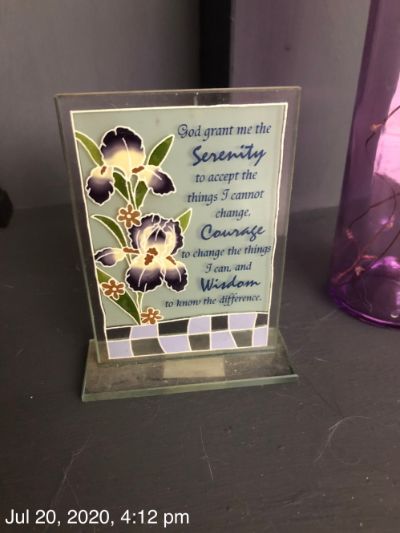 19 July 2020: Extended Washing Line
The highlight of the day was adding an extra section to our washing line so there's a bit running from the shed to the pole in the middle of the garden. I love drying washing outside so it's nice to have extra line space.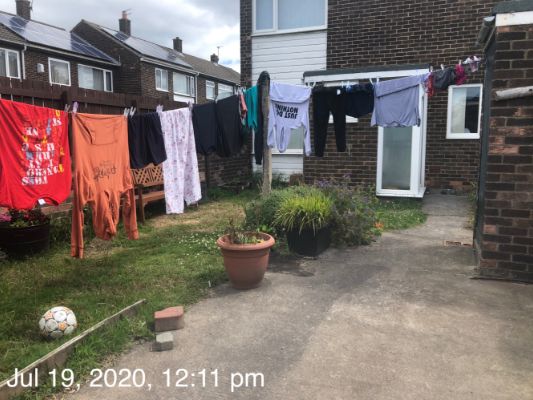 18 July 2020: Bathroom Planning
A lovely gentleman who visited our house to give us a quote for a new bathroom designed us a fancy room and showed us a computer simulation of how it would look. Unfortunately the price quoted was well out of our range and we didn't win the lottery so we're looking elsewhere.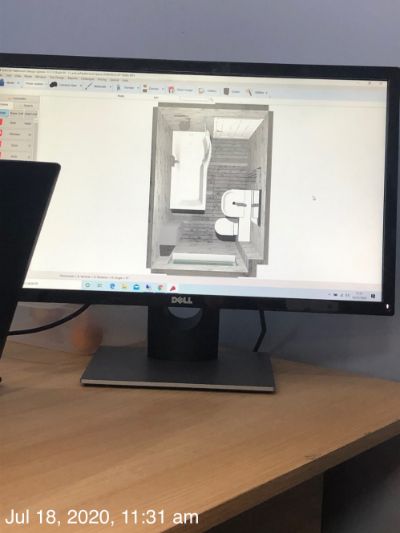 17 July 2020: Lilies
The lilies in our garden are opening up and while I know nothing about flowers I do love the colour.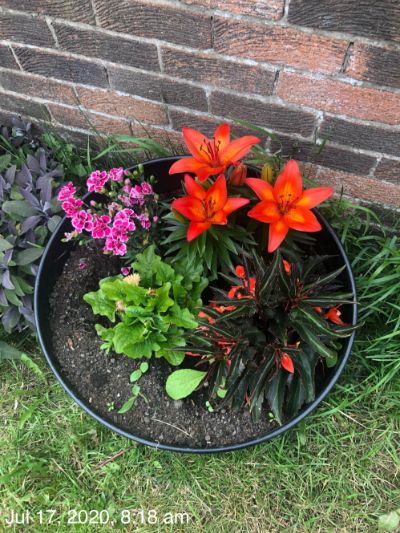 16 July 2020: Socially Distant Waiting Room
I had my first visit to the doctors since covid-19 was a thing. The waiting room has been rearranged so people can sit apart from each other. I chose to loiter awkwardly but it wasn't for long since the nurse came straight out to find me. The visit was just for a routine blood pressure check (118/72) so I didn't need to hang around.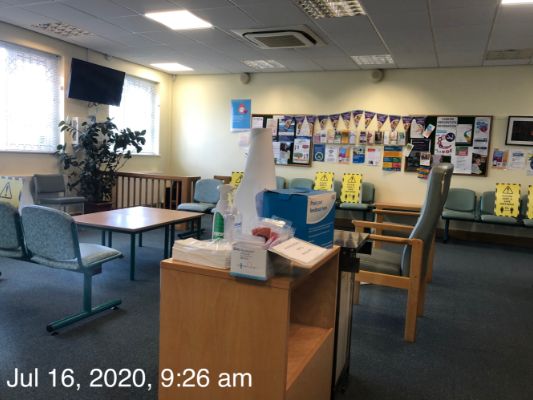 15 July 2020: Shed Decor
The Zoom Shed is gradually taking shape. We needed something to do with the purple wall hanging and while the colour of the other one doesn't match in the slighest it was the perfect shape to fill the gap and cover up the shelves behind.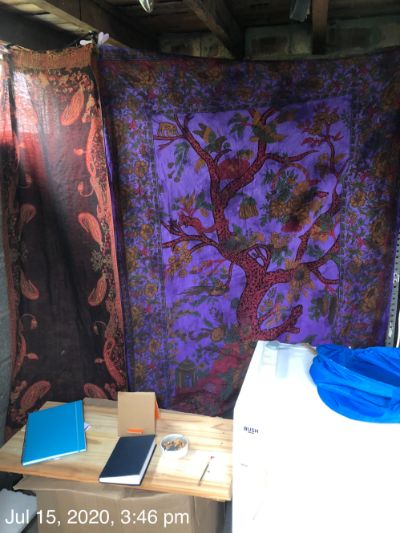 14 July 2020: Paint & Paws
I spend a large part of the day painting various areas - under the stairs and the fence. When Sally came to join me for cuddles I found myself praying the paint on my clothes was dry before she climbed all over me.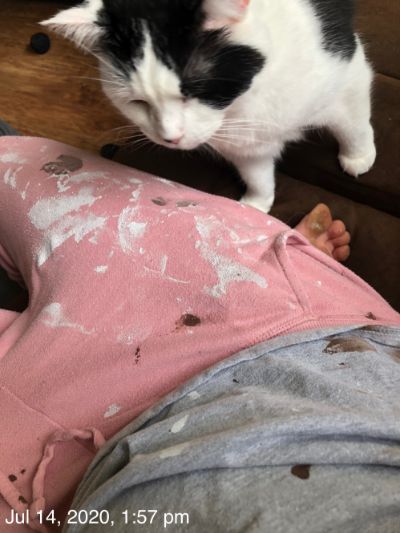 13 July 2020: Anniversary Meal
Noirin and I celebrated our first anniversary with a meal at Miller & Carter. I had this 8oz fillet steak (rare) with beef dripping sauce and sweet potato fries. It was AMAZING.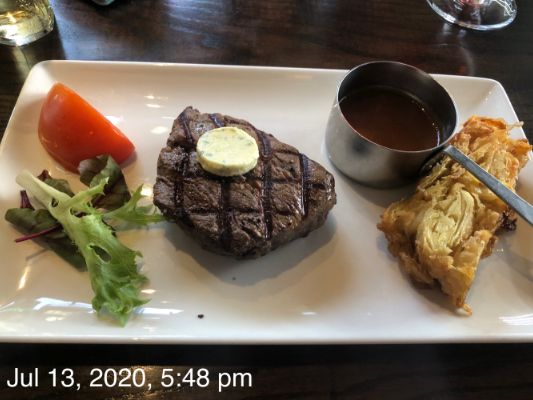 12 July 2020: Windy Weetslade
I took Noirin for her first trip up Weetslade Hill. The photo makes it look like I was taking the full force of the wind and keeping her sheltered... so obviously that's exactly what was happening.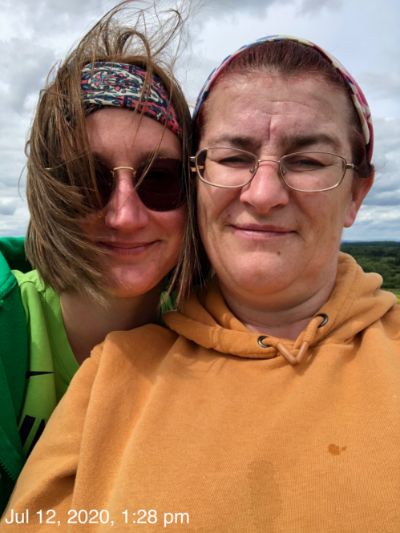 11 July 2020: Fence Paint
Having finished the hall, I moved outside to start tackling the fence.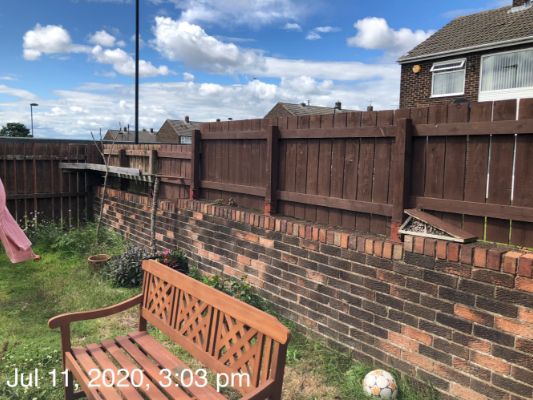 10 July 2020: Blue/Grey
I spent some time painting the hallway (grey) and this one door frame. This is one of the only places in the house where you can easily see the two different colours next to each other.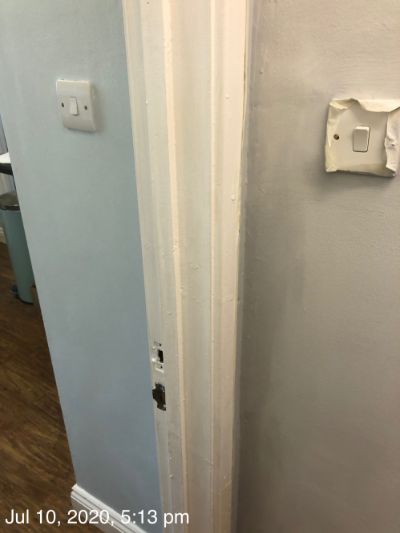 9 July 2020: Sidney the Snail
I usually only notice a snail when it crunches under my foot so it was nice to see this one in time to give it a name.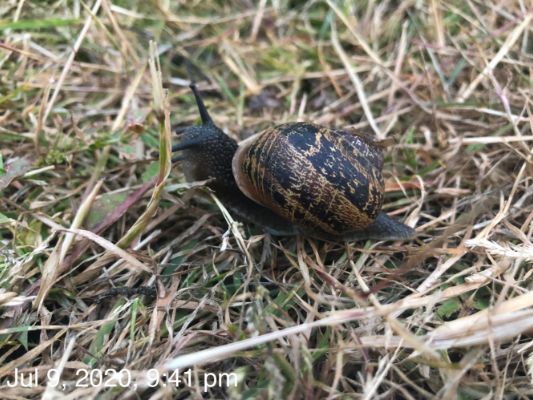 8 July 2020: Parker
Shannon and Parker came round for a visit which involved milk, rolling over and a bit of a rant.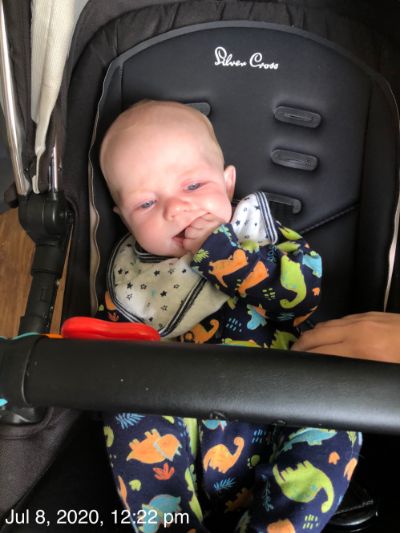 7 July 2020: Back Porch
I spent a few hours doing some more painting - this time the back porch AKA the "vestibule".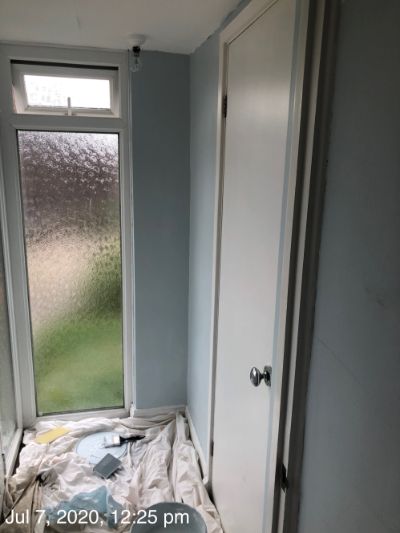 6 July 2020: Bathroom Suite
Noirin dragged me to look at a bathroom showroom on her lunch break today. This is the package we like the most, with a few minor alterations, although having taken Mam's advice we'll be looking at other options as well.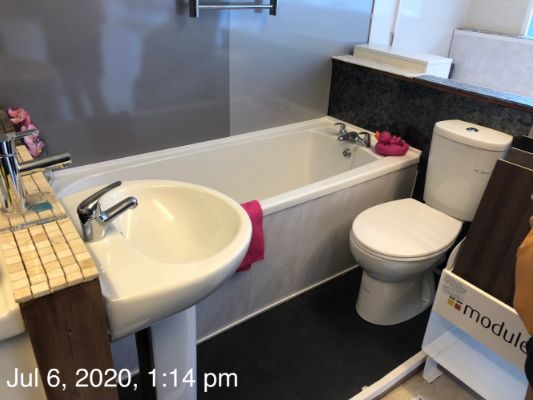 5 July 2020: Sold Sign
Since we've had the keys for about a month and the estate agent has never been back to collect their board, we took the saw out of the shed and removed it ourselves.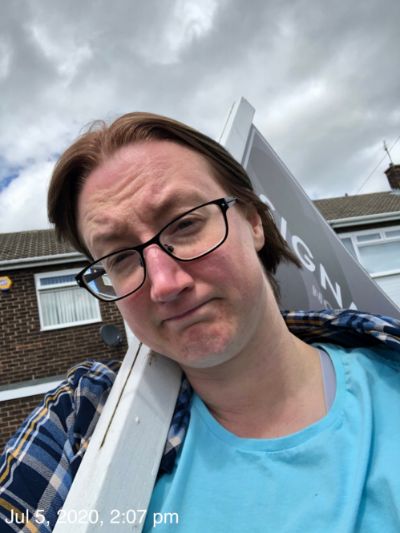 4 July 2020: Piano
I've always fancied myself as a piano player but Noirin can actually play beautifully so it was a no-brainer when the opportunity came up to rehome a free piano.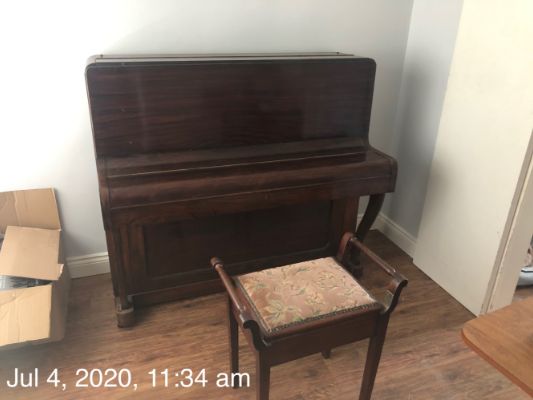 3 July 2020: Dapper Lad
Poor Stone Cold Steve Austin has been wearing the same t-shirt for a long time now so I treated him to a smart outfit. I thought it would be more of a struggle to get the whole thing on him, but he didn't resist much.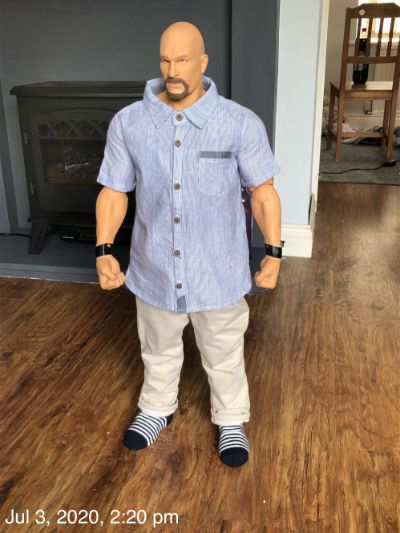 2 July 2020: Local Walk
I was in desperate need of some exercise so when Ali suggested I join her to walk Holly I jumped at the chance.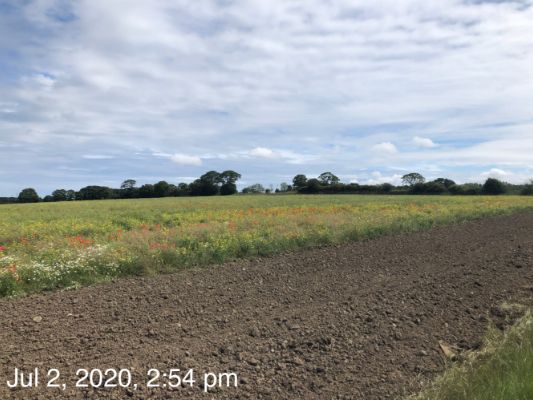 1 July 2020: B&Q Basket
This was in the back garden when we moved in. It's now my new shopping trolley to drag round to the OneStop shop.