2020: In Pictures
30 September 2020: Meditation Year
I've managed to make my daily meditation streak last for a full year. It hasn't always been amazing but I've had more good days than bad in that time.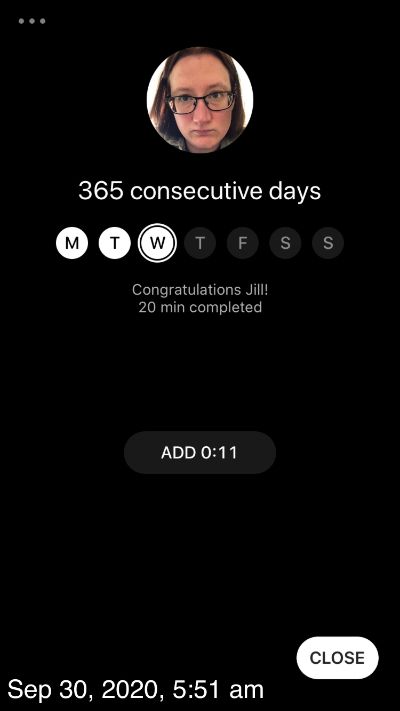 29 September 2020: Dining Table
We did some movement of dining tables today. Ali took a secondhand one from Melissa and in turn we took Ali's old one. I imagine it will be upcycled at some stage but it's just nice to have a proper table to eat from.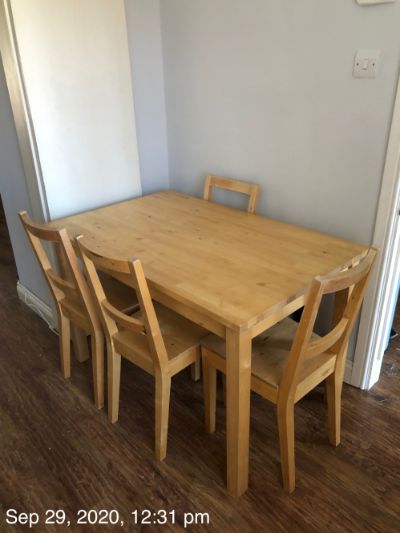 28 September 2020: Slow Chicken & Bacon
I decided the weather justified a slow cooker meal so I loaded it up with chicken, bacon and vegetables for a tasty casserole.
27 September 2020: Upstairs Office
While Noirin took a nap I moved her home office from the dining room to the spare bedroom. Hopefully it'll be a nicer working environment for her.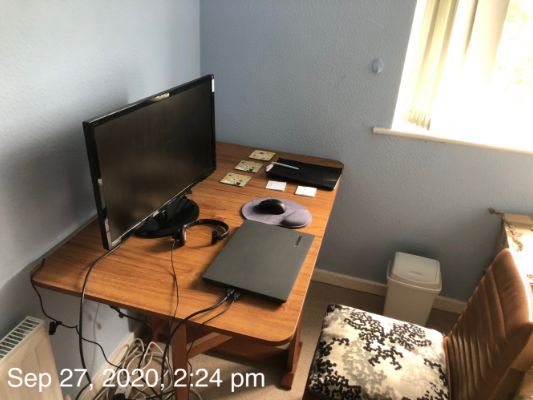 26 September 2020: Wild Waves
Noirin and I had our first day with Ali's car so we went to Whitley Bay to see how wild the waves were, then along to Blyth to see Sherrie and eat fish and chips. Awesome Saturday!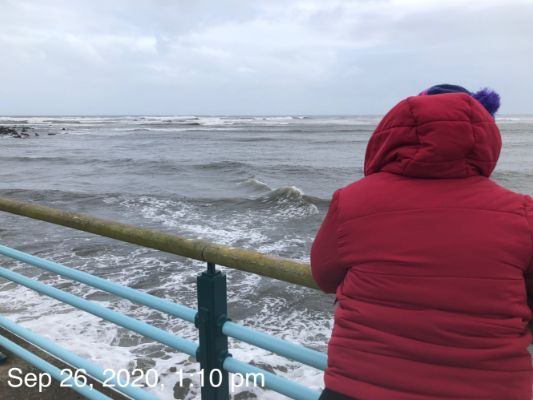 25 September 2020: Fridge Raider Survey
Sarah signed up for a Fridge Raider sample survey but she doesn't eat them so I got to try them out. The snacks were a welcome treat but the survey was a bit on the boring side.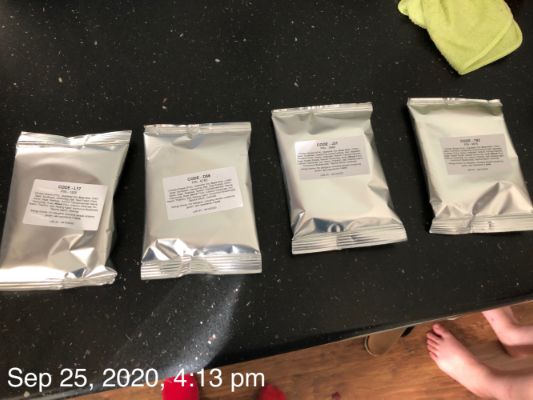 24 September 2020: Dirty Water
I woke up this morning to a fault in the area meaning we had no water supply. It came back on before too long but the water was ever so slightly brownish when I finally got to run a bath.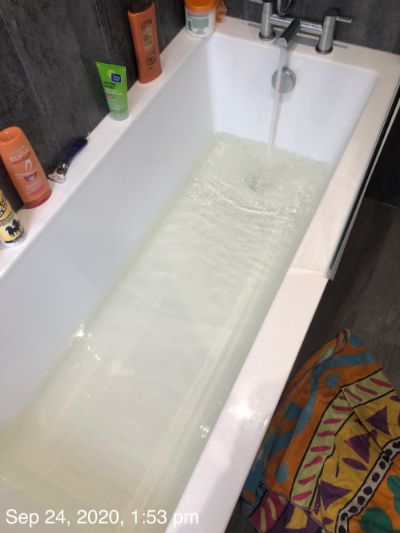 23 September 2020: Raindrops
I'm no great fan of rain but I do like it when the drops settle on a nice surface, like my beautifully painted shed door.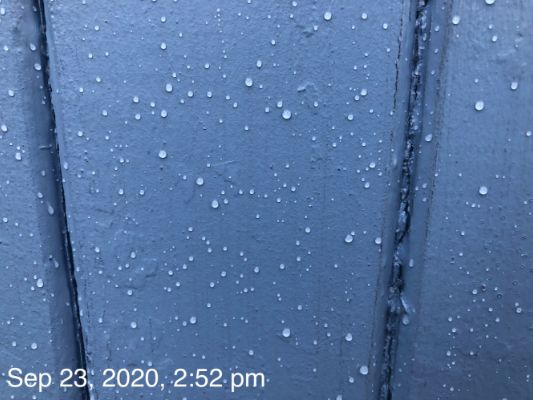 22 September 2020: Bolognese?
It was my turn to cook this evening so I started out making a bolognese. I'm not sure it would class as a bolognese by Italian standards based on the number of random vegetables that went into the sauce so instead it came out as a "non-specific, non-denominational, if it's in the fridge it's going in, mince-based sauce". It tasted nice anyway.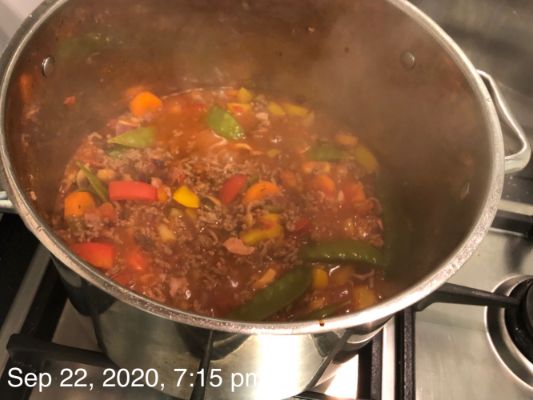 21 September 2020: Shower Speaker
I tried out our new shower speaker for the first time to listen to a podcast while I got washed.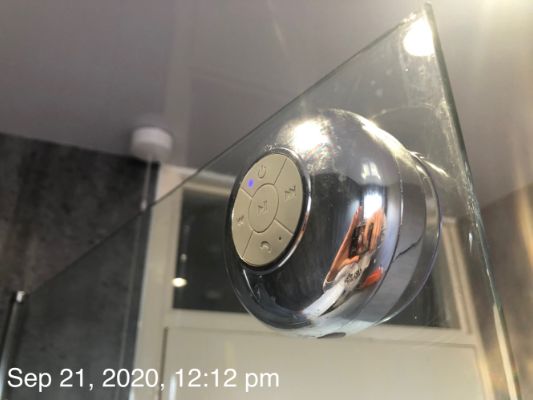 20 September 2020: Wreckage
I spent part of my Sunday afternoon watching Nass enjoy himself DJing on a beach in Cyprus. It wasn't quite the same sitting in my garden in Newcastle.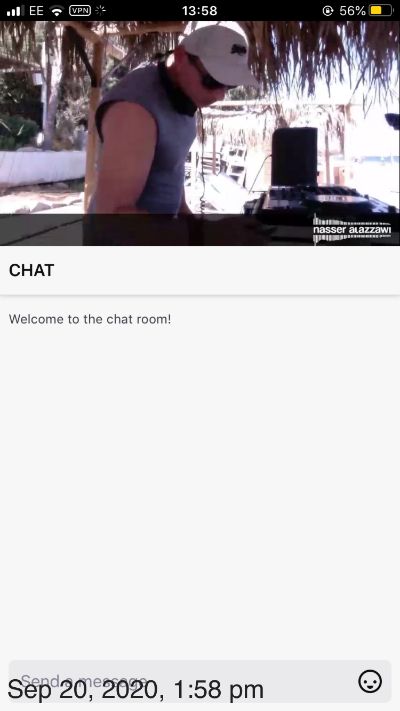 19 September 2020: Baby Sniffing
We had a visit from Shannon and Parker which, as usual, involved cuddles and inhalation of Parker's lovely baby scent.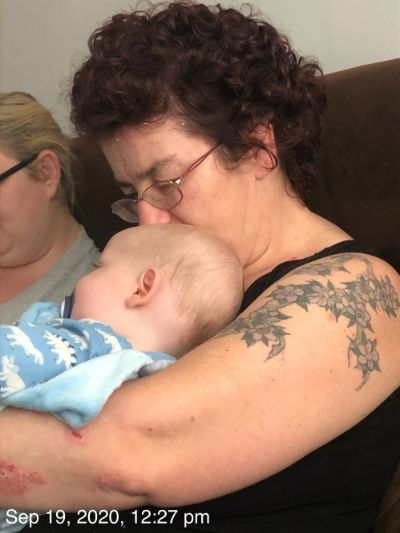 18 September 2020: Sarah's Homemade Pizza
I've eaten a lot of pizza in my time but this was quite possibly the best one ever. Sarah made her own stuffed crust base, tomato sauce and added toppings to our individual specification. It was utterly amazing.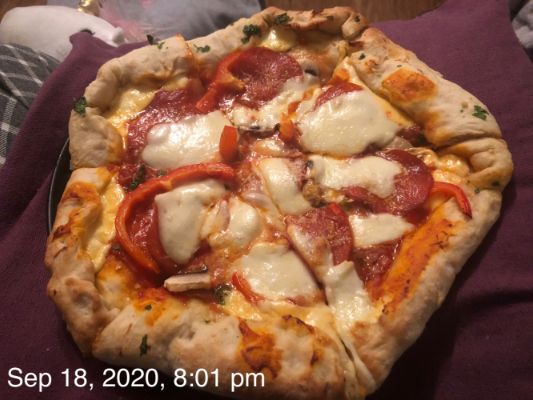 17 September 2020: Wreckage
Recently a car ploughed through a row of bollards in Burradon. Thankfully noone was on the path at the time and the only damage was to the bollards and car. The bollards have been repaired but the wreckage of the car is still sitting there, presumably as a reminder to everyone else not to drive like an idiot.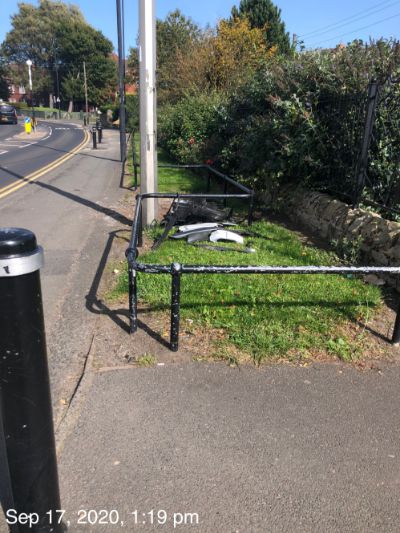 16 September 2020: Swan
This evil, majestic creep kept its distance.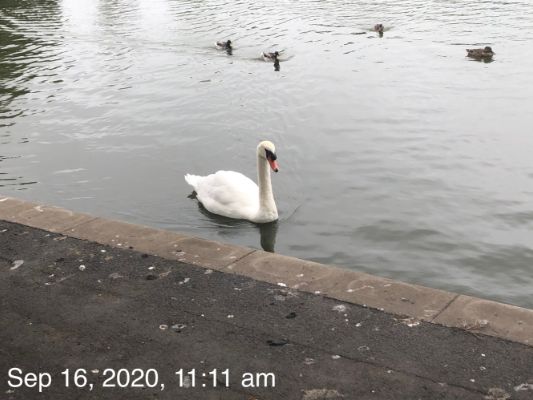 15 September 2020: Not a Person
I hung this washing that wouldn't fit on the line over the bench and then every time I saw it I panicked that someone was unexpectedly sitting there.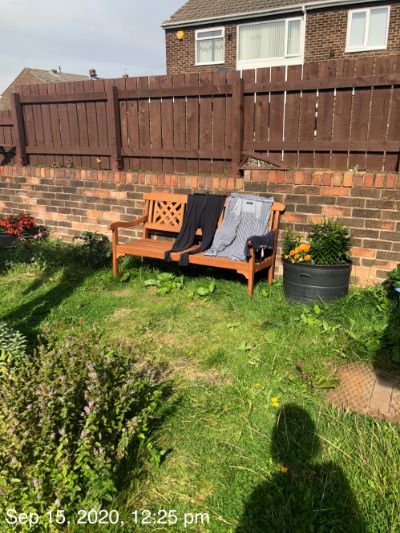 14 September 2020: Blackberry Picking
I went for a walk with Noirin to scout out some of the best places for blackberries in the upcoming weeks.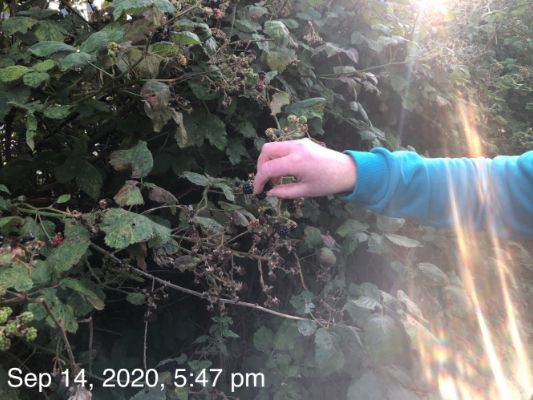 13 September 2020: Brick
Just another brick in the (shed) wall.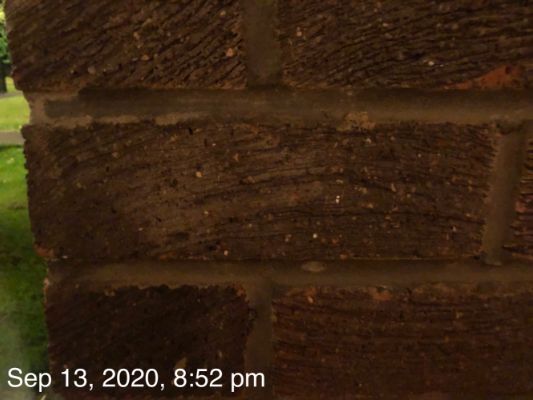 12 September 2020: Shadow Girl
This little creep follows me everywhere.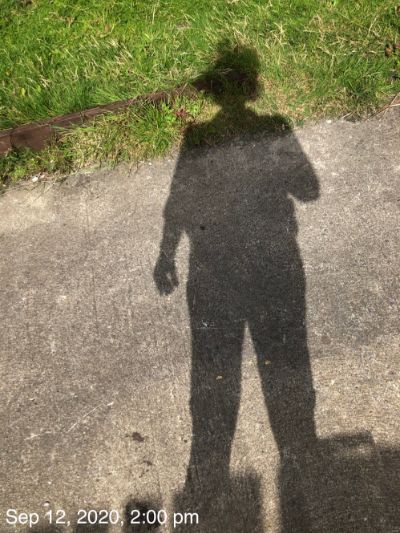 11 September 2020: Sobriety Cheesecake
Any excuse for a cheesecake... but in this case it was totally justified. The 8th sobriety birthday of a good friend is a great reason for a celebration.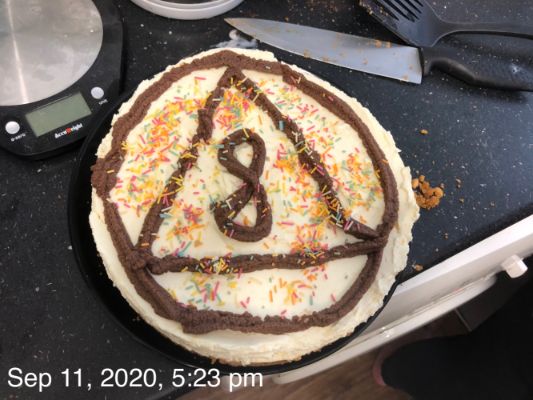 10 September 2020: Mars
I love keeping track of the planets when they're visible. Good morning Mars!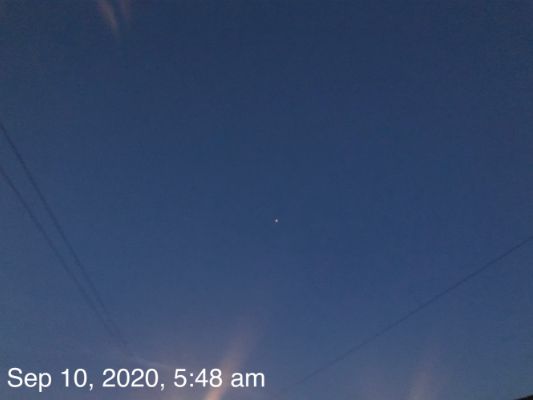 9 September 2020: Holly at the Lake
I borrowed Holly for an hour to give Ali and Carl some space to organise Kath's funeral. We had a nice walk around Killingworth Lake and managed not to bark at any swans.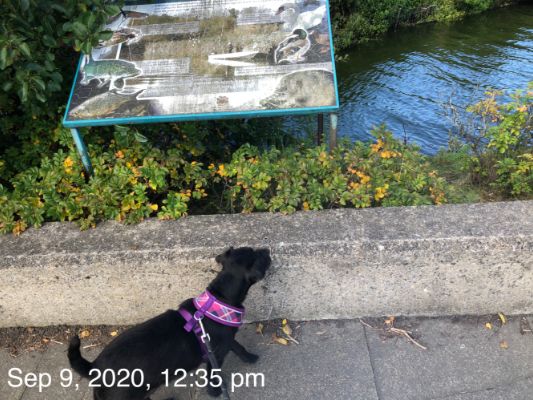 8 September 2020: Sally's Blanket
Sarah ordered this new blanket for Sally, which she seems to quite like. Of course she wouldn't sit on it right this second so I could take a photo, but I couldn't force her - it's her world. I just live in it.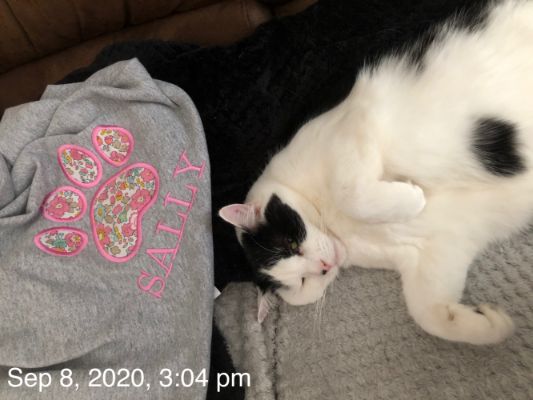 7 September 2020: Gratitude Cushion
When I found veronicadearly.com the other day I had to buy something and unfortunately "everything" wasn't a sensible option so I settled on this cushion. I hope that it'll remind me to be grateful for everything good in my life.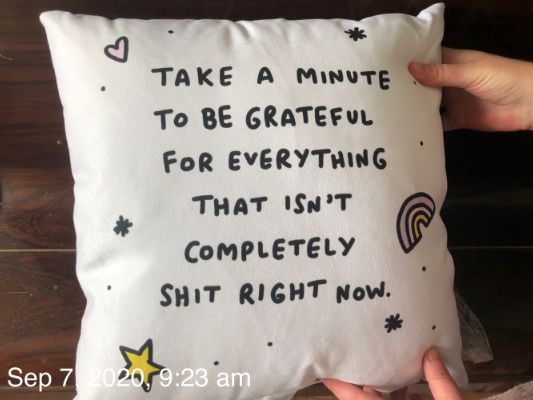 6 September 2020: Return of the Crochet
Noirin has decided to finish her crochet so I found the box she needed in the shed.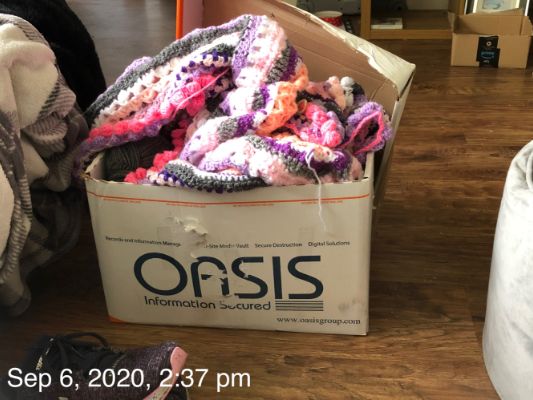 5 September 2020: Sunset
The sun sets on another quiet, peaceful day in my life.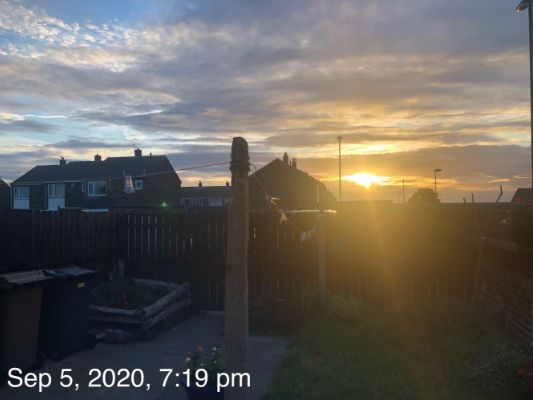 4 September 2020: Blue Fluff
Noirin's new hoody seemingly lost half its body weight in fluff whilst in the dryer.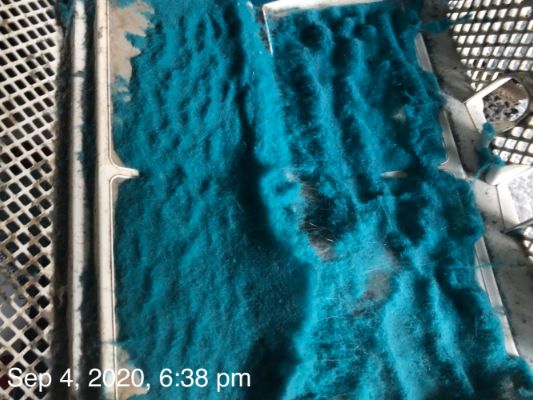 3 September 2020: Killy Lake
I use bad weather as an excuse for not leaving the house far too often, so when I had a nice sunny day at my disposal I felt inclined to go for a walk around Killingworth Lake.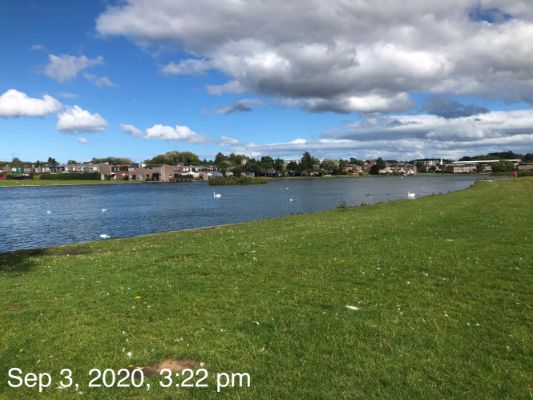 2 September 2020: Bowtie
I looked like a 4 year old boy today in my outfit (shorts, polo shirt and sweater vest) so what else could I do but add a bowtie to complete the look?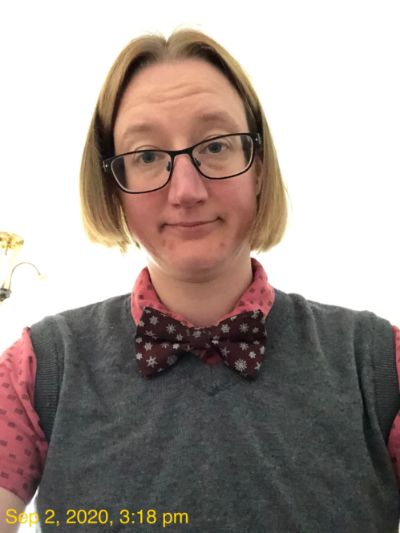 1 September 2020: Chip Butty
Not the most orthodox breakfast but also not the worst I've ever had... Leftover chips (homemade by Sarah yesterday) in a tiger roll.